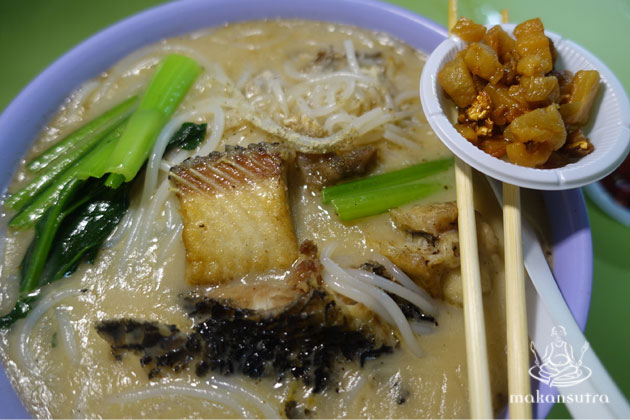 Mr Fish That Golden and Olden Taste in Fish Dishes
By KF Seetoh - Monday, Jul 20, 2015
Although their main signboard said "no milk added" but it felt like so. I had to ask and Mdm Ng Siew Heng about her fish head beehoon because hawkers have so many tricks up their sleeves (like they may have braised it in milk or use it at preparation stage etc…). "There is no way anyone can get this old school Cantonese flavour if they use milk", she says and at once, I was transported back to the Chinatown Terengganu Street side stalls of yore in the 70s and early 80s, where using milk for fish noodles was unheard of and perhaps a blasphemy, like using ketchup for fine French food.
One sip of the soup, it felt like they had been doing this for yonks. However their son Allan Lee, tells me they only had this stall for less than two years. This banking IT specialist spends at least 4 days a week (he work night shifts) helping out his parents at the stall and "I needed a year to master these high fire iron woks". When you order your fried beehoon or hor fun, you won't see pre-fried pots of the seared noodles awaiting to be warmed in the wok and slathered in sauce and toppings, "we do this one batch at a time upon order" adding on that it can be up to an hour's wait at peak times. Now he know how to "lai" or drag the wok instead of the elbow grease method of "tao" or tossing it, which requires a lot of arm work. The worst comment he ever received from his customers was a "why is the wait so long" and he quickly adds that the best refrain was a "but worth the wait" from that same customer.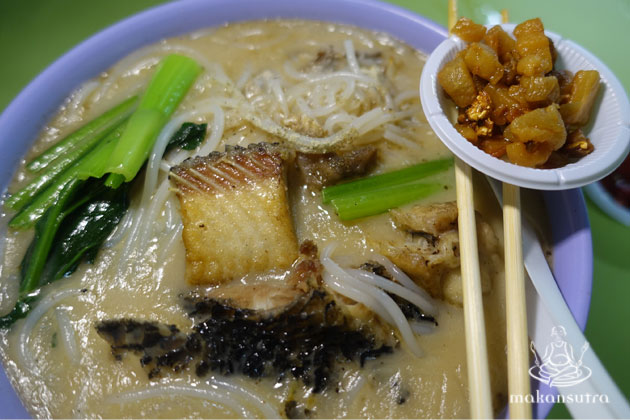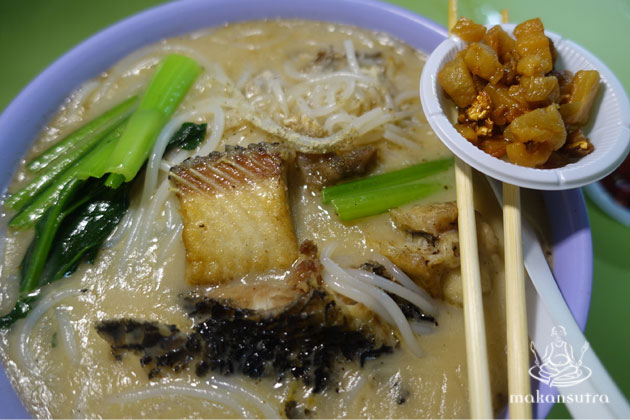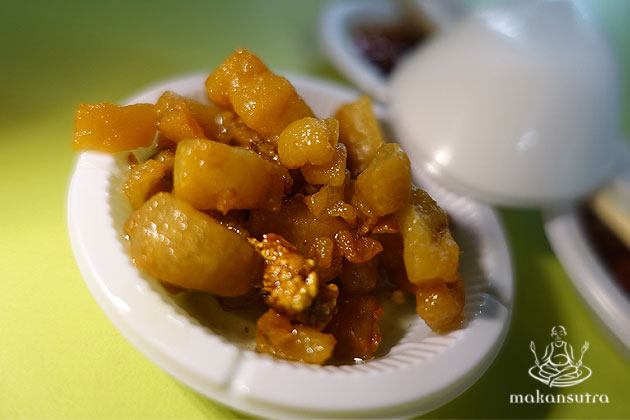 To the Cantonese food aficioinado, dishes from stalls like these, offering fish noodle and stir fries, the most important component is the stock, the art of the wok (or wok hei) and freshness of the fish (all three vie for top spot). Their fish stock comes thick, sans milk and is collagenous with a light warm brown tone. The use a duo of fish and pork bones- fry over high fire till "perfectly seared and roasted" (which only an expert can tell) before water and seasoning is introduced. It turns milky and has that mild roasty aroma so missing is all those blasphemous milk-added fish noodle stalls.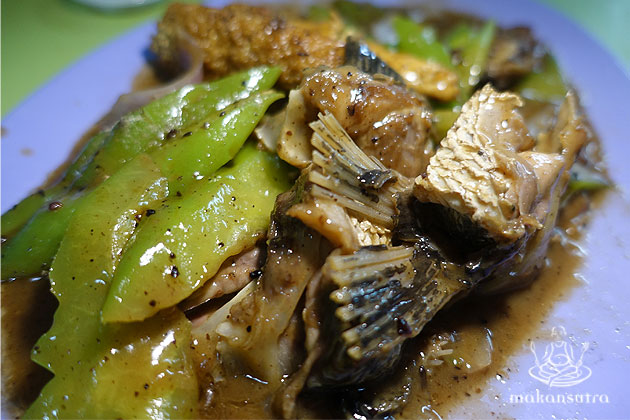 "My mother ran a stall in Henderson Road almost 40 years ago and she could not get a hawker stall in the relocation process, so we stopped the business" and Mdm Ng adds that this is the same recipe used then and that "I don't how to add milk". Their other best seller is the bitter gourd fish collar or Yu Kai Foo Kwa done with taucheo and black beans. As I ordered, I eyeballed a chilled platter of fish roe and ask that it be added to the dish, and patriarch and front of house service master, Mr Lee Tad Nun gladly nodded. Their version is by far the best I've had since the cranky old master from the corner coffee shop next to the Buddha Tooth Temple retired some years back. The bitter gourd slices had what Cantonese would call "golden" taste and was juicy and softly crunchy. The roe was first deep fried as was the fish collar (very fresh), before it was tossed in the wok and sauced up.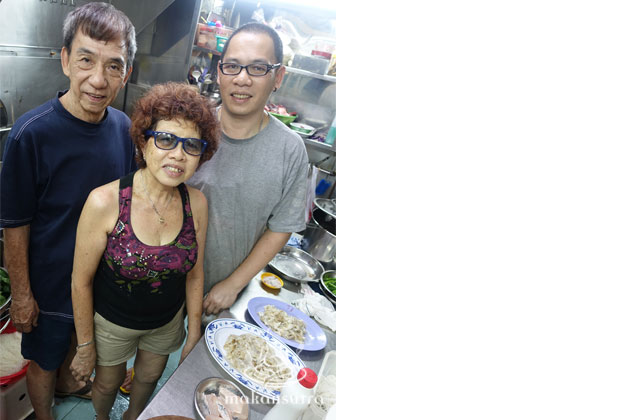 I had to ask and Allan replied he will do this full time and quit the bank IT job as "they are outsourcing too many jobs like these nowadays, so this is my new calling." Hooray, for food culture and continuity.
Mr Fish
#02-073, Chinatown Hawker Centre,
Blk 335, Smith Street
10am-4pm (or sold out)
Close on Sundays