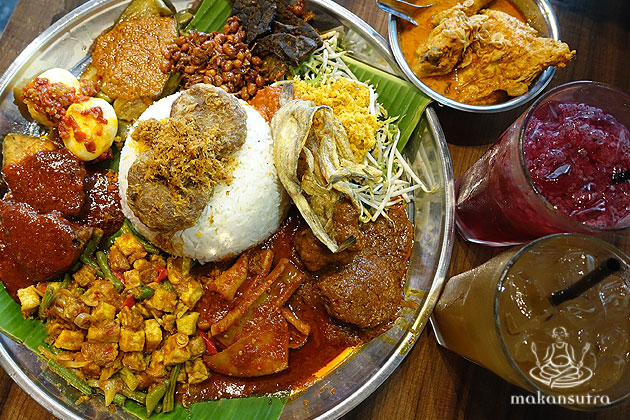 Nasi Ambeng- The Ultimate Picnic meal
By KF Seetoh - Monday, Apr 20, 2015
I had for the longest time been concerned about the future and continuity of the heritage hawker food culture in Singapore. Many young, especially the Chinese Gen Y, are not entering the arena of this colourful and well-loved food business. I fear even more for the Malay and Indian makan culture. Many of the young Muslim chefs are into western fare and cupcakes or muffins, perhaps for a simple reason- traditional or Malay chow is very complex to the average cook. Then, along came this stunning Nasi Ambeng café.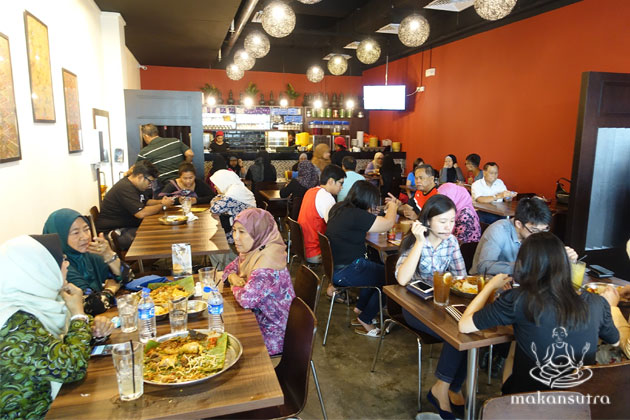 To one of my Indonesian food researchers Marchel Handaya, Nasi Ambeng meant "eating outside" or having an outside meal, like a picnic. "But we don't have anything like this in Indonesia", he said, overwhelmed as he ogled the huge platter of rice with an array of spicy meats, eggs, potatoes and vegetables. In a way, this Nasi Ambeng set is like having the best of the spicy world of Malaysia and Indonesia on a big plate.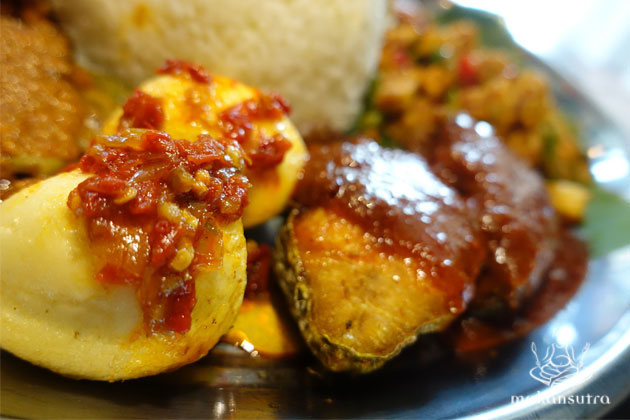 These folks began as a catering company but their Ambeng rice meal sets became too hot to handle, as a part of their repertoire of flavours, so it went solo, like the top singer in a boy band. And it went out indeed, like a fantastic solo act for this picnic. If you take a closer look at the stuff they lay on that platter, you can see the culinary icons of many cities and districts of Indonesia and Malaysia staring back at you. From the top , clockwise- Sambal Goreng Kacang (sambal fried nut and ikan bilis from Central Java), the fried Paru (lungs, from Java), Urap (spicy salad from Java), Sambal Sotong (Malay style), Beef Rendang (Padang), Sambal Goreng Tempeh (Central Java), Masak Habang or Masak Merah (fried red fish fro Banjar in Borneo), Telor Belado (chilli eggs from Padang), Sambal Terung (Malaysian style spicy eggplant), Bergadil ( potato cutlets with hints of Indian spices, on top of rice, from Central Java), Ikan Asin (crispy salted fish from Padang) and Ayam Kare (curry chicken from Java), is what makes this a regional picnic meal.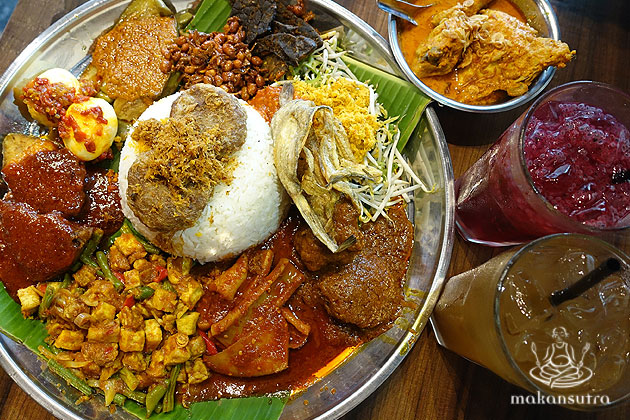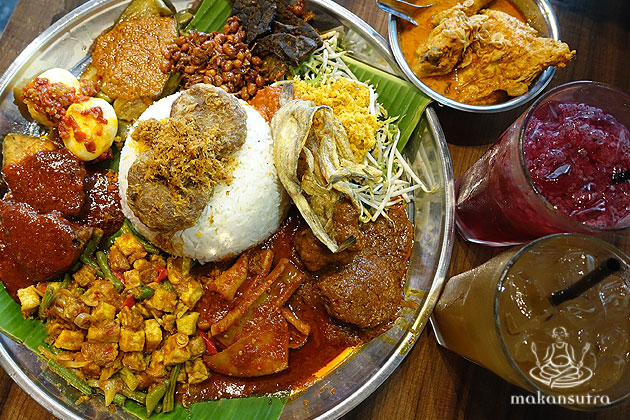 I have to admit, this is a blessing from above. I had for the longest time wondered where the next die-die-must-try Muslim makan stunner will come from, what with all these nonchalance over heritage food. And then they sent this answer- Nasi Ambeng from Ummi Abudullah's kitchen. I ate every dish on the platter, from the nary oily Paru to the soft Rendang (Java rendition of this Padang icon) and to the crispy Ikan Asin crisps, and each was a stunner. Marchel, who hails from Java says he can't find this meal, with all those regional specialties, in one restaurant even in Jakarta, where he is based. "I feel so at home with this set yet I'm not home" he adds. So kudos to these folks here.
If you are bedazzled by their fairly complex menu that may have dishes you are not familiar with, fret not, just flip to the big lettered menu page and look at the sets for two or three. I ordered the do- or-die Ambeng Classic Duo set (as in picture) at $38 for two. You have to imagine if we are able to polish off that delicious mess. We washed it down with a refreshing Air Assam Jawa (iced tamarind) and Sirap Rose Selasih (rose syrup with basil seeds).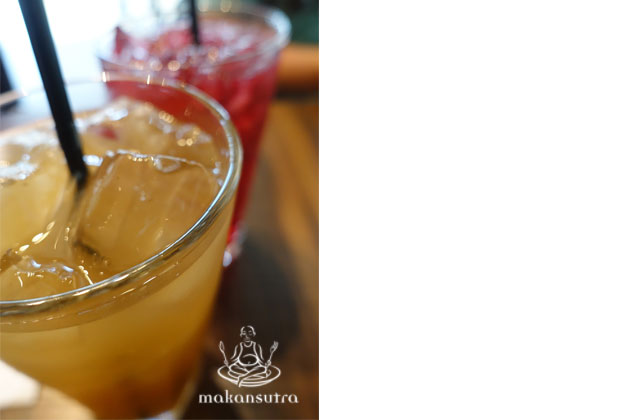 And to the makan angels above, terima kasih for bringing back this food-joy to us.
Ambeng Café by Ummi Abdullah
430, Upper Changi Road, East Village Mall, #01-65
12pm-8pm (Tuedays to Sundays but from 3pm, on Fridays)
Close on Monday
Tel: 6384 0495
https://www.facebook.com/ambengcafe