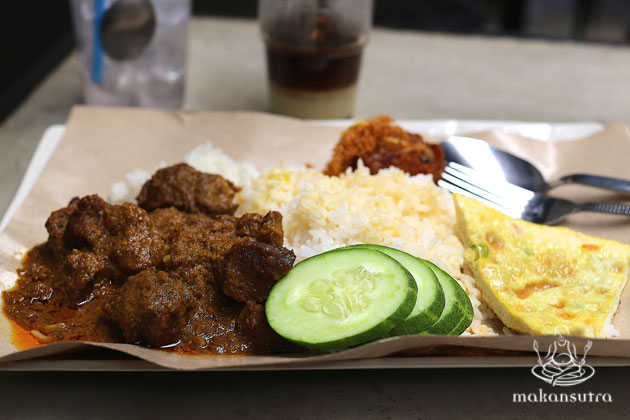 NASI LEMAK KUKUS.COM: Check them out
By Cecilia Joven Ong - Tuesday, Dec 16, 2014
Besides food, what usually leaves an impression when dining out has to be the heartwarming service, which we do not get it often these days. A check list of simple good idea of sorts behind the company works too. At Nasi Lemak Kukus, I was greeted by a friendly makcik (Malay aunty) the moment when I stepped in (attentive service- check). She cheerfully called out to me, 'Hello, Sayang!' She even made an effort to explain on their self-service procedure. Customers are expected to help themselves to the rice and dishes and they will be charge based on the amount of food taken, prices are slightly steeper but definitely acceptable (save manpower and is experiential- check). This friendly makcik is none other than Paima, the Head Chef or the mummy of the shop.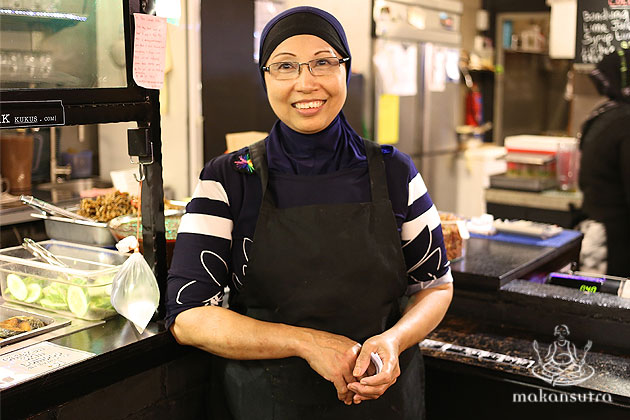 Mr Lester Ching, 40, the owner, started this shop in December 2010 and has entrusted the shop to Paima while he is away working as a Commercial Pilot with an international airlines.  Did he know that he is indeed lucky to have such a dedicated staff? I guess he knew it all along. The exact words posted by him on their facebook recently: "Paima is my rock which I can trust and rely on." (faith and trust in staff- check.)
Their signature dishes are Mutton Rendang, Chicken Rendang, Curry Chicken, Fried Chicken Wings, Fried / Sweet & Sour Fish, Sayur Lodeh along with crispy ikan belis, crunchy peanuts and more. They serve it along with a free flow of coconut rice (good service idea- check). The word 'Kukus' as indicated in their signboard means 'steam' in Bahasa. The rice is steamed over a pot of boiling water rather than cooking it traditionally in the coconut milk and water method. They only add coconut milk after the rice is cooked and placed it back to the steamer. This is why their rice has that edge that you'll notice upon first bite and obviously this old laborious method makes a difference- it comes softly aldente- like how it should be. Best part about this it the free flow if you buy a minimum amount. Serving it free-flow has given it a homely feel- check again.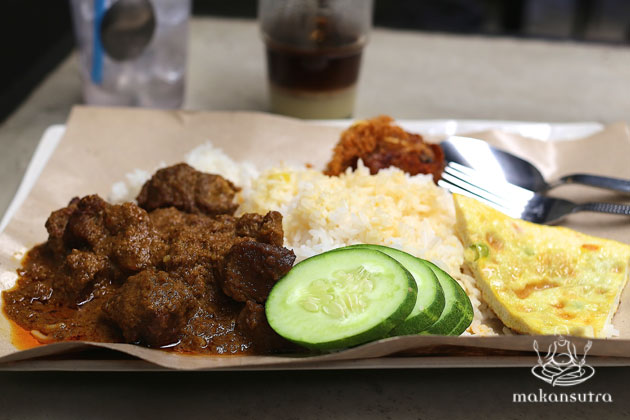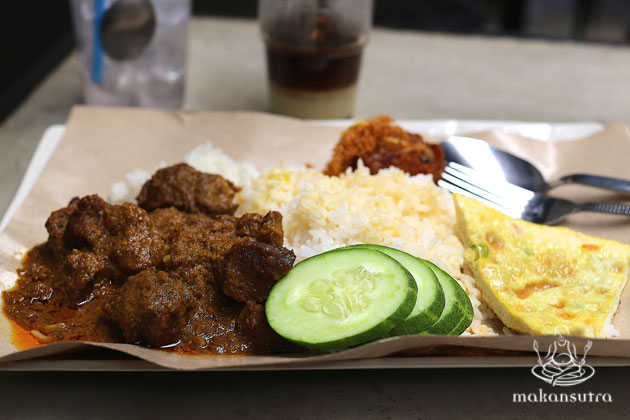 More good news? They serve 2 types of sambal tumis, a sweeter (for milder palates) and a rocking spicier one. As advised by Paima, the level of spiciness of the spicier one can be quite intense. The sambal tumis is free flow too- another check.
She suggested that I should try their signature Vietnamese Drip Coffee served with individual drip filter. I ordered the iced version and enjoyed it.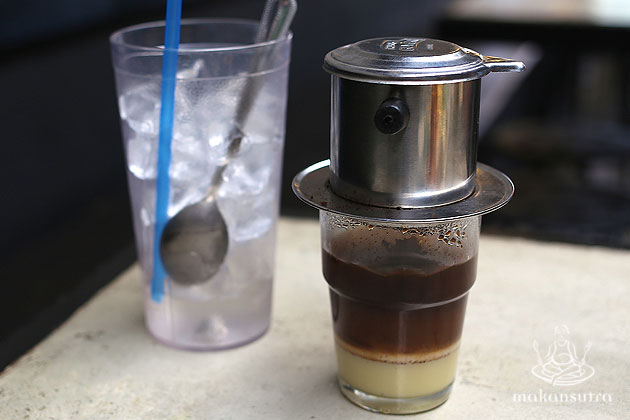 Their famous Power Burger is served only after 5pm, she tells me. I made another trip down just for it. I did not expect Paima to recognize me the moment when she spotted me. She greeted with the same warm smile and again, 'Hello, Sayang!'(yep, check again).
You can order the Power Burger with either single or double patties. I was told that they handmade the patties and marinate it with a special rendang seasoning. The process is definitely tedious and that explains why they serve it in limited quantities and only in the evenings. My Power Burger came with the double patties nicely wrapped in the thin egg omelet sandwiched between 2 buns. The patties definitely tasted different as compared to your usual Ramly Burger. The texture was much softer and rather meaty but flavorsome. This is, no doubt, a must makan item here.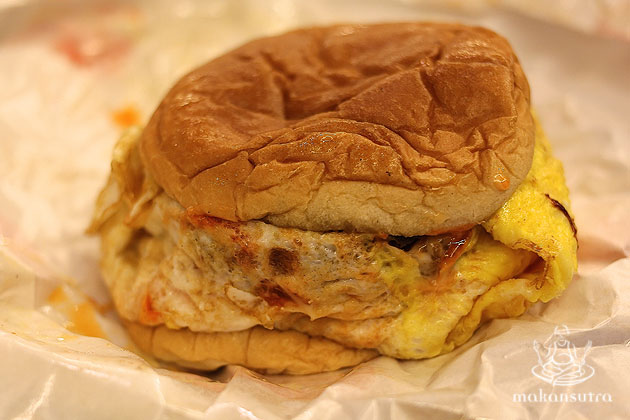 Mr Ching posted on their Facebook in July announcing his intention to offer his shop as a shelter to the less fortunate ones after they closed at night (a big check yet again). Several people have benefited from this arrangement but one particular beneficiary created an unpleasant scene for them. "It just happened, we didn't know what was going on when reporters and policemen appeared at our shop on that day." Paima said. Nonetheless, this incident did not dent their pay-it-forward faith and believe.
Their current location is a cosy hideout where patronized by the residents of Sembawang not just for their tasty nasi lemak but also its laidback ambiance in this trendy Halal eatery.  However, they have confirmed their relocation to Selegie in mid-December due to MRT construction works (check, for those around that area). This is going to affect the parking lots right in front of their shop as well as the uncomfortable construction noises.
Nasi Lemak is an unpretentious comfort food that touches the hearts and brings simple pleasures to many. This one, presented by Nasi Lemak Kukus.com is not all about the deliciousness but also their dedication in serving it with a wholehearted warmth and with a homely feel. 
NASI LEMAK KUKUS.COM
908 Upper Thomson Road Singapore 787111
Operating Hours: 12 pm to 11 pm (Tue – Thu) / 12pm – 1 am (Fri – Sat) /12 pm to 11 pm (Sun) / Closed on Monday