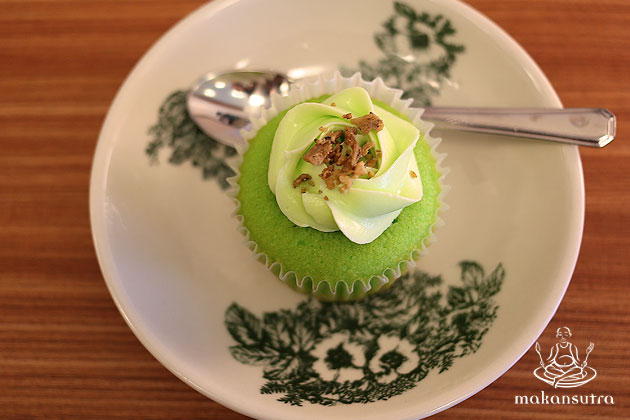 Nasi Lemak: Old Styles, New Styles
By Cecilia Joven Ong - Tuesday, Jan 20, 2015
NasiLemak is a traditional dish that consists of fragrant coconut rice (which can be perfumed with spices like lemon-grass and pandan leaves)accompanied by a variety of side dishes. It has always been a no-frills classic dish that is popular choice at breakfast, lunch or dinner. How can a fluffy plate of steamed coconut rice with toppings like fresh cucumber slices, ikanbilis (anchovies), roasted peanuts, crispy fried chicken, fried fish (ikanselaror  kuning) or hard-boiled egg, go wrong? Not forgetting the sambal chilli that would take the joy factor of this equation up a few notches.
NASI LEMAK KUKUS.COM
229 Selegie Road Singapore 188344
Operating Hours: 12 pm to 11 pm (Tue – Sun) (Closed on Monday)
Their prices might be a bit steep but they definitely worth the value. The traditionally steamed coconut infused rice(not boiled) which you are not quite likely to get elsewhere, is freeflow. It is well textured and fragrant; so good that you could eat it on its own. For added flavors, indulge in their sweet or spicy sambal(two types offered) and customized your Nasi Lemak with their wide spread of delectable dishes. The perfect accompaniment to the rice istheir signature dishes like Mutton Rendang, Chicken Rendang, Curry Chicken, Fried Chicken Wings and more .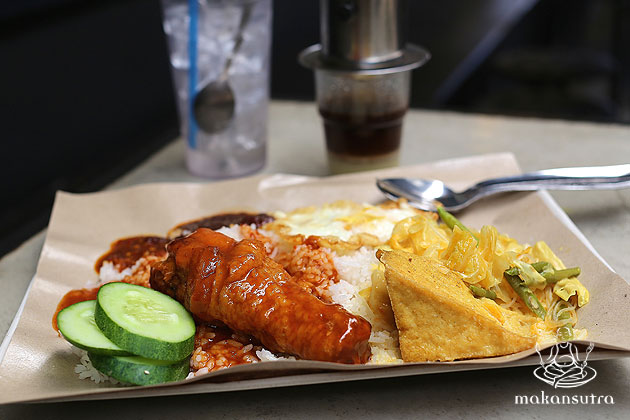 SELERA RASA NASI LEMAK
2 Adam Road #01-02 Singapore 289876
Operating Hours: 7 am to 5 pm (Sat to Thu)
Block 603 Ang Mo Kio Avenue 5 #01-2683 Singapore 560603
Operating Hours: 7.30 am to 1 pm (Closed on Mon)
One of the 2 famous stalls in this food centre serving Nasi Lemak. This stall is just slightly more popular than their neighbour's due to the publicity they had been receiving all these years. Basmati rice is used to give it a rich texture with an alluring fragrance. They have 7 different set meals with various combinations of side dishes. The most expensive set is $5.50 that includes everything like fried chicken wing, otak-otak, begadil, ikan selar kuning, fried egg, ikan bilis and sambal.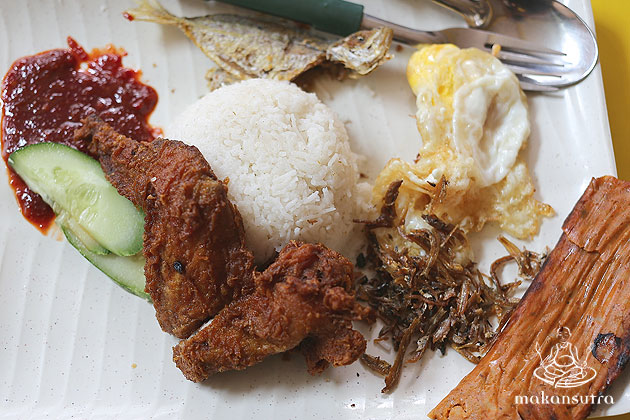 PONGGOL NASI LEMAK
965 Upper Serangoon Road Singapore 534721
Operating Hours: 5.30 pm to 2.30 am (Mon to Fri), 6 pm to 5 am (Sat/Sun) (Closed on Thu)
A good makan place for the supper crowd but be prepared for the long queues. Admittedly, their slightly grainy but rather flavourful coconut rice is amongst the better ones. They serve a good variety of side dishes (mostly unconventional) from Fried Chicken Wing, Luncheon Meat to stir-fried long bean and brinjal but prices are on the high side. Their sambal chilli, tasted slightly sweet with a hint of dried shrimp that lends another layer of flavor. Although satisfying, it could be an expensive meal, easily touching $10 a platter if you let yourself loose.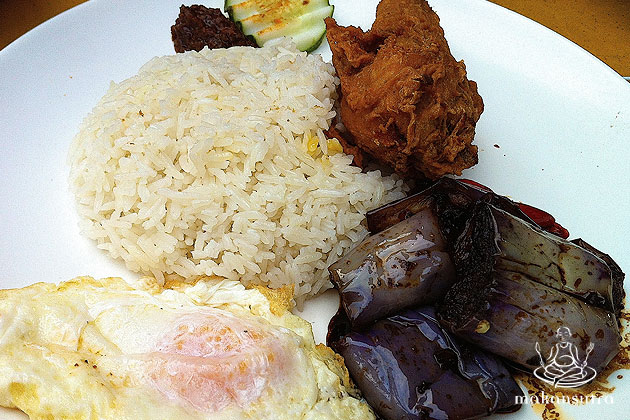 YI LIU XIANG NASI LEMAK
Block 105 Hougang Avenue 1 #02-30 Hainanese Food Village Singapore 530105
Operating Hours: 6.30 am to 12.30 pm (Closed on Mon & Tue)
This stall has the longest queue in this food centre but the queue is moves fast. You get to have rice with egg omelette to go with ikan kuning, fish cake or imitation fish fillet for just $2.50. Their sambal tasted slightly sweet but had an amazing flavor. Every bite is a delight when you smother the crispy fried white baits in the sambal chilli over the coconut infused rice. You can taste the freshness in their ingredients, especially the ikankuning which, is very popular.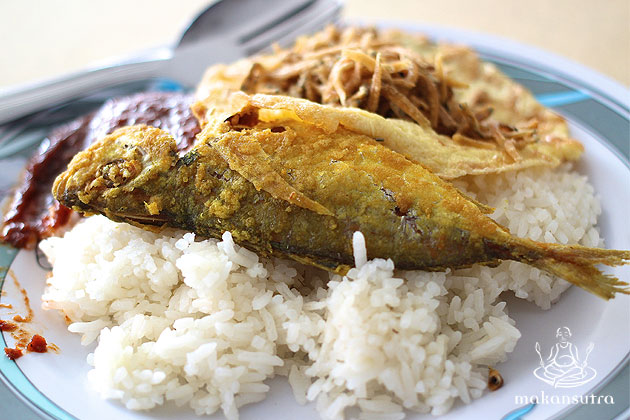 BALI NASI LEMAK
2 GeylangLorong 15 Singapore
Operating Hours: 5.30 pm to 4 am (Daily)
Their signature dishes areKecapManis Chicken (Fried Black Chicken), Golden Fried Chicken and Curry Chicken.Madam Susan is the sister of the Punggol NasiLemak owner and hence the heritage. But there are many differences- their Sambal Petai and stir-fried Long Bean with Sambal Belachan are popular choices too. Their main signature dish is the Bali Kicap Fried Chicken, tossed in gently spicy kicapmanis sauce. The coconut rice is cooked well to give each grain a light fragrance. Every bite is a joy. This is another hot spot for supper as they operate daily till about 4 am.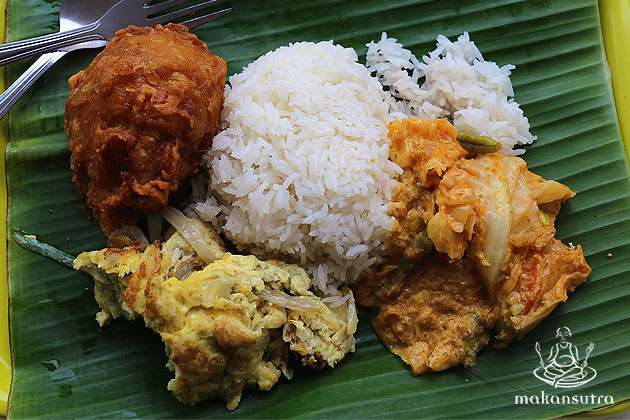 FLEE AWAY CAFÉ
70 Dunlop Street Singapore 209398
Operating Hours: 11:00 am to 9:00 pm
If you have ever wondered what a NasiLemak cupcake would taste like then perhaps you should give this interesting café a visit. Their Nasi Lemak cupcake has some degree of surprise particularly so when you taste the sambal chillithat is embedded inside the Pandan flavored cake. The cupcake is topped with bits of ikan bilis and peanuts to complete the Nasi Lemak taste. At $4.50, this is definitely a worthy try.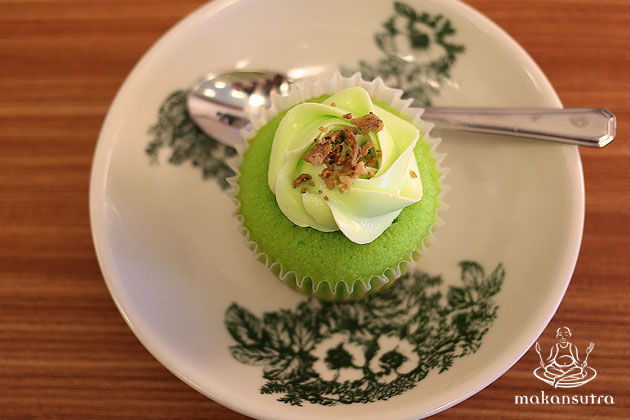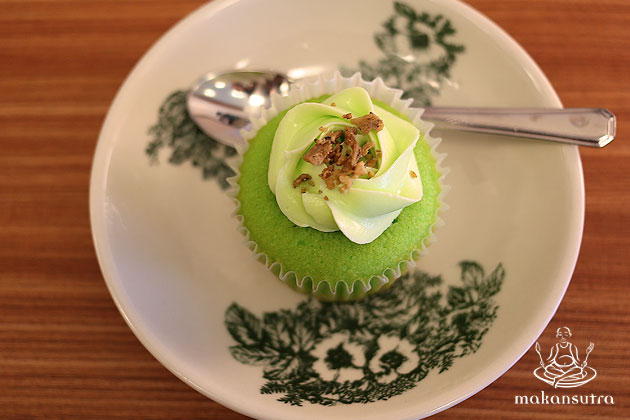 SWENSEN'S
Operating Hours: 10.30 am to 10.30 pm (Mon to Fri), 8 am to 10.30 pm (Sat/Sun & PH)
If a NasiLemak cupcake is not going to excite you then how about having it as an ice cream? The Super Nasi Lemak sundae at $10.90++ is aNasiLemak inspired creation consisting of Spicy Coconut ice cream topped with a mix of peanuts, ikan bilis and crispy cracker. Though the contrast in taste might not be a harmonious combination but an interesting try nonetheless, for experience's sake