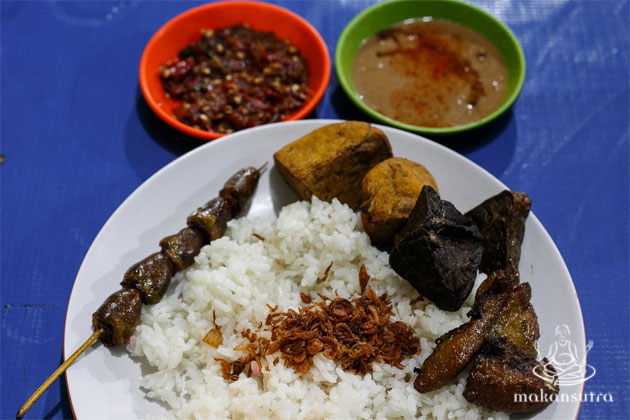 Nasi Uduk in Jakarta
By Marchellinus Hanjaya - Wednesday, Aug 05, 2015
Rice and coconut milk are two components that are popularly used in the region. We love our nasi lemak, but the popularity of this combination spreads wider than the influence of Malay culture in SE Asia. It is yet unclear where or who started this concept, but it evolved to many famous dishes that are found all over Indonesia.
In Jakarta, we can easily find Nasi Uduk (a light coconut rice with meats and vegetables) for all day meals. You can have it for breakfast, lunch, dinner, or even supper. We can choose which region/variety you like, be it Betawi, Sundanese, or Javanese. Each of them presents various combinations of protein, sambal, and appearance to their genre. Today, we hone in on the Betawi variation, in the heart of Jakarta.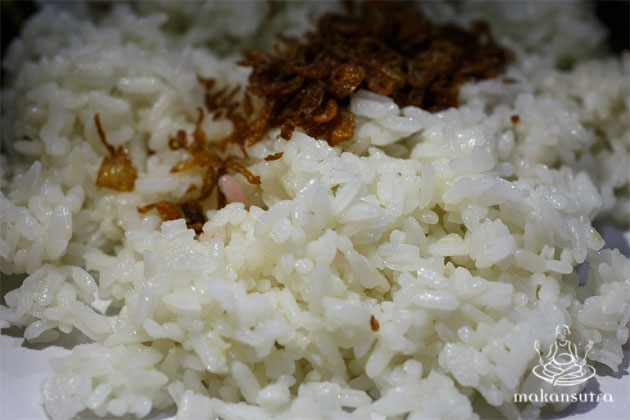 Hundreds of Nasi Uduk Betawi stalls can be found in Jakarta, but which one is the real thing. We present 3 options, the real deal Nasi Uduk Betawi style.
Nasi Uduk & Ayam Goreng H. Zainal Fanani
Started the business in 1967, this is the perfect example of Nasi Uduk from Betawi Kota (city). Located right on the center area of Kebon Kacang, Jakarta, their Nasi Uduk comes in small fist-sized portions and wrapped in fresh banana leaf. All Nasi Uduk are served on the table at room temperature. To get to it, you may pick up as many as you like, and order the proteins and side dishes from the front of the stall. The rice has a light flavour, that goes well with its peanut and sweet soy based sauce. Simple and modest, it gives you a good idea on what Betawi Nasi Uduk should be like.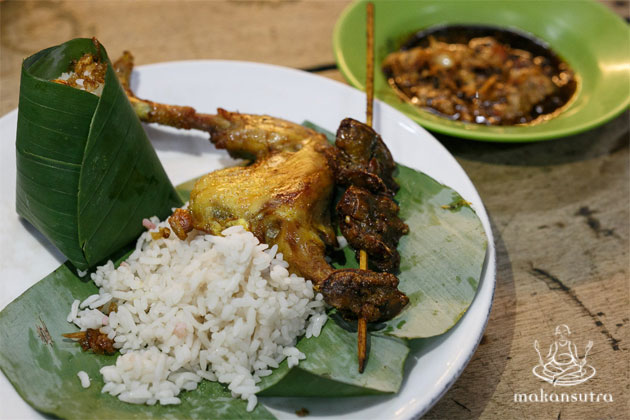 Jl. Kebon Kacang VIII No.5
Central Jakarta
Open: 10.00 – 24.00
Nasi Uduk Bang Udin
Their version is a result of combining a few influences from this dish. Besides the rice, one of the most important elements is their Semur Jengkol. Semur is a dark coloured thick soup that has a strong Dutch influence, which has a similar sounding dish, Smoor. The jengkol or jering is a type of nut that has a distinctive bitter sweet aroma. Some like it some don't, but once you enjoy it, it's easy to become a fan. If you go to the area, you will find five Nasi Uduk stalls in a row, so please make sure you choose the correct stall.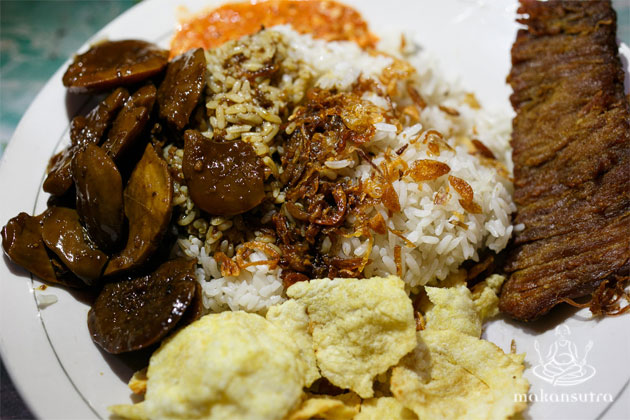 Jl. Palmerah Barat, Rawa Belong (near Rawa Belong intersection)
West Jakarta
Open: 18.00 – Close
Nasi Uduk Kota Intan
Chinese folks in Indonesia often adapt local culinary styles with their skill sets. You can tell if it's a Chinese owned or influenced street stall or kaki lima when you hear the roar of high pressure stoves and woks, coupled with a complex preparation table. Just like this stall, where the strategically positioned Chinese lady boss would relay orders at her staff. Besides the top notch rice quality, the most interesting part is the two sets of sambal served on the table. One is a sweetish peanut base for the Nasi Uduk, and the other is a spicier belachan for the fried proteins – of your choice, ranges from chicken, tofu to fried offals.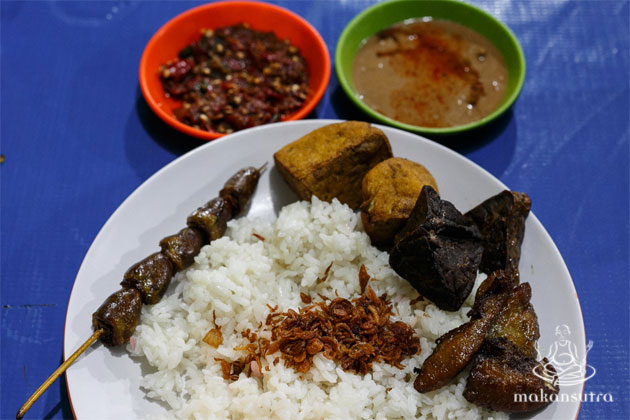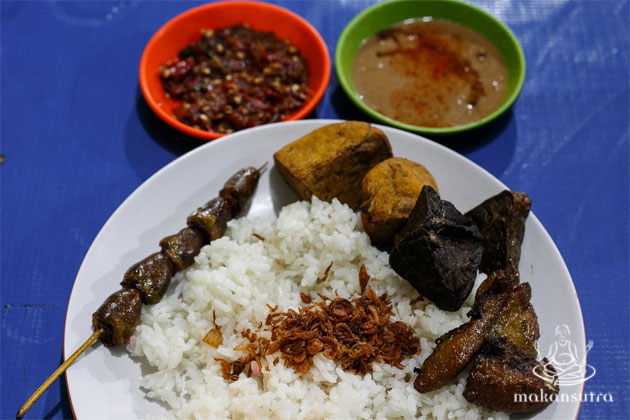 JL. Kyai Haji Samanhudi, Pasar Baru (front of GKI church)
Central Jakarta
Openg: 17.30 – Close