New Bedok Market Place: Hip place, comforting food
By KF Seetoh - Monday, May 25, 2015
"Have some guts, be yourself and be adventurous", he told me after I coaxed him out of his polite demeanour. I asked this "one-to-watch" 23 year young hawker Jeremy Han what he would say to the army of egg benedict and smoked salmon café chefs and owners. "Don't keep selling what is tried and tested and well liked on Instagram.", and all at once, I knew this kid is going places. He is a soul that represents the new spirit of Simpang Bedok food centre. This food centre bravely reopened late last year coming in where the previous owner shuttered it down in mid-2014.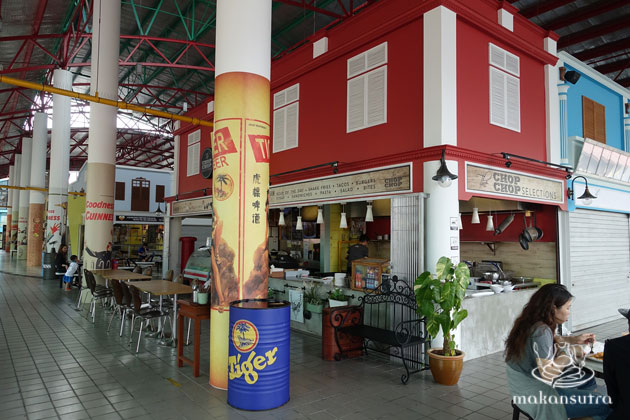 The new set up now reeks of an independent attitude. Each stall looks like a little shop lot along the street doing their own thing. "We wanted each of these chefs and cooks have their own real identity and character. We even suggested designers who can help in this area" says Sean Goh, one of the new owners of the food centre. The only thing fake is the "second floor" deco row of shop house windows that mimics a busy old street. I sense that the new breed of hawker centres the government is building in the decade ahead should take a leaf from their tree of thought process of this place. It is multi-textured, has that indie soul and does not fit into that existing hawker centre regulated-mould and stainless steel feel. I see treated wood finishes along with black steel stall front designs along with seasoned cement touches and corrugated rood zinc sheets. Each stall does not have a standard layout but yet fit regulatory requirements. There is a range of traditional and new hipster and international food offered at cheaper prices.
Slightly more than half of the stalls are open but three stalls stood out at this visit: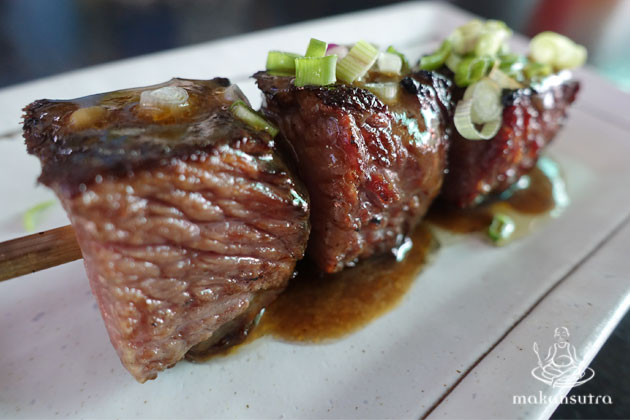 1. Burning Oak: 12pm-1.30pm/ 6pm-10pm (close on Monday)
He graduated from Temasek Poly's culinary faculty and toiled in the kitchens of Emmanuel Stroobant and the defunct 53 Restaurant. Now, with investments and help from his parents, Jeremy Han opened this hip little "exquisite grills" and tapas stall. His wood fired Guinness Short Rib skewer ($6), sous-vide for 72 hours and marinated only with Guinness Stout and some salt with wistful hints of tomato, disappeared in my mouth effortlessly like grilled tofu. His simple wagyu beef ($12) was so expertly grilled, it came juicy and roasty. I like how he introduced baked ginger feelers over his meltingly soft grilled Iberico pork cheek ($12). The Curry Risotto Croquettes ($6.50) was a delightful tapas.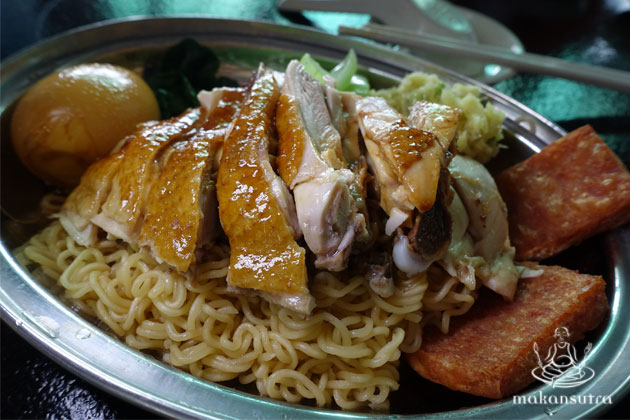 2. Uncle Chicken: 12pm-8.30pm (close on Monday)
Updated on 12 August 2018
Reloacted to 729 Havelock Road
Operating hours: 11am- 10pm daily

Niven hails with the legendary Margaret Drive Chicken Rice family legacy. He left his old Alexandra Village Food Centre stall for this place and he still draws in his string of regulars. But it is his new dish, introduced just three weeks ago, that piqued me. "A Hong Kong customer suggested I offer Lo Ting, since I have all the ingredients plus a good minced ginger sauce" so this instant noodle done with sesame soy, topped with braised chicken, slices of luncheon meat, greens and a lava egg, was born. It is very comforting and reminds you of what you will struggle to perfect at home with a pack on instant noodles.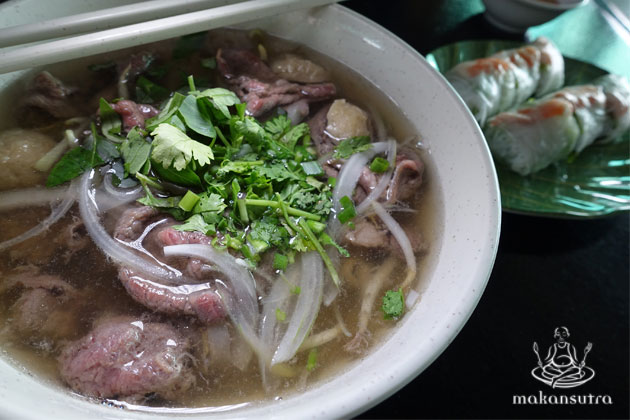 3. CLOSED-  Huong Que.: 11am-10pm daily
Leo Ng and his Vietnamese wife Vu Thi Hai used to run stall in Bedok but business was "bad" although he sold his pho at heartland prices. The moved here, lowered their prices and the crowd showed up. "It is one of the most popular stalls here", according to Sean, co-owner of the food centre. Their Pho ($5.50) has a nice sweetness in the broth and the meats are not overcooked. The spring rolls ($2.80) are hearty and comes with a sauce which is better than most I know.
The Bedok Market Place
348 , Bedok Road
(above Giant Supermart)