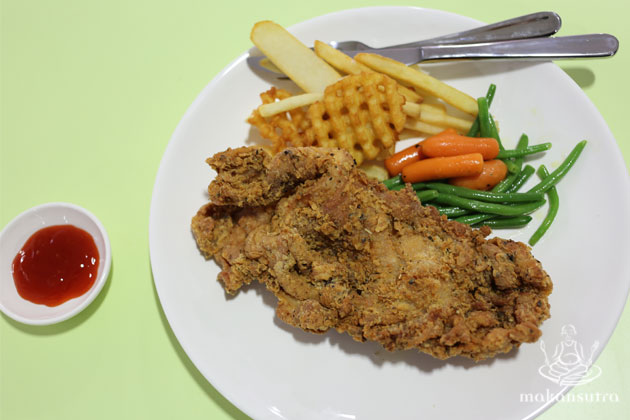 NEW CI YUAN HAWKER CENTRE: WHAT'S GOOD THERE
By Cecilia Joven Ong - Friday, Aug 28, 2015
This new hawker centre opened on 4 August 2015, is co-located within Ci Yuan Community Club at Hougang Avenue 9. Consisting of 40 cooked food stalls with 640 seats, it is the first of the 20 new hawker centres planned by National Environment Agency (NEA). Fei Siong Food Management Pte Ltd (Fei Siong) has been appointed the managing agent for this hawker centre. It is equipped with tray-return facilities, natural ventilation and family-friendly features such as child-friendly toilet facilities and family-friendly seating. Another special feature to take note; every stall has an automated payment machine – customers are expected to insert the notes and coins into it for payment.
95 per cent of the stalls are already in full-operation. Most of the stalls there have generic signboards, likely to be amongst those stalls managed by Fei Siong (up to 20 stalls) and the remaining stalls are privately operated. The food items are priced starting from an affordable $2.80 (for a wide range of hawker fare). Speaking to some customers, they felt that the portion given for $2.80 food items are not too filling and served with minimum ingredients. This is probably due to the controlled pricing to justify the affordability of the food items in this hawker centre.
Here are some of the privately operated stalls reviewed – their prices are generally higher but relatively better in the quality.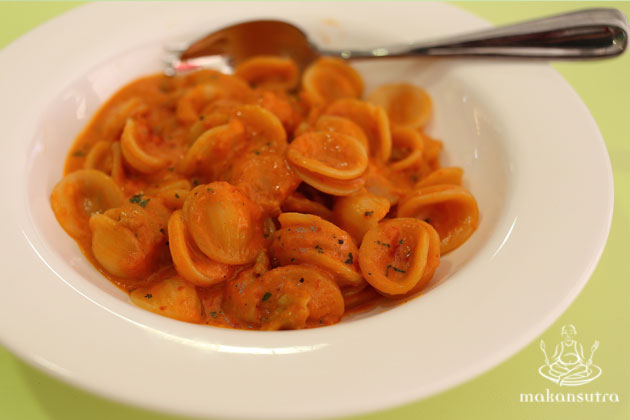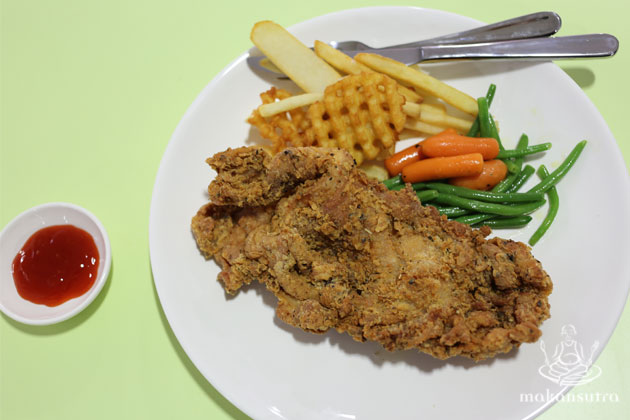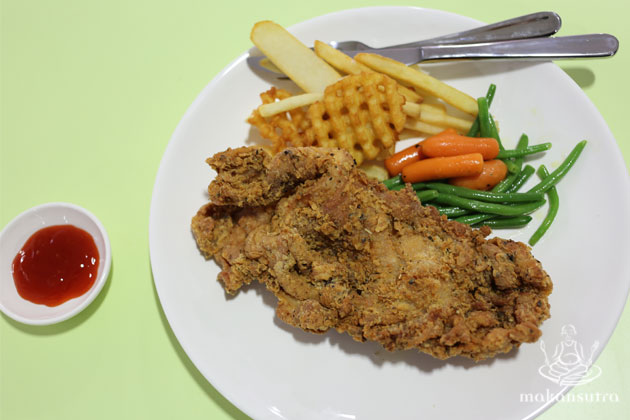 PASTA STOP (#01-27)
This humble stall is managed by Mr Valentino Valtulina of Ristorante Da Valention at Bukit Timah, and with his team serving western and Italian fare. The cheapest dish on their menu is the Spaghetti Beef Bolognse ($6.00) and the other end of the spectrum is their Pepper Steak ($13.00). Their signature dish is Chicken Pasta ($7.50), it contains bits of chicken tossed in sun-dried creamy tomato sauce; the flavours of this dish justify the pricey cost. Another interesting dish is the Spicy Chicken Cutlet ($8.00), it includes a herb marinated fried chicken cutlet with blanched vegetable and mixed fried potatoes. Top up options are available at $2.80 for soup with garlic bread and dessert.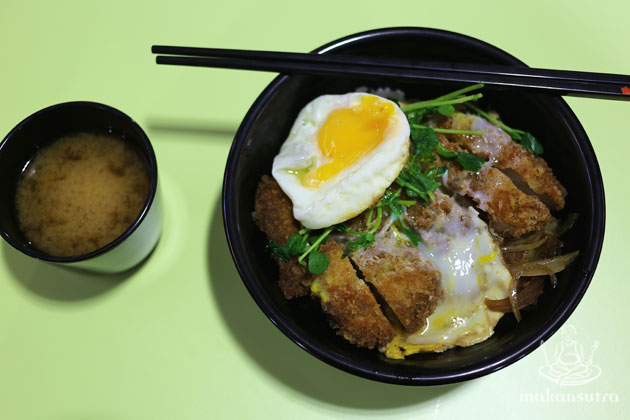 KITCHEN @ WORK (#01-35)
Japanese fare is available at this stall, starting from Chicken Karaage Don ($4.50), Chicken Teriyaki Don ($5.00), Salmon Teriyaki Don ($5.50), Japanese Fried Udon ($5.50) and Japanese Fried Rice ($4.50). The Chicken Karaage Don is a popular choice that consists of fried chicken cutlet served with shredded onion and beaten egg and small cup of miso soup. You can choose to have a sunny side-up egg added for $1.00. This is pretty good value, given the size and thickness of crispy chicken cutlet served with a substantial amount of rice.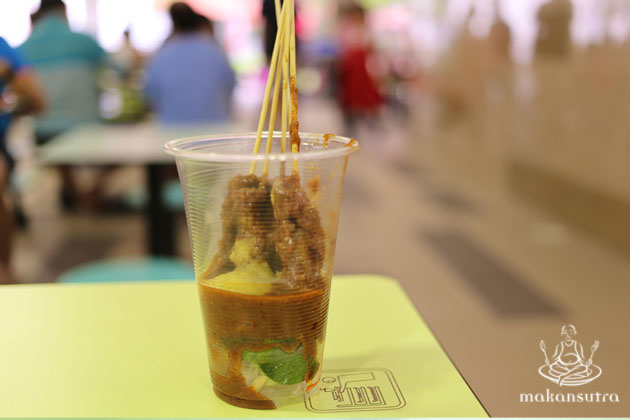 LEO SATAY (#01-31)
This is another popular stall serving Satay. Their menu options include Been Hoon Set ($2.80), Lontong Set ($2.80), Satay Cup Set ($2.80), Ketupat ($0.60, rice cake) and Chicken / Pork Satay ($0.50 per stick, minimum ten sticks). The Satay Cup Set consists of five sticks of Satay with Ketupat, is a convenient choice to grab and go. These well-marinated satays were of desired tenderness and served along with chunky pieces of cucumber and onion. The peanut sauce was thick and well-balanced in sweetness, and with pineapple puree added to enhance the flavour.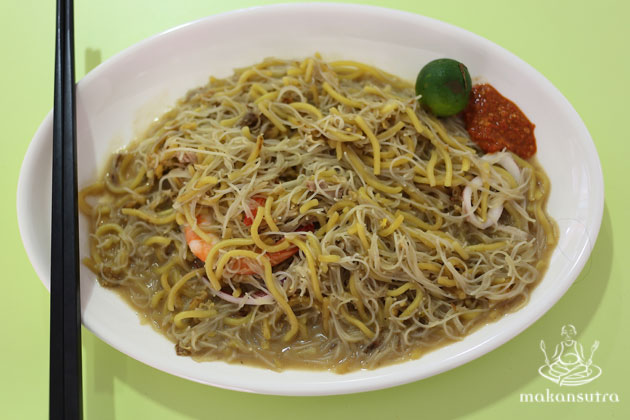 FATTY FRIED HOKKIEN PRAWN NOODLE / CARROT CAKE (#01-16)
Fried Hokkien Prawn Noodle ($4/$5/$6) and Fried Carrot Cake ($2.50/$3.50) are available at this stall. Their Fried Hokkien Prawn Noodle was a pleasant surprise, served with a good portion for $4. It was braised to infuse the flavour without compromising its texture and their super spicy chilli was definitely the star of this dish. The level of spiciness added a layer flavour to the dish, which complemented the overall taste. This dish is recommended to get.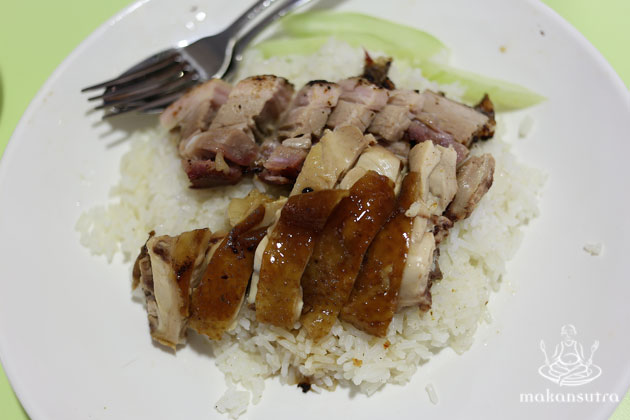 DAO XIANG FOOD (#01-22)
This stall offers Soya Sauce Chicken Rice ($2.80), Roasted Duck Rice ($3.00) and Char Siew & Roasted Pork Rice ($4.00). It is one of the stalls with a constant queue during lunch hour. You can also choose to have Soya Sauce Chicken with Roasted Pork Rice for $4. The portion for the meats and rice were quite substantial. Overall, it fared better than expected though I do prefer the roasted meat to the soya sauce chicken a little more. I could taste the slight crispiness on the skin layer and the lightly salty flavour within.
CI YUAN COMMUNITY CENTRE
51 Hougang Avenue 9 Singapore 538776