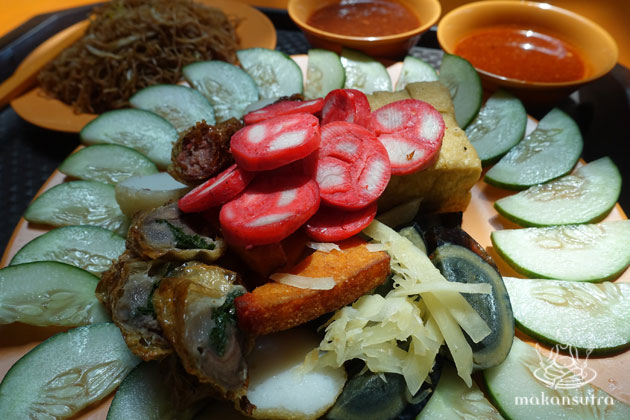 Ngoh Hiang: The Last Three Hokkien Ngoh Hiang in Singapore
By KF Seetoh - Tuesday, Jun 30, 2015
It's originally a South Chinese Teochew dish but the Hokkiens here created their own version over 50 years ago. Well, it's just a very small group of them and thankfully is still around, but we are looking at the last three Hokkien Ngoh Hiang masters in our midst today. So, the question beckons- what is the Hokkien version or, for that matter, what is the Teochew Ngoh Hiang? "The Hokkien version don't use mashed yam stuffing in their ngoh hiang meat rolls" Mr Ng Kok Hua of China Street Fritters at Maxwell Hawker Centre tells me. They also don't offer the crispy prawn fritters like Teochew ngoh hiang stalls do. Their meat rolls are thinner and packed with just fat and lean pork seasoned with five spices and wrapped in bean skin (pigs caul was used back in the day but expectations have changed over the years).
For instance, you won't find items like liver rolls (deep fried bean skin rolls with pig liver and chives) and there won't be a big range to choose from either- on average 5-7 items. They don't also offer the colour artificially coloured pink gooey sauce that lends a sweet umami flavour to the fritters. Theirs come more savoury and brown. The Hokkien prawn fritters are very different from the Teochews- they use a fluffy batter and bean sprouts are used to introduce some sweetness and crunch. "Which is why they make them on the spot upon order or else the bean sprouts will turn the fritter soggy if left it to sit." says Mr Teo Ho Soon of Hup Kee Wu Xiang Guan Chang in the same hawker centre adding "it's a lot of work and we don't have enough manpower to do this anymore".
So, while stocks and energy lasts (all of them are in their senior years and only Mr Teo has trained his son to help out in the business), check out these last three Hokkien Ngoh Hiang stalls still standing today.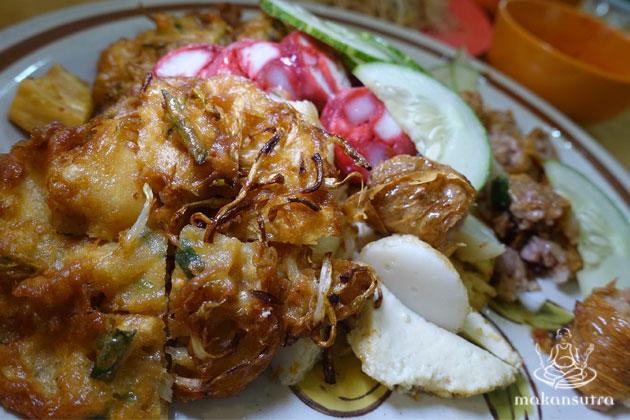 Five Spice Prawn Fritter, 02-04/05, Blk 1, Tanjong Pagar Plaza, 12pm-2pm daily, tel: 98572732
The killer application, and the only one left in Singapore, is the Hokkien style prawn fritter (or hae ji). They make it on the spot upon order (which accounts for the wait time), same as how it was 20 years ago when I first had it in their stall in Tiong Bahru. They moved to a few places since then and they now roost here. The wriggly caramelised strings of bean sprouts on the fritter is magical- sweet, crunchy with a faint hint of roastiness coupled with the light fluffy batter and fresh prawns. Order all the six items there for a complete feast. They use a rougher beehoon for the accompanying staple, but it is very flavourfully done.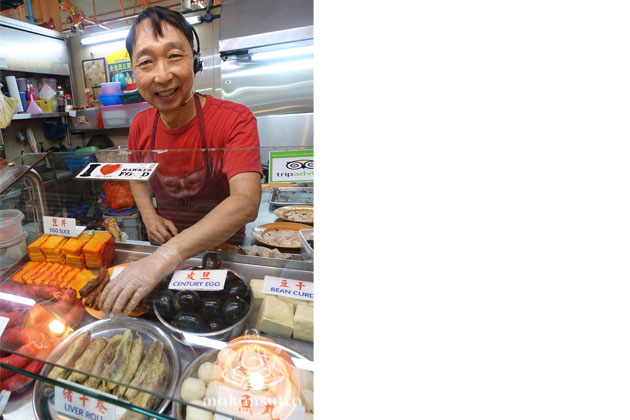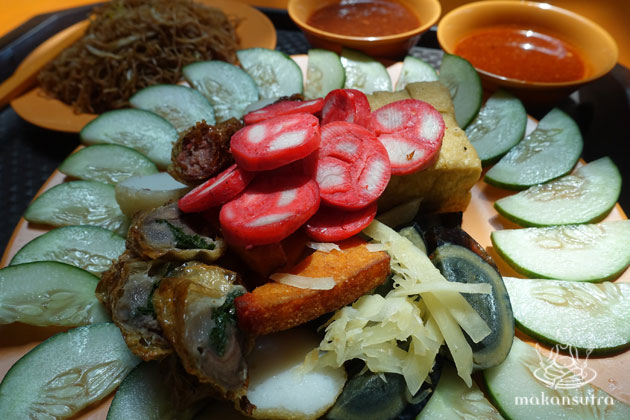 China Street Fritters, stall 64, Maxwell Hawker Centre, 11.30am-8pm , close on Mondays. Tel:92396464
The older generation relatives of this stall owners and the Hup Kee Wu Xiang Guan Chang used to be partners and are believed to be the ones that created this form of Hokkien Ngoh Hiang. They have similar items and both do not have prawn fritters. It includes egg cakes, meat rolls, pink sausages, century egg, tofu, fish balls. The liver rolls here are less intensely marinated with five spice powder and the taste of the ingredients shine through. Generally, the items here are very well fried for texture and robustness.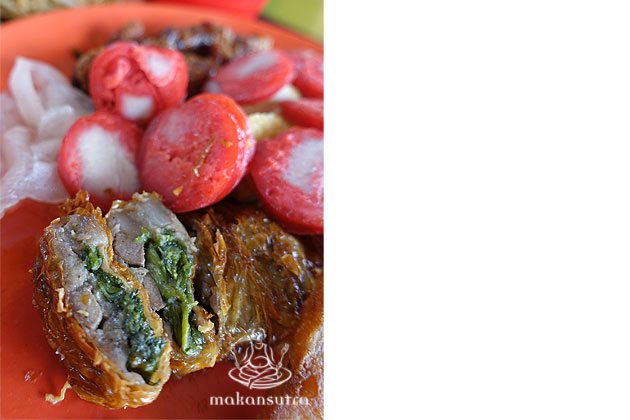 Hup Kee Wu Xiang Guan Chang, stall 97, Maxwell Hawker Centre, 11am-8pm, closed on Mondays. Tel: 8113 7015
Their items are done gentler and has a subtly, almost unnoticeable difference from China Street's version. Their meat rolls too, come with a thin stick of lard inside to hold the roll together and has a stronger five spice flavour. And just like their competitor, they hand make only four items- pink pork sausage, meat and liver rolls and egg cakes- the rest, come from suppliers.