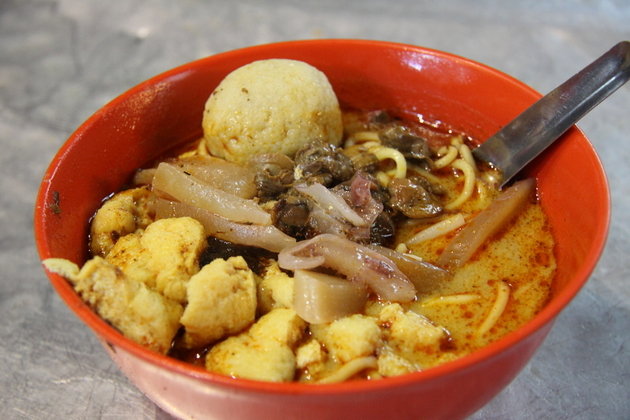 Night Grubstreet in Penang
By CK Lam and KF Seetoh - Wednesday, Dec 26, 2012
One good place to go in the night for Penang street food is Chulia Street. For decades this street is known for its abundance of cheap accommodation for tourist and backpackers. Peer closely at one seamier corner, and queer, night queens and colourful blokes dressed as divas will accost you.
Every night, a section of the road is taken over by hawkers who ply their trade on the roadside and five footway. This food haven offers much food to explore. The food is simple and reasonably cheap.
The curry mee is a recommended stall and it attracts a good size of patrons each night. Though the ingredients are the usual cockles, cubes of pork blood jelly, cuttlefish and tau puff, it is the stock that stands out. The slightly sweet coconut milk is fragrant by a blend of aromatic chilli and spices.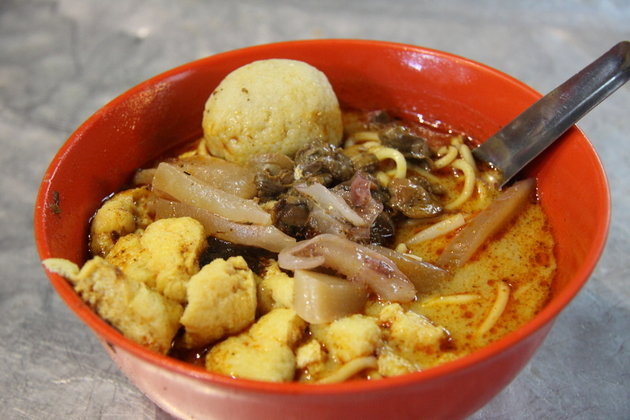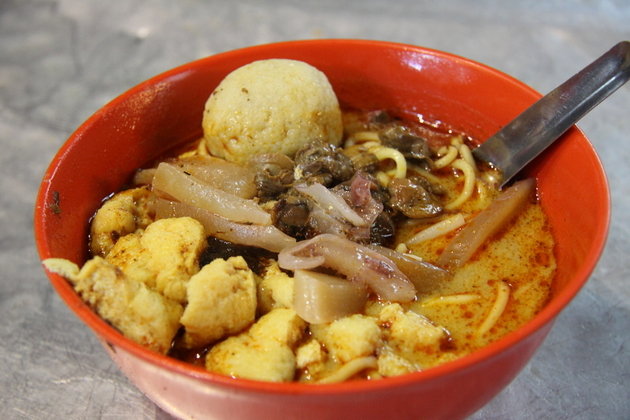 Another stall that has a huge following is the wanton mee at the nearby Sai Lam coffee shop. Expect to wait to be served. The springy noodle comes with barbecued pork and dumpling filled with minced meat. Try the braised beef noodle otherwise known as "ngau lam mee" or better still go for a bowl of wanton serve with the beef stock. The braised beef and the stock have a herbal tang to it.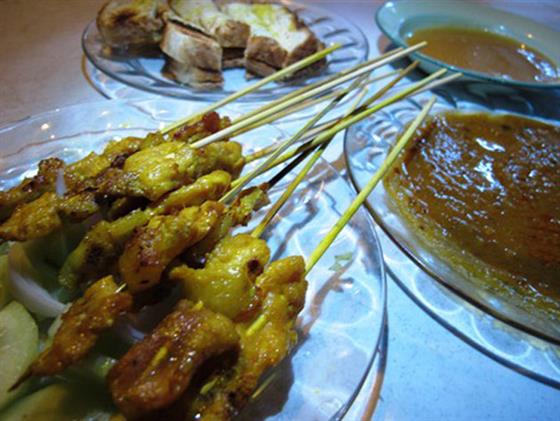 Right in front of the coffee shop is a three wheeled push cart selling satay. It is not the average satay but the traditional Hainanese satay. The skewers are made up of lean meat interspersedbypieces of fat. The skewers are grilled over a charcoal fire and constantly brushed with oil to enhance the textue and moisture. The accompanying satay sauce is totally different from the usual satay sauce. The slightly sweet creamy sauce is made with sweet potatoes, chili and sour plum. Do ask for some charcoal toasted bread to go with the satay.
Further down the road, is a stall selling deep-fried snacks like wukok (taro ball), cintiu chai (sesame ball) and lor bak ko (radish cake). The old man has been churning out these snacks for the past 30 years. The decent cintiu chai which is hard to come nowadays has two types of fillings – crush roasted peanuts and red bean paste. Business is brisk and at times, customers have to wait in line for the deep-fried items.
Another simple snack is the apom, sold by an elderly couple. The sweet thin pancake is cooked in a small wok with a pillow soft centre and slightly crispy edges. This snack is always a pleasure with a cup of local kopi-o.
Don't leave without exploring other good eats like the Hokkien style fried noodle, wanton mee and lor bak. Chances you may be tempted to try all of them. Business hours are from 7.30pm till 11pm.