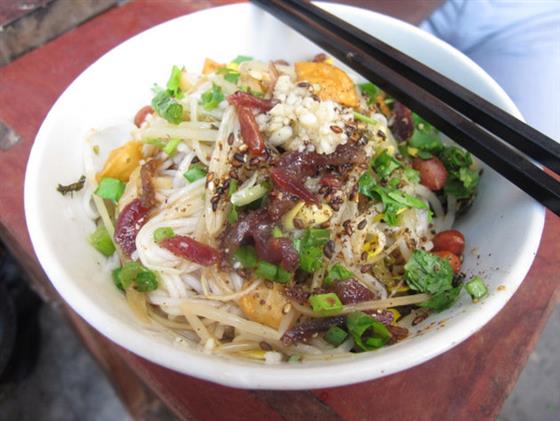 Noodle Congress
By Tris Marlis - Wednesday, May 15, 2013
In many parts of Asia, noodle is an everyday food, and it sometimes signifies tradition and celebration. In Singapore, many of our favourite and signature dishes fall in this same category – bak chor mee, hokkien mee, char kway teow, lor mee and mee rebus just to name a few. For the World Street Food Jamboree, we knew that we need to bring a handful of noodle masters from around world to meet the demand for this affinity with mee.

Banh Da Tom Hai Phong, Vietnam

If you think Vietnam is all about pho, think again. This dish is a traditional breakfast item in the coastal town of Hai Phong that traditionally comes with crab meat. The name "Banh Da" refers to the flat rice noodle made of nutty red rice. The version we're featuring, however, is created by chef Vo Quoc (an acknowledged culinary expert by the Asian Chefs Association and runs his own street food café in Ho Chi Minh) known as Banh Da Tom, which comes with duo of fried and grilled snakehead fish fillet. The broth is made of shrimps that's been boiled, ground and stewed for maximum robust flavour.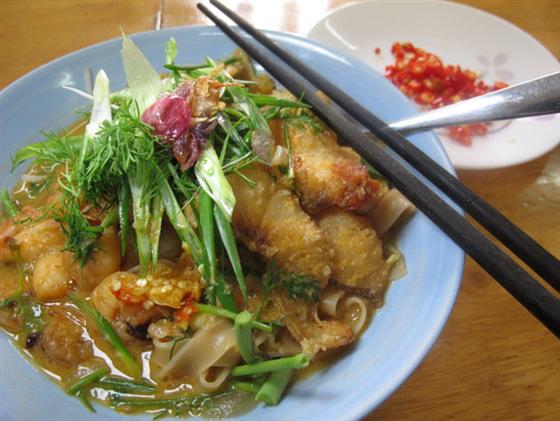 Hainan Fen, China

We were taken aback by the variety of noodle dishes in Hainan and how each of them differentiates itself from the others. The signature of this island is Hainan Fen which comes with soya-based gravy, topped with beef jerky, preserved mustard green, roasted peanuts and crackers. It is served dry with medium-sized cylindrical rice noodle and has strong aroma akin to fermented soya. Hainan Fen stalls are common in the streets of Haikou (Hainan's capital city), but Hai Ya is known as the go-to place for the most authentic version of this noodle dish.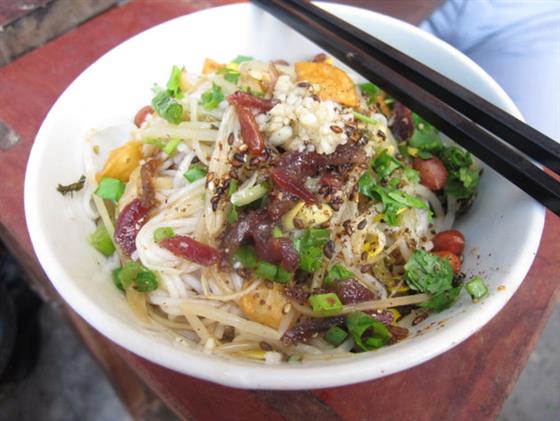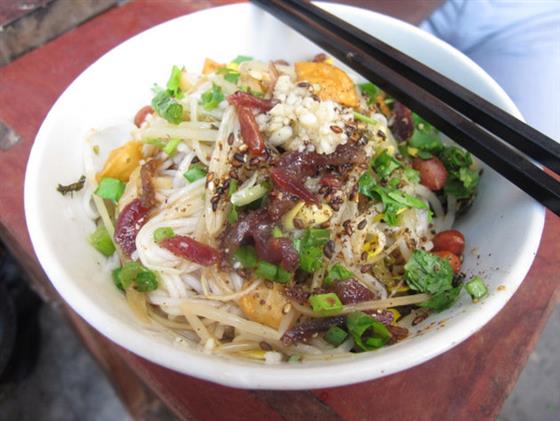 Ling Shui Suan Fen, China

Also from Hainan,China, Ling Shui Suan Fen comes with thinner rice noodle and thick broth flavoured with seafood products, such as dried cuttlefish and silver fish. It also has a slight tang from glutinous rice vinegar and sour plum sauce, which creates a symphony of sourness and sweetness. On top of that are slices of fish cake, lean pork and beef jerky with refreshing touches of chopped chives and coriander.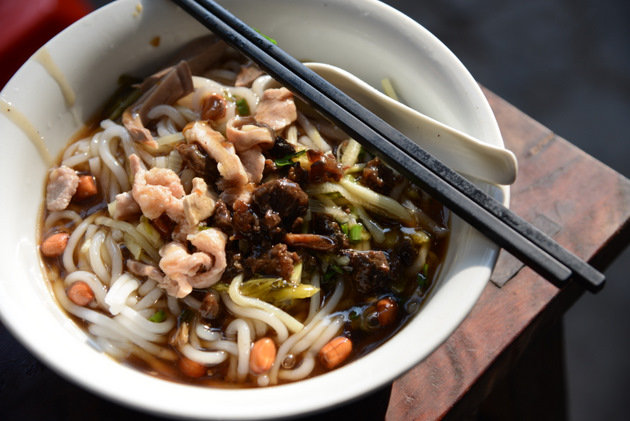 Bao Luo Fen, China

"Bao Luo" literally translates as "hugging beauty," which is what the locals use to describe the experience of eating this bowl of noodle. It comes with thick round rice noodle which is soft and yet resilient, it melts in your mouth as you chew. The gravy is made of beef stock as well as sweet corn, and topped with learn pork slices, beef jerky, roasted peanuts and spring onions.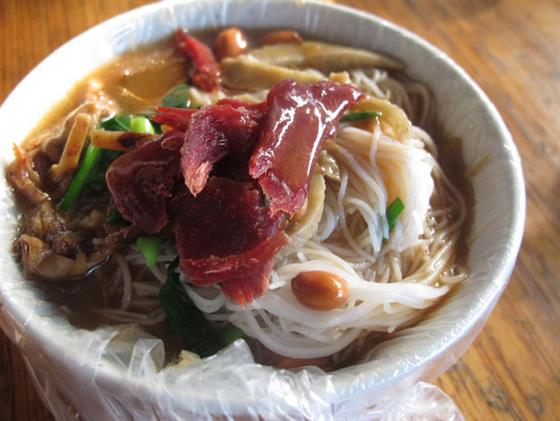 Penang Laksa, Malaysia

The Penang Laksa is the pride of the town, from the poached and flaked sardine fish, to pungent fermented shrimp paste and torch ginger flower – every element of this noodle dish is uniquely Penang and hard to imitate. The complex broth infused with tangy tamarind brings everything together along with the fresh mint leaves garnish. This stall has 14 years of craft and was crowned as Penang Hawker Master in 2010.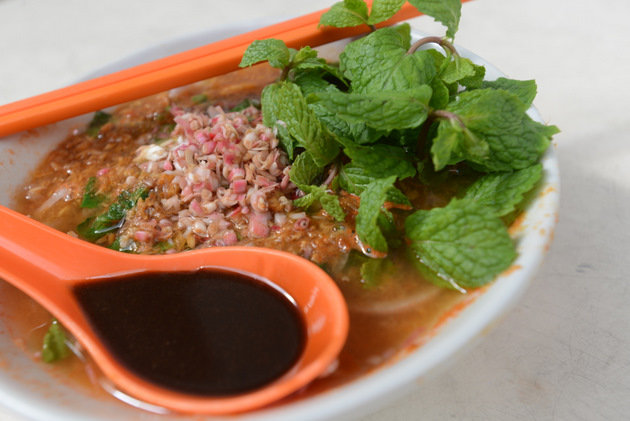 Mee Siam, Malaysia

Our Mee Siam is usually served with spicy, sour and sweet gravy, but this one from Malacca is done drier – Peranakan style. The sauce is a harmonising mixture of Malay and Chinese culinary elements, Rempah (spice paste) and Tau Cheo (fermented soya bean sauce). The mixture of the sauce with tamarind is used to toss with the thin vermicelli. Donald and Lily from Malacca started with a pushcart stall on the street, and today they own a successful namesake cafe.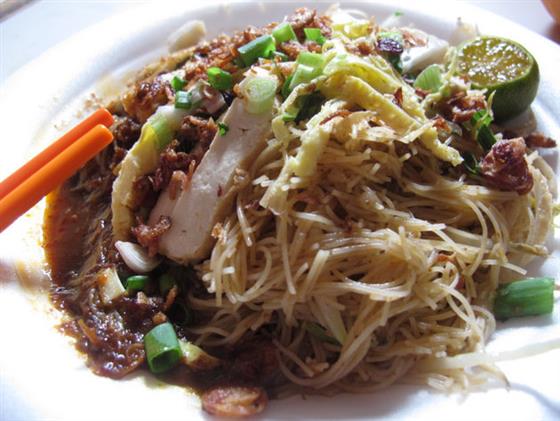 Get tangled when all these noodle masters are here from 31 May to 9 June for the World Street Food Jamboree.

The World Street Food Jamboree (31 May to 9 June) is a mega street food feast featuring up to 40 of the world's best street food masters from Indonesia, India, Thailand, Vietnam, USA, Mexico, Malaysia, Denmark, China and Singapore. The Jamboree aims to create better awareness for some of the lesser known but still excellent street cuisine and the personalities behind it, bond communities through a vibrant food experience and generate opportunities for the public to the part of the industry. For more information, go to www.wsfcongress.com