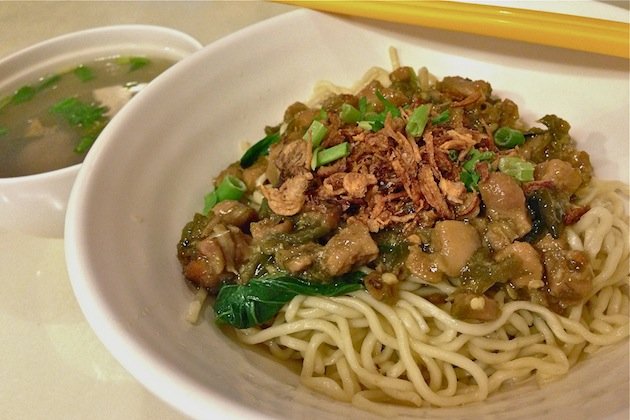 Noodle with Green Chilli
By Tris Marlis - Thursday, Aug 15, 2013
In Indonesia, cuisines differ from island to island, and there are literally thousands of them. There are two types of Indonesian food that we are familiar with here in Singapore, the Javanese (ayam penyet and soto) and the Sumatran (nasi Padang). The Indonesians do not mess with each other's flavours, fusion is unnecessary and sometimes seen as a crime. But in Singapore, they do. In this case, the Javanese and Sumatran flavours crossed in a bowl of noodle.
It happened when a young entrepreneur from Padang, Alvian Haryono, took over J-Town Cafe – a small eatery located at Midpoint Orchard that specialises in street food from Jakarta.
Haryono kept the original menu, mainly eastern Javanese fare that favours sweeter taste, but recently decided to infuse some flavours of his heritage into their signature Bakmi (dried chicken noodle). He added some Padang style green chilli paste into the original mushroom chicken stew sauce in Bakmi, which turned out potent, but does not overwhelm. It gives the sweet mushroom chicken stew a kick, as well as adding a nice savouriness and surprisingly, a refreshing touch. Another key to the dish, besides the sauce, is their curly egg noodle that is made in-house. The noodle is nicely al dente, and best when the sauce coats every strand of it.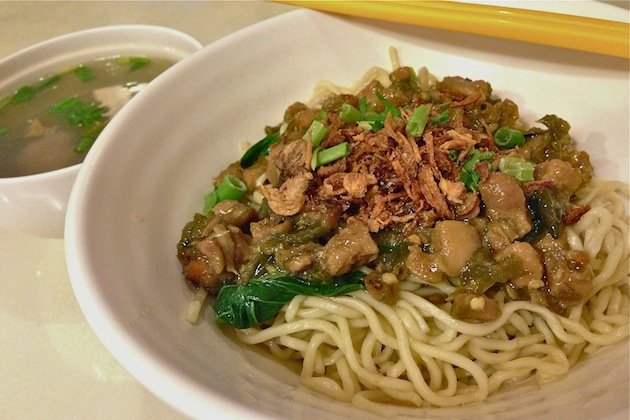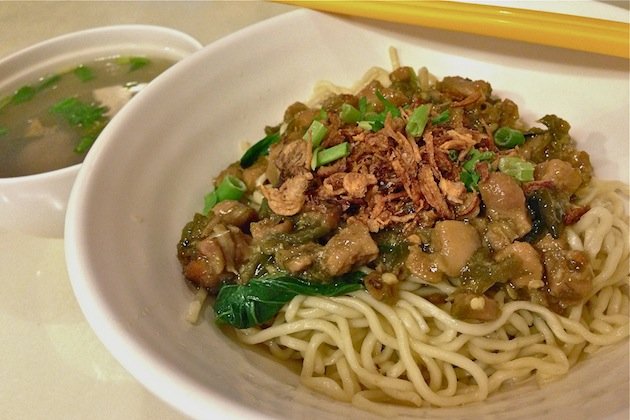 With a nasi Padang business in his family background, owning an eatery has been Haryono's dream. He doesn't have a formal culinary training background, doesn't cook much either, but he swears by his cabe (sambal) recipe. It is the one thing that he has cooked so often, he considers it perfect. After years of slogging as a bank executive, telemarketer and other gigs in between, his dreams of printing his signature recipe on a menu finally materialized. But no worries, he is not going to add a dollop of Padang style sambal in all dishes. "Not everyone is used to and like spicy food," says Haryono, and it is also important to maintain the authenticity of flavours.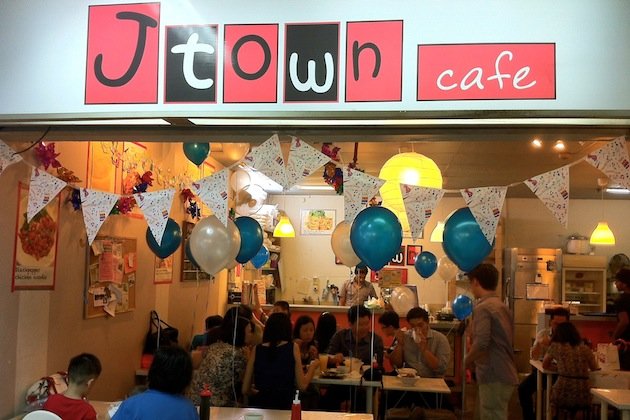 The eatery offers other simple and minimal options, such as Bakso (beef balls noodle soup), Siomay (steamed fish cakes with peanut sauce) and Martabak (Indonesian style pancake with chocolate, peanut and/or cheese filling). The location (at the basement of Midpoint) is easily missed by passer-by, but come closer and the smell of stir-fried green chilli sambal, will pique your noses. Walk in, and you will be welcomed by a mix and match of pop music at the background and a bowl of Bakmi.
J-Town Cafe
220 Orchard Rd, B1 Midpoint Orchard
Tel: 9230 5040
Hours: 12pm – 9pm