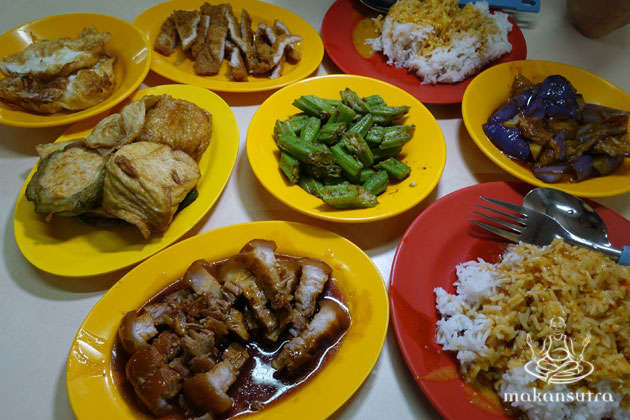 North Bridge Road Food Centre: Unknown little gems in north of town
By KF Seetoh - Sunday, Oct 30, 2016
There are over 100 public hawker centres in Singapore and every time I think I have visited them all, another obscure one comes up and demands a visit from me. Yes we have only too many top ten lists of everything edible and colourful found in your social media news and kaypo pages but, of course, there are way more than ten in any top lists anyone care to share. And here's more good or bad news, depending on your viewpoint, up to twenty more new spanking hawker centres are coming up in the years ahead to vie for your attention.
So with easy access to public transport, from taxis, to private car ride apps, trains, buses and even your humble bicycle..skip the tried, tested, convenient and proven food centres and head to the ones you've never heard of or find it a chore to go, for whatever reason. Make eating an outing and an adventure, don't let this great makan culture of ours be just a perfunctory meal time routine to you.
This North Bridge Road Food Centre is not quite a star hawker centre but it has some star attractions, in my Makansutra guide book, at least. For starters, there's the Blanco Court Beef Noodle (typical Hainanese style topped with chincalok and lime chilli), the Lao Huang Yong Tau Foo and the famous-with-taxi-cabbies Koka Wanton Mee, that fills the place up only at night when they open. Two other new gems, I shall uncover today.
North Bridge Road Food Centre, 861 North Bridge Road.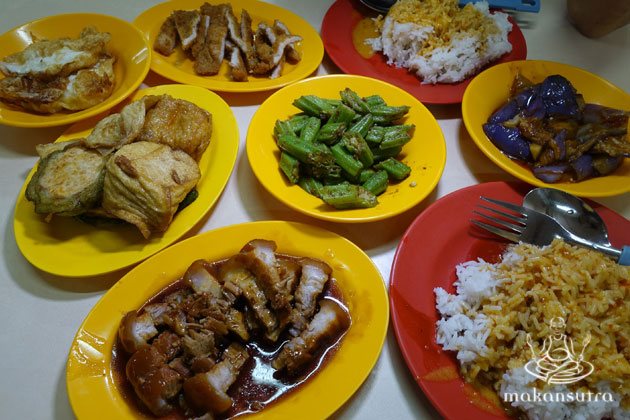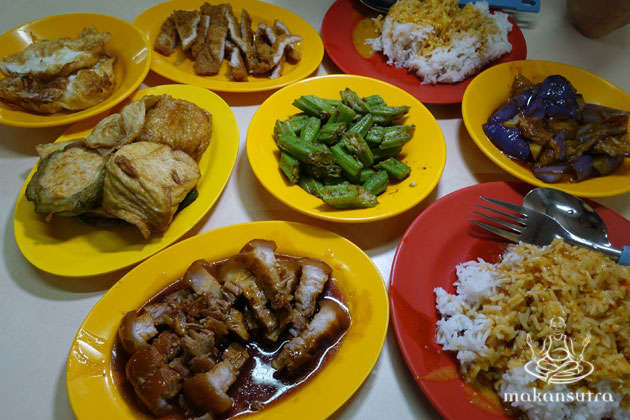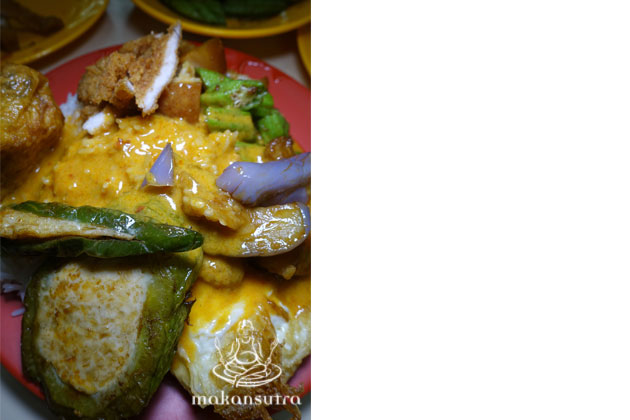 1/ Ann Lock Curry Rice, stall 01-109.
The senior, almost Pioneer Generation hawkers here are very friendly. When I asked for an extra bowl of their thick curry, they asked if there was anything wrong with the food. Another regular in the queue interjected "if not nice, he won't ask for it la! ". The range is not extensive but very well thought of- from thin pork chops, sambal terong (eggplant), sambal sotong to lor bak (braised pork) and curry chicken, among some. The curry is thick, "clingy", savoury and not overly spicy and they spoon some smokey, sweetish and savoury braised caramelised soy sauce over. There is always a queue and the dishes are made fresh when any item sells out.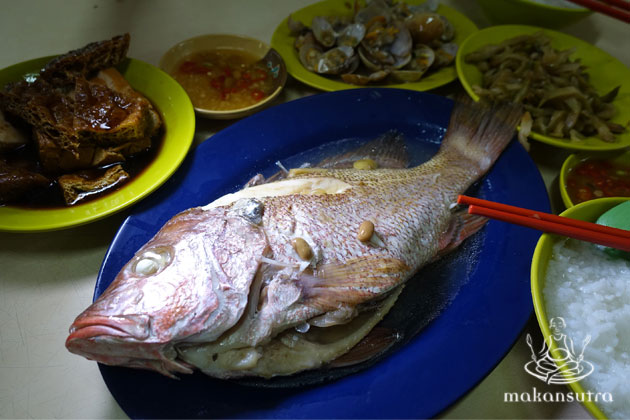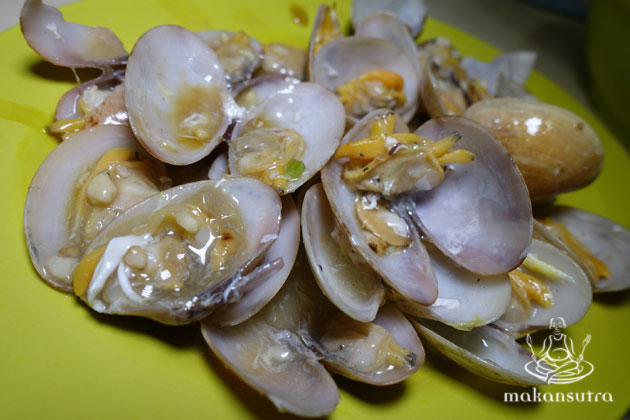 2/ 100 Mixed Vegetable Rice and Porridge, stall 01-100
They have a suka-suka (fickle) operation work day as "it depends on the fish supply". Out back in the stall is a five tiered steamer and fresh mullet, snapper, pomfret and whatever fish is available that day, is steamed piping hot in it. Almost everyone in the long queue never fail to pick up a steamed fish, along with some insignificant side dishes like Szechuan pickles, minced pork or braised taupok and tofu. They also have braised chicken, steamed garlic clams, braised pork etc..These folks can shift up to fifty fishes in a day, from my observation. They have to, as a full restaurant sized fresh steamed snapper, done with prunes chilli, ginger and garlic here, cost not much more than what you would pay at the wet markets. My whole snapper, with sponge and braised tofu, steamed clams and pickles with porridge for two, set me back by under $18. (just take a good look at the size of the fish, and this is the most expensive variety there).