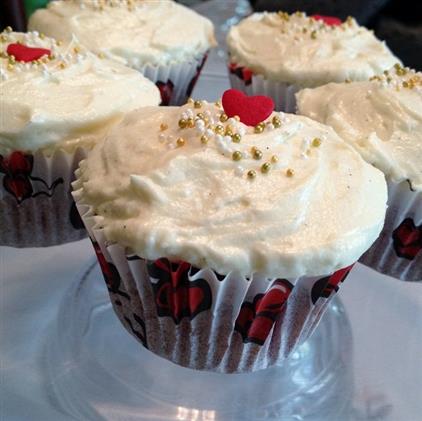 Not quite a Red Velvet Cake recipe
By Stefanie Chao - Thursday, Sep 27, 2012
The Red Velvet Cake—a cake that is more style than substance. Purists would surely agree that this confectionary is nice to look at but does not deliver in terms of taste. And what is the Red Velvet exactly?
A Southern American belle in her own right, the Red Velvet, according to the book 'American Cookery' by James Beard, originated in the late 1800s and varied according to the type of fat used to make it—butter, oil or vegetable shortening. The red colour came from a chemical reaction of rising agents, buttermilk and the anthocyanin content in the cocoa powder, further enhanced with a little colouring. (Although nowadays in bakeries, it seems to be a mad race on who can achieve the reddest of reds!) The velvet came from the texture of the supposedly tender-crumbed cake, and when this red rose was gilded with a velvety smooth cream cheese frosting, and possible adorned with pecans, a dream cake was born.
But what can go wrong with a cake like this. Everything—from off-putting colours, to plain, dry, unappealing cakes with a grainy texture to an overly sweet butter-based frosting that they call cream cheese slathered on. In some local Singapore versions, sadly, even the pecans are nowhere to be found.
This adaptation of the classic Southern cake takes a bit of time and effort but the results are well worth it. Let the milk take its time to curdle because this will make the cake tender, a combination of oil and butter gives flavour yet yields a soft texture. Do remember to freeze the chocolate buttons and chopped pecans so they will remain suspended in the cake and you get a nice contrast in texture with every bite.
With a name like Red Velvet, a certain attractive hue is definitely expected, and to me, a certain satisfaction has to be derived too. So here is our version, not too traditional – creatively licensed with golden syrup which provides a certain depth of flavour and fragrance, and the addition of chocolate buttons which enhances the cocoa flavour of the cake.
Therefore I cannot call it the Red Velvet Cake per se, because it isn't a true Red Velvet. We present the Scarlett O'Hara cupcake, like the character in the classic movie, a little bit naughty but oh so very nice!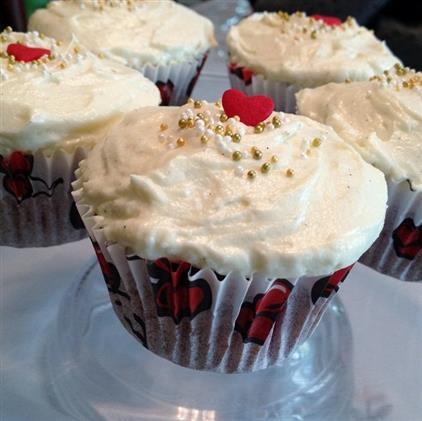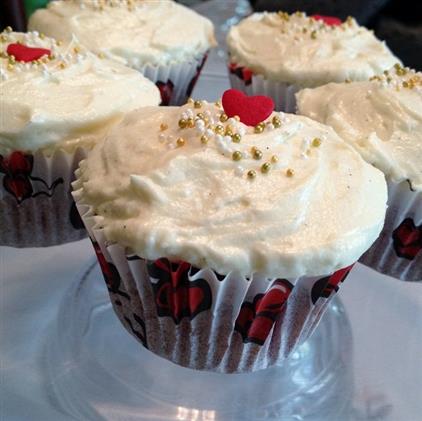 The Scarlett O'Hara (makes 12 to 15 cupcakes) 1/2 cup white sugar 1/4 cup golden syrup 55g softened French butter 55g corn oil 2 eggs 1 tablespoon cocoa powder 1/8 tsp powdered red food colouring (do not use the liquid stuff, it turns the cake pink) 1 and 1/4 cups self-raising flour 1/4 teaspoon fine-grained sea salt 1/2 cup HL milk mixed with 1 tbsp lemon juice, let it stand for 10 minutes to curdle. 150g Van Houten Dark Chocolate Buttons, frozen for an hour at least 50g pecans, chopped and frozen for an hour at least (this is optional, leave it out if you have nut allergies)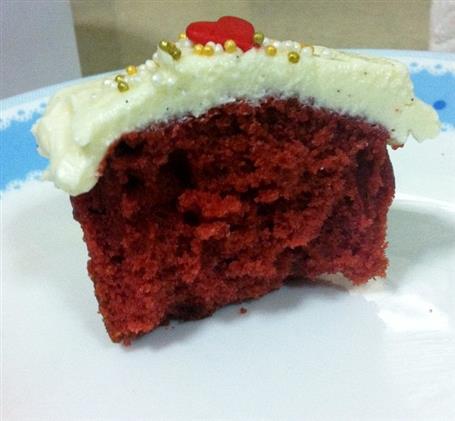 FROSTING: 250g softened cream cheese 2 tbsp softened French butter 1 tsp vanilla bean paste OR seeds of a vanilla pod mixed with ½ tsp vanilla extract 1/2 to 1 cup of icing sugar
HOW: Preheat oven to 180C. In a mixing bowl, cream the sugar,salt and butter – beat until light and fluffy. Stir in oil. Add the eggs one at a time, then golden syrup and mix well after each addition. Mix cocoa and food colouring together and then sift into sugar mixture; mix well. Sift in flour to the creamed mixture alternately with curdled milk. Blend in till smooth. The mixture should look slightly thick and glossy. Stir in frozen chocolate buttons and pecans. Divide into 5.5cm cupcake cases, bake for 15 to 20 minutes until a toothpick inserted in comes out clean. Cool completely then frost generously. While waiting for it to cool, beat cream cheese, butter, sugar and vanilla bean paste OR vanilla bean & extract mixture till smooth and creamy. Taste for sweetness then frost cooled cupcakes. Start off with 1/2 cup icing sugar first then add more if you like. This has to stay refrigerated as it has a dairy-based frosting.