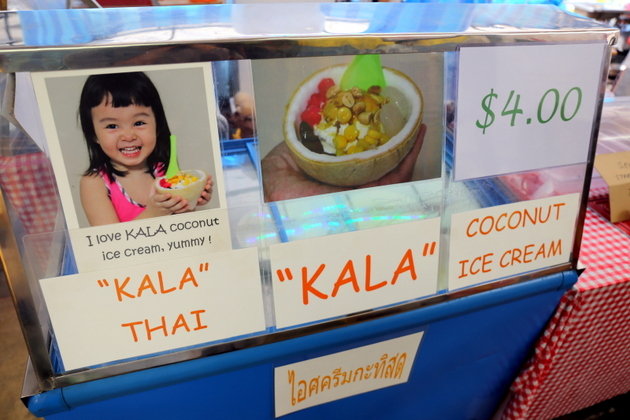 Odd Surprises at Ramadan Bazaar
By Catherine Ling - Tuesday, Aug 06, 2013
The wonderful Ramadan bazaars were once chock-full of mak ciks (aunties in Malay) displaying lovingly made home cooked fare – from little snacks and kueh-kueh to lavish dishes for breaking fast. There still are, but some of the bazaars look a bit more commercialised with pasar malam style copycat stalls selling the same things – Ramly burgers (not the real deal though), roti John, fried lekor, fish balls, mee goreng and grilled corn. Take a closer look and you might see some new food offerings, some of them bordering on bizarre.
Like Fried Oreos, for example, at the Sultan Mosque Ramadan food fair. Is a cookie not indulgent enough? Apparently no, and it needs to be battered, fried and then dusted with icing sugar. Perhaps if the UK can have deep-fried Mars bars, then maybe fried cookies don't seem so mind-boggling at all. With any luck, they might even taste better than the new sensation, Cronuts.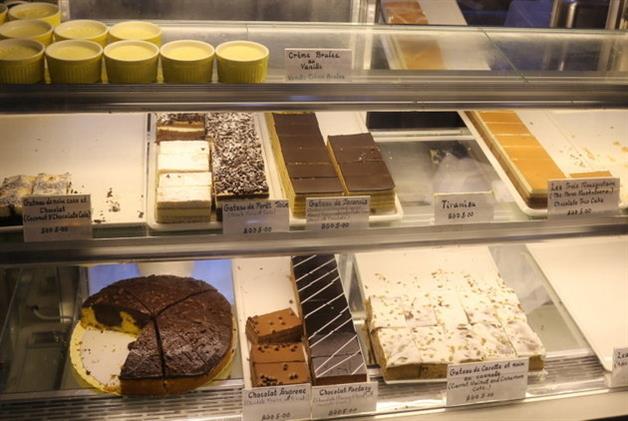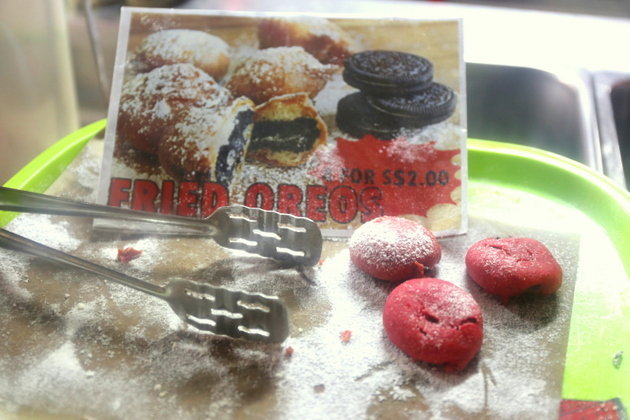 At the same food fest are several stalls which claim to be from the Middle East or offer Arabian dishes. There's one stall offering Mandhi rice (spiced chicken served on basmati rice, similar to biryani) with chicken or beef, and another stall nearby from Saudi Arabia with grilled meat on skewers and samosas.
If Arabian fare isn't surprising enough, maybe chi-chi French-style gateaux is. This is from Le Bistro Parisien, apparently the first halal French bistro in Singapore. Cakes include Gateau de Javanais (Indonesian inspired almond sponge cake with coffee buttercream, and chocolate glaze), Les Trois Mousquetaire (the Three Musketeers chocolate trio cake), and Chocolat Supreme (chocolate mousse and biscuits).
Pizza is also popping up as a hot favourite at the Ramadan stalls. It is easy to eat and popular with the younger crowd. While not very local in terms of cuisine, they are quite a steal at three pieces for just S$10.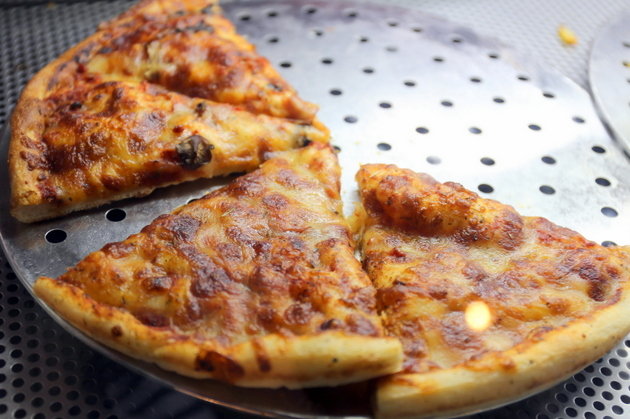 Fortunately there are still more traditional eats such as the lemang (steamed glutinous rice cooked in bamboo or similar contraption) with serunding (spicy coconut floss) and rendang.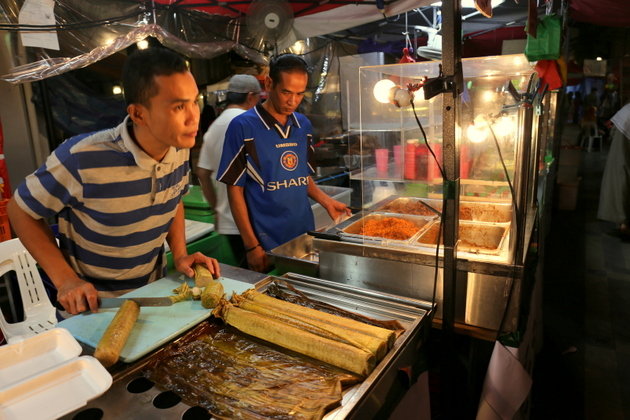 Another Ramadan invention is the cheesy lekor. These chewy fried fish paste sticks are common at every pasar malam and Ramadan bazaar, but this one with cheese strives to go one up on the competition. Whoever invented this probably can't get enough of cheese fries.
On another corner is a poster with cherubic child happily endorsing "Kala" – a Thai coconut ice cream dessert. Looks like cheng tng with ice cream in a coconut shell. It is an international blend of many tastes and textures.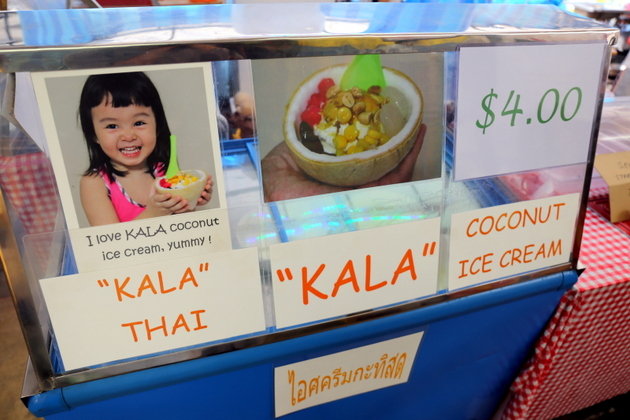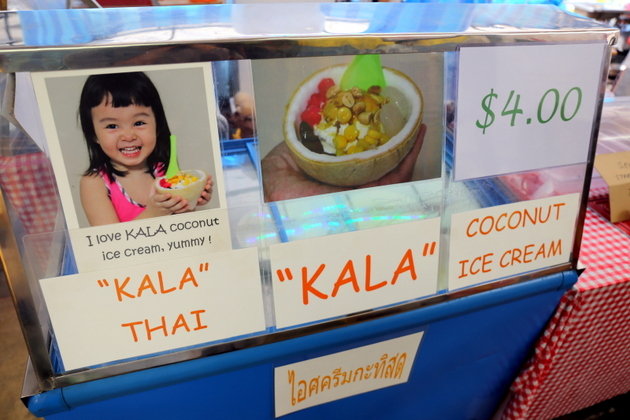 Even with the invasion of foreign foods and quirky inventions, the Ramadan bazaars still carry a very festive atmosphere. The Muslims are celebrating food from all cultures, and that is always heartening to see.