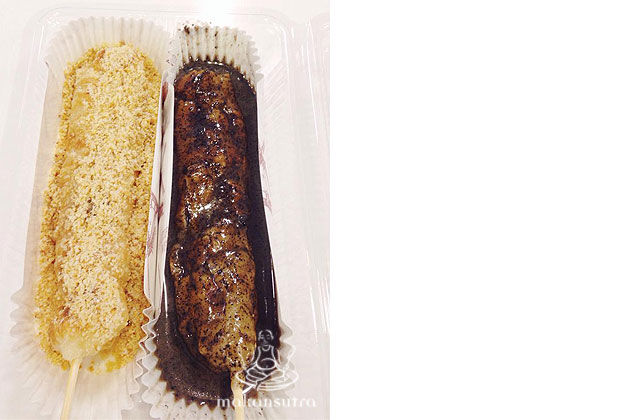 Oki Machi : A Decent Substitute For Nian Gao?
By Adeline Ang - Tuesday, Feb 10, 2015
You'd know when Chinese New Year is just around the corner; with shops draped in the colours red and gold whilst blasting dong dong qiang, it'd be difficult to not notice when this festive season rolls around. Like most of the festive holidays (for Singaporeans at least), what we love most would be the types of food served during Chinese New Year, you'd realize how they are often symbolic. The nian gao (the sticky rice cake) in this case, is eaten as it symbolizes increasing prosperity (nian nian gao sheng). The stickiness of the rice cake also symbolizes the coherence of a family while rice itself represents one of the twelve symbols of sovereignty. There is also the grandma's tale and old fable about how the sticky cakes are offered to the visiting "guardians" of heaven to check up on your family's behavior- sort of like Santa checking if you've been naughty or nice. The delicious sticky cakes jam up their mouth and hence they have trouble reporting their findings to the Gods. Great, if you've been naughty.
Why the sticky rice cake in particular? As much as I love wolfing down the sumptuous pan-fried egg infused sticky rice cake faithfully prepared by my grandma every Chinese New Year, a recent discovery of a mocha shop had me thinking how it'd be decent substitute for my favorite Chinese New Year snack.
Hailing all the way from Taiwan, Oki-Machi opened its first outlet at Seletar Mall. What makes this simple muah chee snack unique would be how it is first grilled over charcoal before being paired with traditional flavoured toppings such as peanut and sesame or funky ones such as Nutella and Thai chili sauce.  The skewered rectangular shaped rice cake, after a good five-minute or so charcoal grill, is crispy on the outside but chewy and moist on the inside. Its texture is very similar to that of our nian gao but perhaps thicker. The muah chee also comes in a box, so for messy eaters like me who tend to drop the toppings of their food, fret not.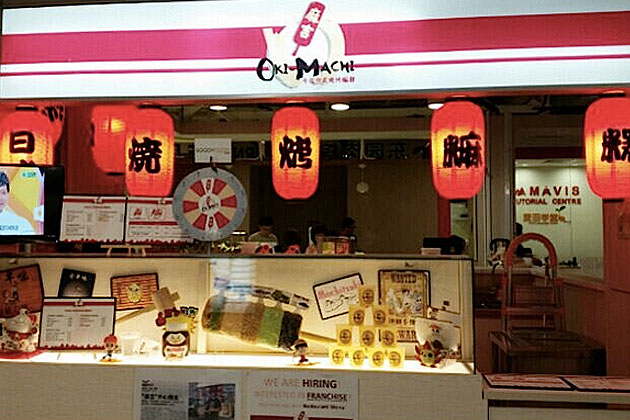 Despite several patronages, I must say the peanut flavored muah chee was what stuck to me the most. The crushed peanuts and sugar mix complements the muah chee beautifully where there is no overwhelming fragrance of the roasted peanuts that covers the faint aroma of the charcoal grilled muah chee. It is also advisable to eat the peanut flavored muah chee then seal it with your lips to prevent the toppings from landing everywhere except in your mouth. The sesame sauce was equally fragrant albeit a little watery for my liking. The sesame sauce doesn't seem to stay on the muah chee and you may find yourself constantly dipping your muah chee in the dripped gravy. The Nutella flavor muah chee on the other hand, with its chocolaty taste, would be, I'm sure, a hit with the younger ones. Each muah chee skewer is grilled only upon request so it is advisable to bring a friend along or arm yourself with a good game on your smart phone when waiting in line.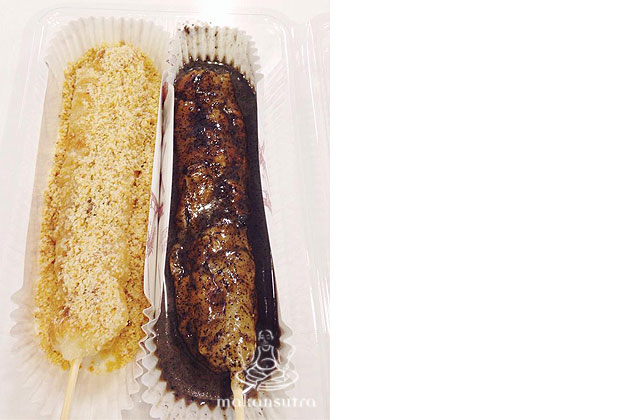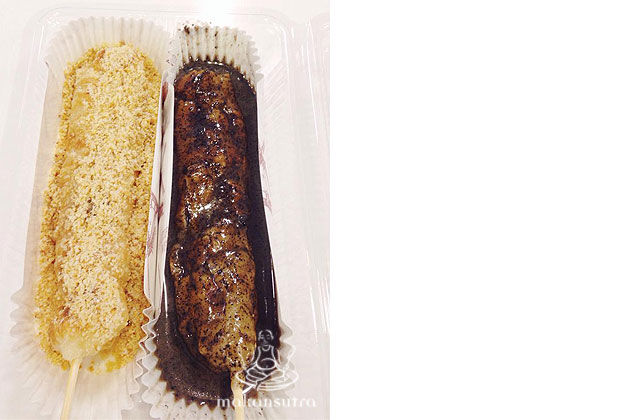 For those who are staying at the far eastern and western areas of Singapore, Oki-Machi has presently only one outlet at Seletar Mall but at $2 a skewer, I'd reckon this is worth a patronage.  So if you're a fan of the nian gao and am looking to try a little something new this Chinese New Year, do give Oki-Machi a try. It's chewy and sticky enough to symbolize family coherence, "guarantee plus chop".
Oki Machi
Seletar Mall
33 Sengkang West Avenue
Tel: 6341 6252
Daily: 10am-10pm