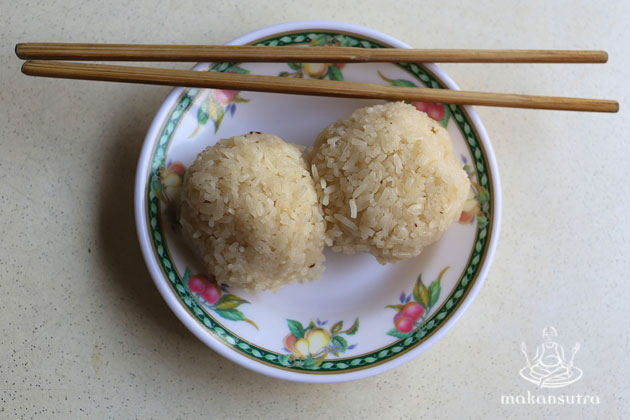 Old Dishes: Going Going….
By Cecilia Joven Ong - Thursday, Aug 06, 2015
As we barrel into an exciting SG50 birthday party, looking forward and ahead to what exciting times lay ahead, something always get left behind as we march forward. Some dishes have been quietly disappearing from our larder. These traditional dishes fromof the different dialect groups in Singapore reflect the lifestyle of our ancestors; certain dishes are also specific to the province from whereich the immigrants originated. These traditional dishes would often be served during special occasions such as like the Lunar New Year and or during weddings. Some of these traditional dishes are slowly disappearing to the extent that the younger generation has not even heard or tasted them before.
Here are some of the disappearing traditional dishes by the different dialect groups.
TEOCHEW
PORK TROTTER JELLY or ter tang is made from stewed pork trotters that are slow cooked for eight8 hours to turn the collagen into gelatin, before leaving it out to set and chill in the fridge for up to two2 days, without the use of any additives or gelatin. This is usually eaten with a homemade blue ginger based homemade sour and& spicy chili sauce, specially prepared to go with this dish. Another not to be missed dish is their simple poached SHARK MEAT; it was done unseasoned but lightly brined to bring out the freshness of the dish. It tasted quite plain if eaten on its own, so it is supposed to be dippeddo dip it in the accompanying special plum based chili sauce to heighten the appeal.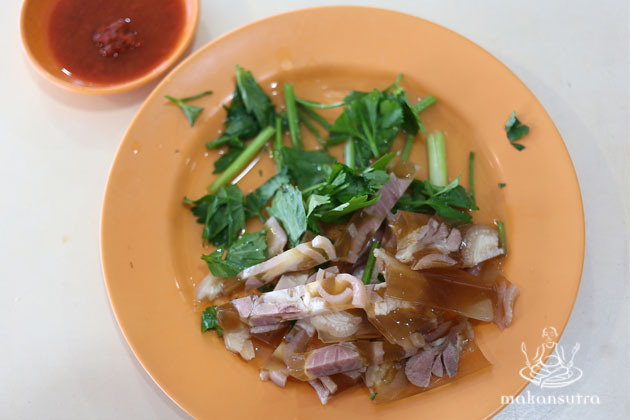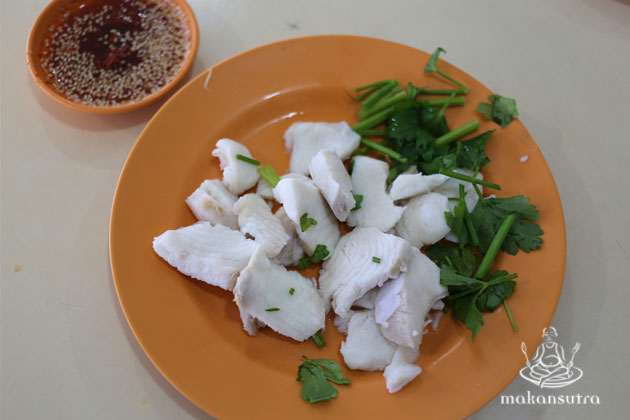 WHERE TO EAT:
LAO LIANG
166 Jalan Besar #02-37 Jalan Berseh Food Centre Singapore 208877
Operating Hours: 11.00 am to 3.00 pm (Closed on Mondays)
FUZHOU (HOCKCHEW)
Most of the FUZHOU FISH BALLS are conveniently factory made these days, which usually may compromises its texture and  its quality. Even soHowever, there are still places sticking to the traditional method of hand making these fish balls, from the fish paste filled with minced meat inside. ROU YAN is also another significant food item in Fuzhou food culture. It is a meat dumpling, with consisting of minced meat wrapped in yYan pPi, a wrapper made from the porkbashed pork meat  and sweet potato flour. Another typical Fuzhou dish has to beis the RED RICE WINE CHICKEN MEE SUA., Tthe chicken is braised in red rice wine, fermented from red yeast rice and glutinous rice, then and served with mee sua (rice vermicelli)., a A comforting dish that is well loved by both the older and younger generations.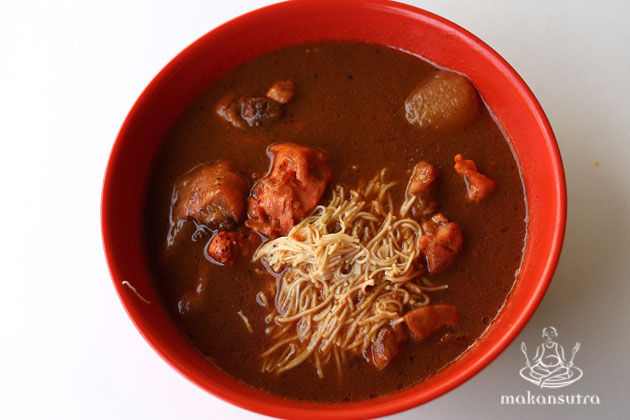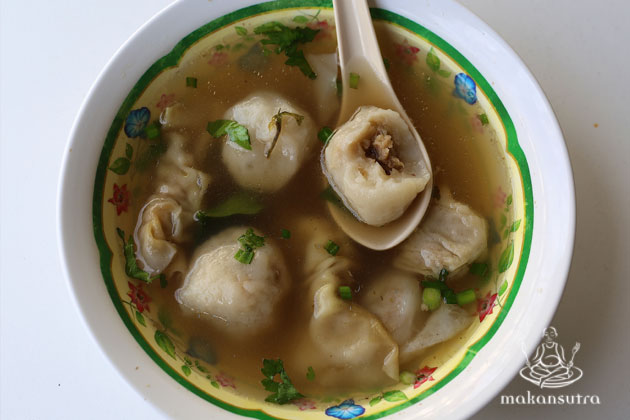 WHERE TO EAT:
SEOW CHOON HUA RESTAURANT
33 Sultan Gate Singapore 198481
Operating Hours: 10.00 am to 10.00 pm (Daily)
FRIED OYSTER CAKE is a popular Fuzhou snack that is made from rice flour batter, topped with bits of minced meat, peanuts, vegetables and oysters, then adding another layer of batter before being deep-frying itied till crispy. This is often eaten as snack.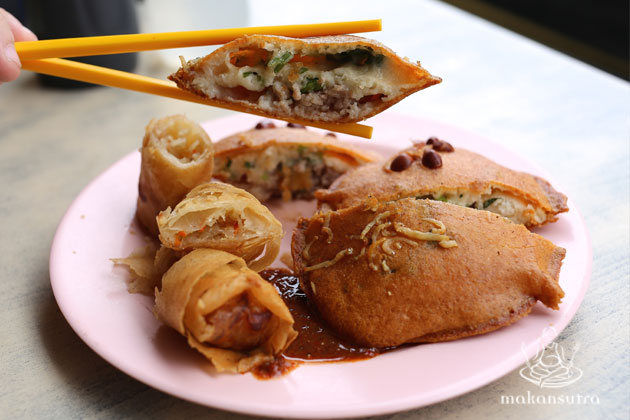 WHERE TO EAT:
MAXWELL FUZHOU OYSTER CAKE
1 Kadayanallur Street #01-05 Maxwell Food Centre Singapore 069184
Operating Hours: 10.00 am to 6.00 pm
HAKKA
ABACUS BEADS is an auspicious dish that is usually served during happy occasions; it is made from yam paste and tapioca starch, thenand then pressed into the shape of abacus beads. It is usually stir-fried with minced chicken or pork with dried shrimps, and mushrooms,  then topped with dried shallots to serve.
WHERE TO EAT:
MEI ZHEN HAKKA DELICACIES
320 Shunfu Road #02-26 Shunfu Mart Food Centre Singapore 570320
Operating Hours: 7.30 am to 1.00 pm (Tuesday to Sunday)
HAINANESE
CHICKEN RICE BALLS are usually made from short grain rice that is cooked in chicken broth together with seasoning and other ingredients to enhance the flavor. The older generations still prefers to have their chicken rice served in balls, as it isthey are able to retain the flavor better. The rice balls are usually served with poached chickenchicken drizzled with a bit of dark sauce.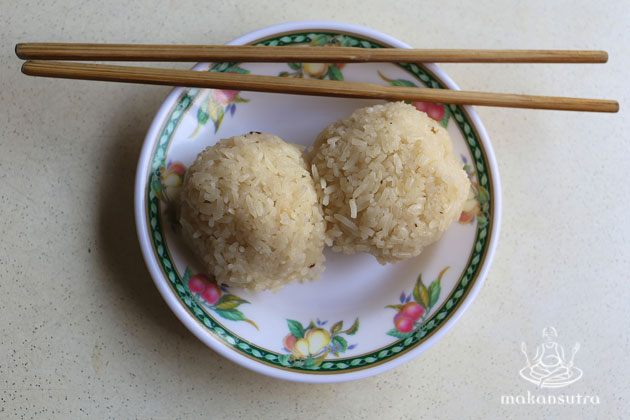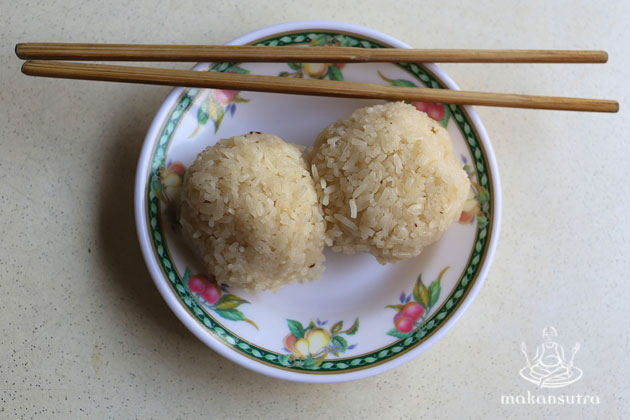 WHERE TO EAT:
HAINAN CHICKEN RICE BALLS
43 Jalan Besar Shin Boon Hwa Food Centre Singapore 208804
Operating Hours: 8.30 am to 9.30 pm (Daily)
HOKKIEN
FRIED TAPIOCA FLOUR ROLL is a very old traditional Hokkien dish that is hardly found even in Hokkien restaurants. It is made from tapioca flour and overnight porridge, which isthey are kneaded together and boiled.  It is then sliced into strips before being stir-frying it ied with sambal chilli and ingredients like dried shrimps, meat and vegetable. The preparation of this dish is time consuming and most of the younger generations does not even know how to prepare it any more. This is a dish fondly remembered by most of the older Hokkiens.
WHERE TO EAT:
GIM TIM RESTAURANT
157 Ang Mo Kio Avenue 4 Singapore 560157
Operating Hours: 11.30 am to 2.30 pm / 6.00 pm to 10.30 pm (Daily)
HOKKIEN ALKALINE RICE CAKE (KEE YA KUIH) is a typical Hokkien snack made of rice flour and corn flour added with alkaline water. This dish is still available at some of thoselimited snack stalls that are often found in hawker centres though not too common these days. It is usually typically eaten with braised meat and curry chicken.
WHERE TO EAT:
HAO QING XIANG AMK 628
Block 628 Ang Mo Kio Avenue 4 #01-74 Singapore 560628
Operating Hours: 5.30 am to 3.00 pm (Daily)