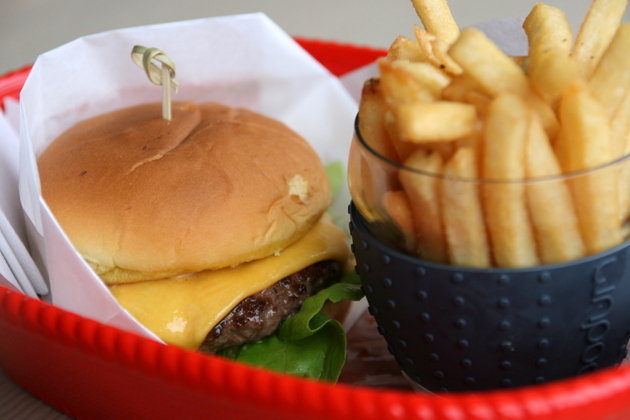 Omakase Burgers – Best in Singapore?
By Catherine Ling - Monday, Jan 21, 2013
Firstly, let's clarify that this is not a Japanese burger. Omakase means "to entrust" or leave it to the chef. Banker-turned-burger-chef Cheng Hsin Yao had scoured the United States trying out burgers of all stripes before coming up with the best blend of beef for the patty, and the matching ingredients to make a burger worthy of his NYC burger cravings (because Singapore didn't have any that did).
So can you entrust him to make the burger that smashes the competition?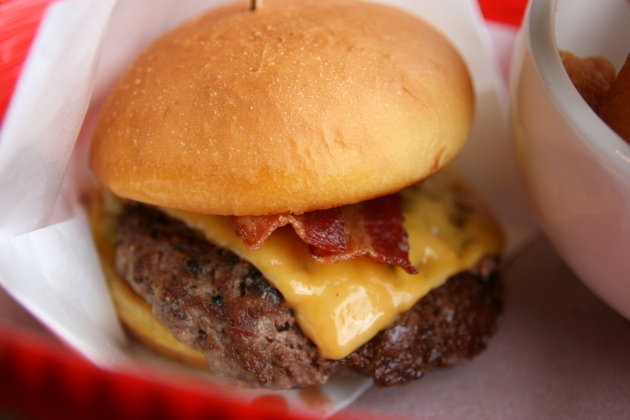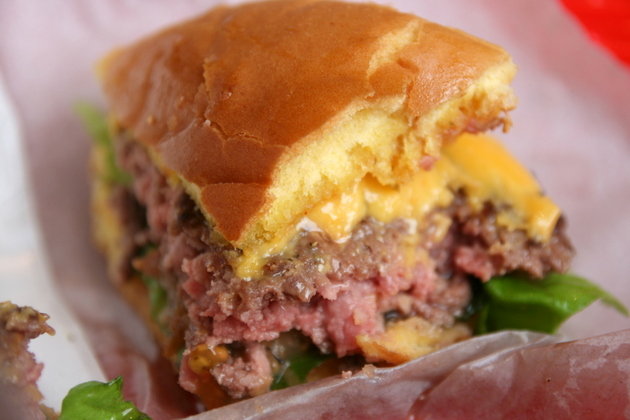 Personally, it is a mixed bag. Yes, the patties are done nicely medium, tender and juicy. Actually, almost too juicy. This is a rather wet burger, as you can see. The liquids easily overwhelm the buttery soft bun. It got uncomfortably soggy after a short while (how would these even survive takeaway?). The meat does have a beautifully beefy taste that makes it stand out from cardboard-like creations elsewhere. But somehow it was just a little short of wow. And the burger is tiny!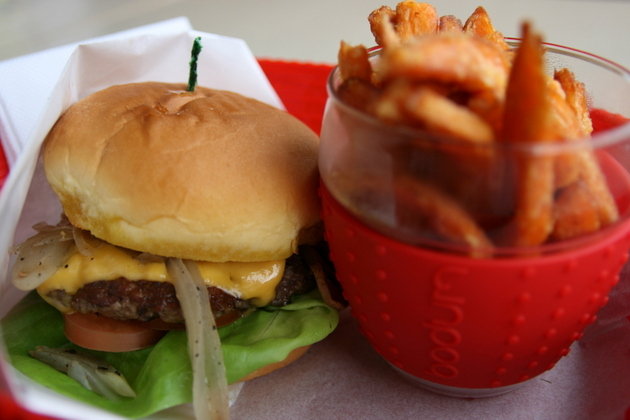 Granted it's got premium ingredients, but the prices would also make some folks think twice about hauling themselves to this inconvenient location at The Grandstand. The entry-level Omakase Cheeseburger is S$13.90 (above) for the single-patty burger alone. The Bacon Cheeseburger (first photo) is S$15.90 with a strip of bacon. The Deluxe Cheeseburger (below, S$15.90) has mushrooms and onions in it, and the Ultimate Cheeseburger (S$17.50) has the works (bacon, mushrooms, onions). Add S$5.90 if you want another patty.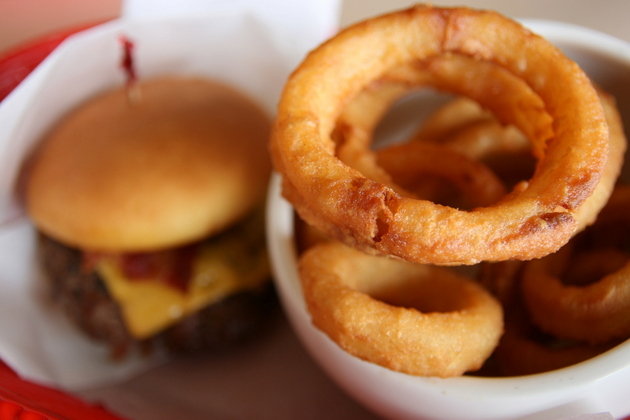 Sides and drinks cost extra. The truffle fries (above, S$6.90) are decent, and the sweet potato fries (darker looking ones, S$4.90) held promise, but the tight little Bodum glass container made the hot fries go soft too quickly.
The onion rings (S$4.90) are excellent with a firm, crisp batter, and are fortunately presented in a larger bowl, so they didn't suffer the sweaty fate of the fries.
There are some chicken dishes too, for those who don't take beef. The Oven-baked Parmesan Chicken (S$14.90) looked good but the cheese crust hid too much grease inside.
Well, at least you can take comfort in the Root Beer Floats (S$5.50) or the refreshing Homemade Lemonade (S$4.50).
We don't know if we caught the chef on a bad day, or if these are signs of an impending decline, but the Omakase burgers we had didn't quite hit the spot. However, kudos still for Cheng's attempt at a nicely blended beef patty. We just wish the burgers were bigger (size does satisfy!), maybe a tad less soggy, and at a better location.