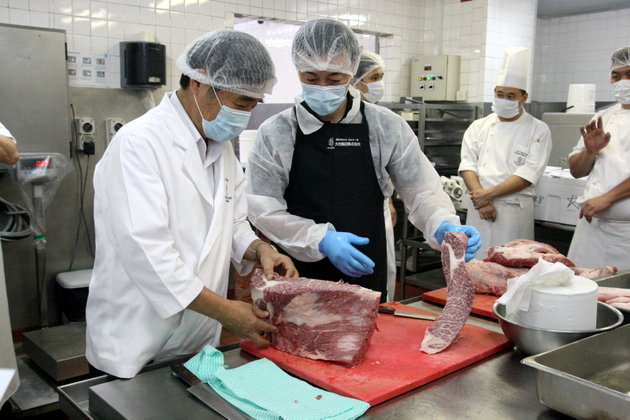 Omi Wagyu: The Different Cuts of Marbled Beef
By Catherine Ling - Thursday, Aug 15, 2013
For the top brands of Japanese wagyu beef (Matsuzaka, Kobe and Omi), most eateries import only small amounts of certain cuts (e.g. sirloin or ribeye) for one or two items on the menu, like steak. These are popular cuts, and they do come at a premium.
In a rare move, the Pan Pacific Singapore has decided to bring in the entire half of a wagyu carcass (Omi beef from Shiga prefecture). This helps average down the cost of the wagyu meat, so the dishes can be priced attractively too. The hotel has enough restaurant disciplines – Western, Chinese and Japanese (Edge, Hai Tien Lo and Keyaki) – to create special recipes to use up all the parts, including calf and tendon, which aren't normally featured.
The Japanese butcher from supplier Daikichi Ranch showed us the various cuts as he trimmed them, and how best to cook them. We add our own ideas of local dishes that could benefit from these well-marbled cuts.