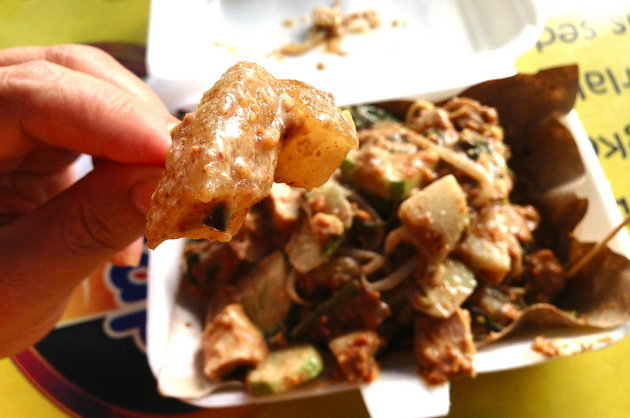 On a Little Rojak Street in Batam
By Tris Marlis - Tuesday, Mar 19, 2013
The 'Simpang Rujak' at Batam serves rojak that is as good as our Toa Payoh Rojak with one difference – instead of long queue of people, you have a line of rojak pushcarts all waiting to feed you. To be exact, there are over 25 pushcarts all selling rojak and all of them are pushing their standard to win over customers like you.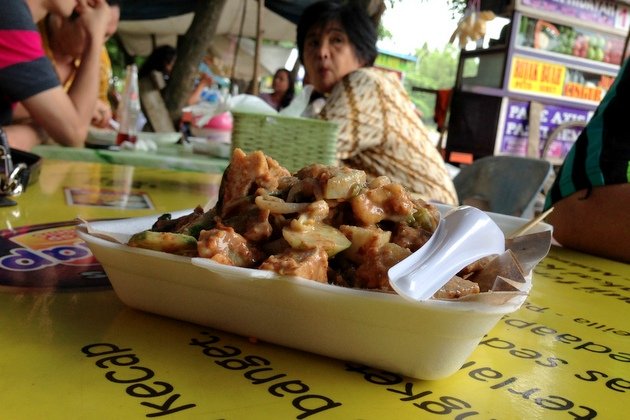 On a Little Rojak Street in BatamPak Uncung has been making rojak at this little street since 1993
It all began back in 1993, when there was only one rojak seller here. "Business was very good. One year I decided to go back my hometown, Solo, to persuade my brothers to migrate here. When I came back, there were already five other pushcarts!" said owner Pak Uncung in Bahasa Indonesia.
Pak Uncung and his two brothers run their businesses side by side, then, along came an increasing number of pushcarts along the stretch, offering two types of Indonesian style rojak or rujak. Occasionally there is one or two pushcarts that sell "support services" like drinks or dessert, but the rest couple dozen sell only rojak.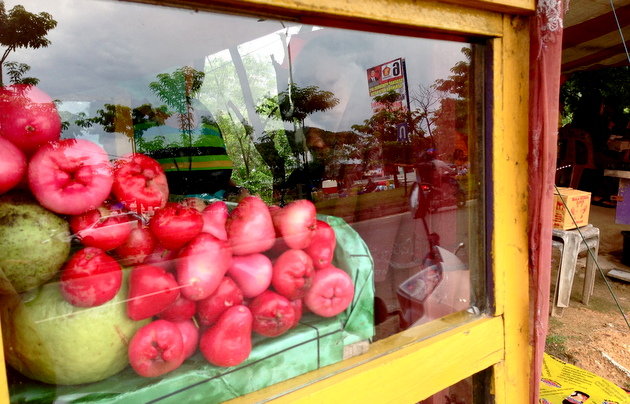 There are two types of rojak being offered here. Rujak Petis consists of fresh fruits – a combination of chunks and slices of Jambu (rose apple), Bengkuang (yam bean), mango, pineapple and cucumber. These refreshing fruits are paired with a sweet, sour and spicy sauce, a blend of sambal, prawn paste, lime juice and grounded peanuts. The spicy sauce will wake your taste buds, followed by crunchy peanuts and a sweet, refreshing, tangy finish from the fresh fruits- it is similar but not exactly so, to the Penang version.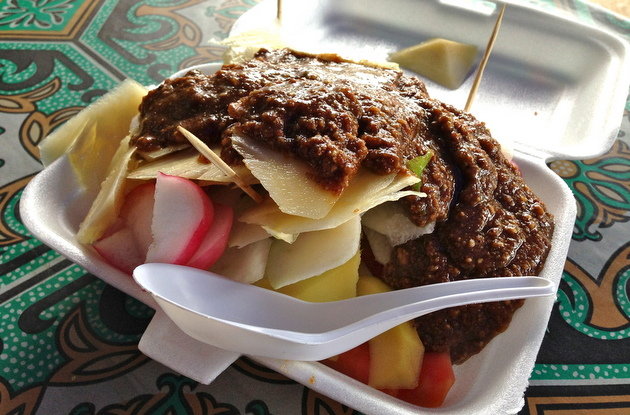 Another type is Rujak Cingur, the word 'cingur' refers to the chewy part of cow's lips. This dish is similar to Gado-gado (Indonesian salad of blanched vegetables like Kangkung, cabbage, bean sprouts, tofu and Tempe (soya bean cake) with peanut sauce), and served with tangy and spicy peanut sauce. The secret ingredient is the pieces of cow's lips that are translucent, chewy and a tad fatty. It adds another dimension to the texture of this dish, complimenting the crunchy vegetables and peanuts.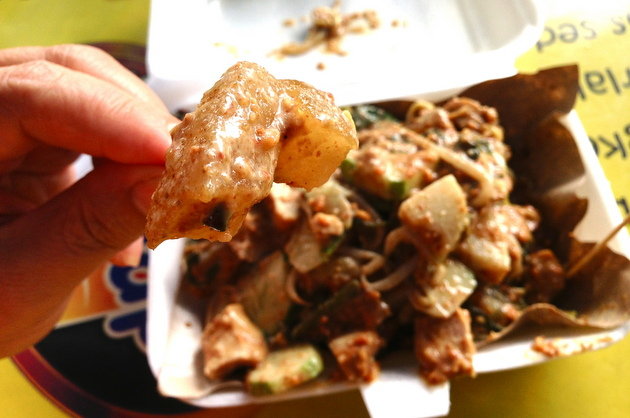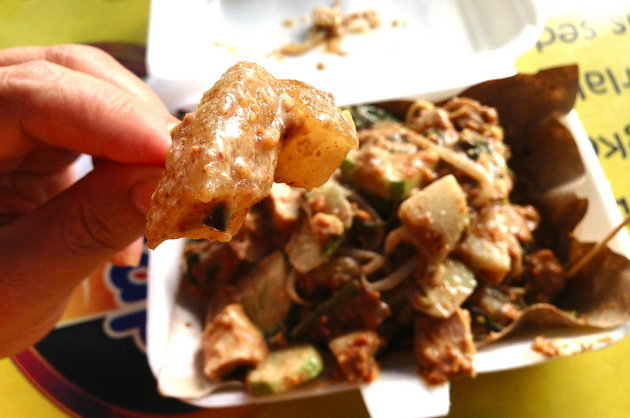 This stretch is located uphill, offering the industrial skyline of Batam. It is a popular after lunch spot for locals who enjoy refreshing rojak with breezy atmosphere. Every pushcart will set up about two tables with chairs and a freeze box to store bottled drinks. The stretch is considered well-maintained if compared to other street food spots in Batam and has an acceptable hygiene standard.
Every plate is priced at around Rp 9,000 (around S$1). To get here, take a cab and ask for 'Simpang Rujak.' All pushcarts are numbered, if you are not sure where to go first, look for Uncung and his brothers, the 'Tiga Bersaudara' (three brothers) at pushcart number two, three and five.