Only hawker making fresh cuttlefish crisp
By Sheere Ng - Tuesday, Feb 05, 2013
The profiles at Chinatown Complex are becoming interesting. We recently found two hawkers offering rare raw fish noodles. There's also The Good Beer Company which sells craft beers, and now, there's another establishment at the same hawker centre offering something out of the norm – freshly grilled cuttlefish crisp. These are the types you buy in tins and huge bags of, as snacks at the Lunar New Year.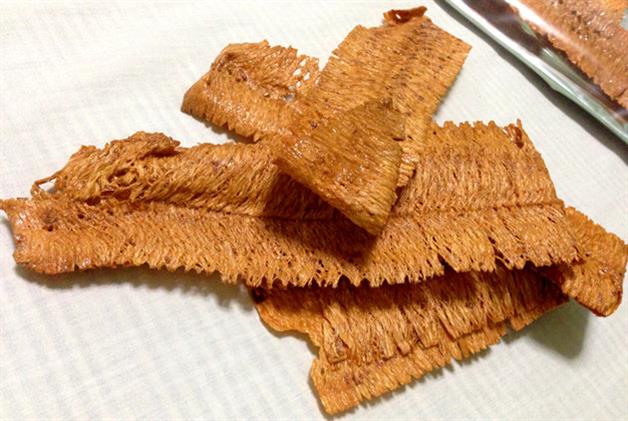 This stall churns out 30kg of caramel coloured crispy cuttlefish each day from a tiny two-stall unit which comes with a commercial sized conveyor style oven. The cuttlefish crisp is fragile yet extremely crispy, and taste fuller flavoured compared to the pre-packed factory made versions around. One bite in and you can immediately tell the difference in texture and taste. They are sweet, slightly spicy and salty all at once.
They make the snack confidently in full view of their customers. The supplied dried and stretched cuttlefish strips are expertly dipped (with no tears) in a marinade of soy sauce, malt sugar and chilli. Then each slice is deftly and swiftly hooked on the conveyor clips and slides into the oven controlled at a constant 120 degrees Celsius. One by one, they emerge from the machine tanned, shiny, crispy and buff.
The owner Mr Tan Nor Chai, together with his father, used to manufacture and wholesale cuttlefish jerky to supermarkets and subsequently, directly to individuals who make bulk purchases. Many today are still his loyal customers.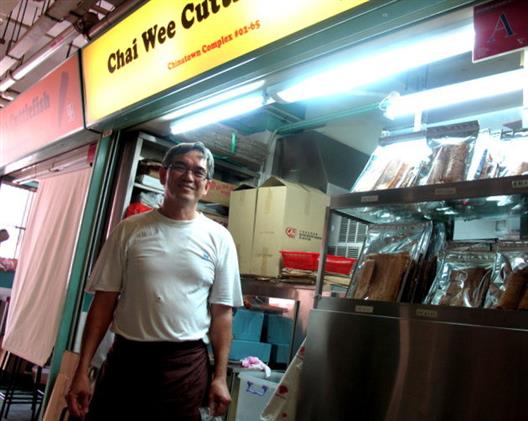 Mr Tan entered the business when he was still a teenager. Early last year, when his landlord terminated the lease, he decided to move to Chinatown Complex instead of renting another factory unit. "When I run my business at a hawker centre, I can at least sell to walk in customers to cover some cost. I can't do that in a factory," he says in Mandarin.
He gripes about poor business and hence watches over cost of operation like a hawk. But he willingly pays 20 to 30% more in food cost than his peers and for good reason. Each slice of the dried cuttlefish, from Vietnam, is 20 to 30 centimeters long, almost twice the size of the ones used by most cuttlefish crisp manufacturers. According to Mr Tan, the bigger ones are the matured cuttlefish that tastes more flavourful. "Customers can definitely tell the difference, I'm 100 per cent sure," he says.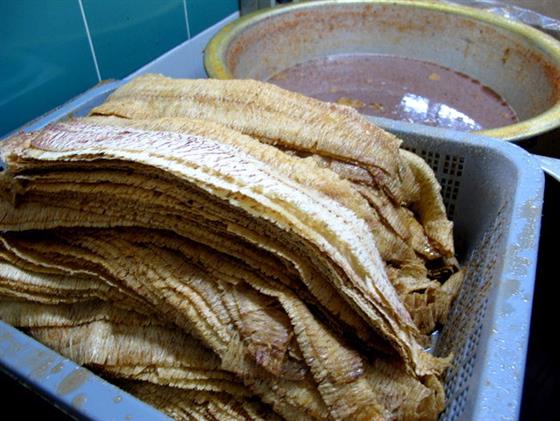 Mr Tan is also proud of his 30-over-year-old grill which he claims to have designed and produced himself. He did away with charcoal used in the traditional grills and instead run it on electricity. He says electricity provides stronger heat and it's easier to control. When we questioned him about the toasty aroma that the coal is known to produce, he explains: "Charcoal does not necessarily produce better aroma. That's just burnt smell."
This bigger, more aromatic cuttlefish freshly cooked in a specially designed grill comes with a heavier price tag. At $7 for 100 grams, it cost almost 40 per cent more than those available at supermarkets. But Mr Tan doesn't sweat about price competitiveness. He says, with the same words that he assures himself: "customers can tell the difference".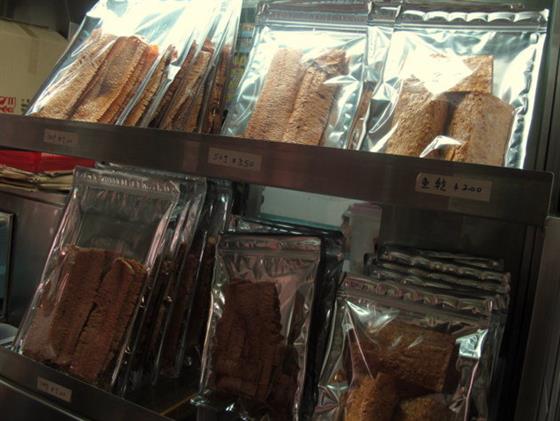 Chai Wee Cuttlefish 02-59/65 Chinatown Complex Blk 335 Smith Street