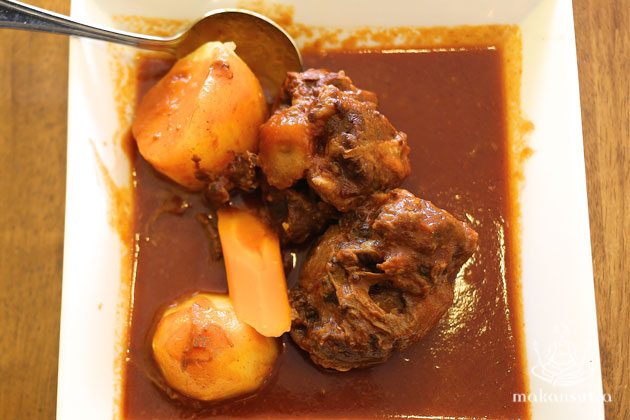 OXTAIL STEW – SLOW COOKED AND SLOWLY FORGOTTEN
By Cecilia Joven Ong - Thursday, Apr 30, 2015
Oxtail Stew is an old-fashioned comfort dish that has existed for decades. This hearty favourite used to be popular during the British colonial era. Its origins is somewhat murky, some classified it as a traditional Hainanese delicacy and some would refer it as an English dish that was well loved in the 1960s. It has been slowly losing its popularity particularly amongst the younger generation; just as "western" coffee houses are losing its charm in these modern days. Oxtail Stew is a popular family dish particularly amongst many Eurasians in Singapore. Although there are many different versions, all of them combine local spices and seasonings with traditional English ingredients such as Worcestershire sauce. Like most stews, this dish improves in flavor when made in advance;  and left to rest and breathe overnight.
Though not so commonly found these days but are still available at these eateries:
BRITISH HAINAN
75 Carpmael Road Singapore 429812
Operating Hours: 6 pm to 10 pm
Their Oxtail Stew at $24.90 is served with potatoes, carrots and bread based on a recipe handed down from their Grandfather who worked for British during the colonial days. It is braised for about 4 hours until fork tender.  The portion was substantial and extremely flavorful, a rather solid dish. It is done British style with no hints of wine detected. The mushiness of the potatoes and the sweetness of the carrots were brought out during the long cooking process. It was intensely flavorsome and one great way to enjoy it is to dip and devour those slices of toasted bread into the thick and rich sauce. You could taste that fusion of Western and Hainanese with every bit in this simple dish.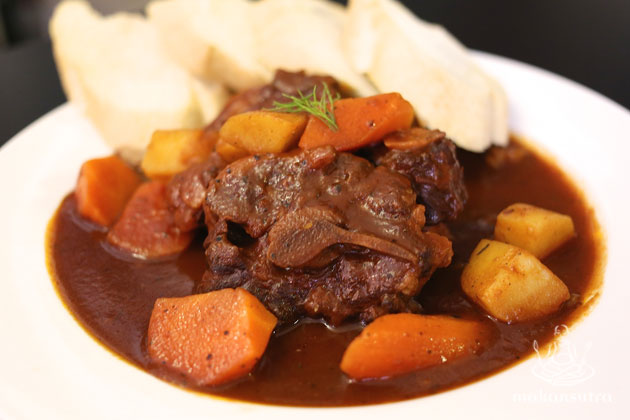 SHASHLIK RESTAURANT
545 Orchard Road #06-19 Far East Shopping Centre Singapore 238882
Operating Hours: 12 pm to 3 pm / 6.30 pm to 10.30 pm
Their Oxtail Stew, a regular favourite, is only served as set lunch every Wednesday at $15.00++ together with Soup, Coffee and Dessert but only limited portions are available on the first-come-first-serve basis. Their Oxtail Stew is one of the most talked about in town and some even claimed that this is the best in Singapore. It was cooked to perfect tenderness to give it the melt-in-your-mouth texture and braised well in savory, smooth and rich stock. The ambiance is slightly dated but totally charming with its musky and retro settings. This decadent old-fashioned stew is great value for money.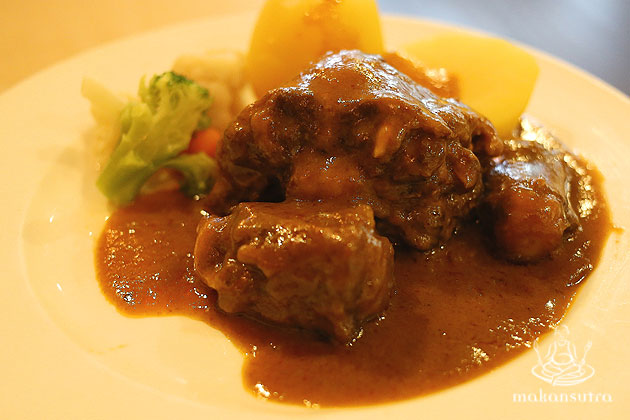 PRINCE COFFEE HOUSE
249 Beach Road #01-249 Singapore 189757
Operating Hours: 11 am to 9.30 pm
Their Oxtail Stew at $23.50++ will bring you back in time when you dine in this decades old Hainanese coffee house. This hearty stew consists of the joints of oxtail that underwent a slow cooking process- from marinade to deep-frying before being slow roasted in the oven till the cartilage dissolves and the meat is separated from the bone sans any hint of  resistance. Then it is served accompanied by potatoes, carrots and french beans in full-bodied sauce. In short, it was simply delicious though it might not be the best Oxtail Stew but it is still a highly recommended dish.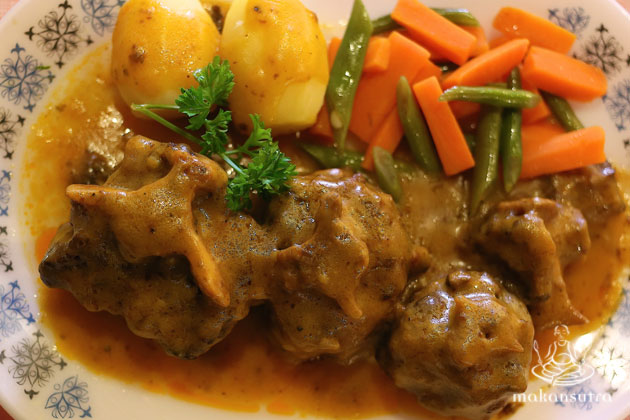 WERNER'S OVEN
49 Joo Chiat Place Singapore 427773
Operating Hours: 8.30 am to 10 pm
Oxtail Stew is amongst their most popular dish on the menu since 1988. The chunks of oxtail were stewed until it reaches the perfect texture and served with buttered roll at $25.50+. The taste was slightly more tomato-tangy accent to balance out the rich beefiness and lent a gently sweet undertone. The rich gravy made the meat glisten in an appealing way and to give it a rustic touch though it tasted slightly different from the other Oxtail Stews tasted. The tenderness was delightful; it was so soft that those chunks of meat came off the bone effortlessly. The dish was flavorsome and came in a generous portion, the flavor of that lightly buttered roll complemented well but did not overpower it.