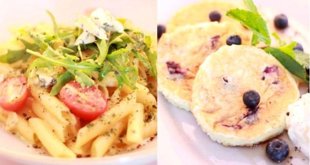 Parental Blues
By Cheryl Teo - Tuesday, May 01, 2012
The marriage of food and cocktails is sometimes comparable to that between a man and women – complimenting yet with a distinct contrast, a little sweet but with a hint of intensity underneath.  Although the concept of this pair-up is not new, District 10 Bar & Restaurant's blue creations are.
In celebration of Mother's Day and Father's Day this year, the restaurant's new blue menu embraces the refreshing hue which symobolises stability, inner-strength and patience, traits found in our dearest parents – without which, who could put up with little rascals like us?
From May to July, help yourself to the fluffy Blueberry Pancakes, drizzled with maple syrup, and a calming concoction of rum, banana liqueur and a dash of lime, the bar's very own blue Long Beach cocktail. There is also the divine couple of Penne with Blue Cheese and Cherry Tomatoes with the hazelnut cocktail – Nutty Sea. The fragrant cheese is complimented with a hint of vodka and the distinct taste of Frangelico.
District 10 Bar & Restaurant
6738 4788 81 Clemenceau Avenue #01-15/16/17 UE Square Shopping Mall (Corner of Unity Street and Clemenceau Avenue)
Monday – Thursday  Lunch    11:30am – 3pm 3pm – 6pm        Only serve drinks, small bites and dessert Dinner    6pm – 11pm       Last food order 10.30pm
Friday or eve of Public Holiday  Lunch    11:30am – 3pm 3pm – 6pm         Only serve drinks, small bites and dessert Dinner    6pm – 12am        Last food order 11pm
Saturday  Brunch  11am – 3pm Dinner   6pm – 12am        Last food order 11pm
Sunday or Public Holiday  Brunch  11am – 6pm Dinner   6pm – 11pm        Last food order 10.30pm