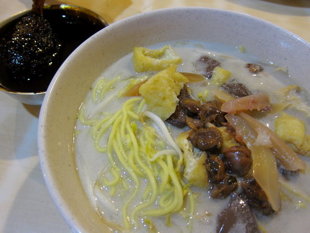 Penang Curry Mee
By CK Lam - Monday, Sep 24, 2012
Just a very mention of Curry Mee and most Malaysians will be gleefully thinking about the delicious hawker food staple that has satisfied the nation for years. The dish itself is unique to Malaysia, with its combination of yellow noodles and vermicelli with the spicy coconut milk laden soup. Commonly, the soup would be spiced up with additional chilli paste, and topped with dried tofu pok (tau pok), prawns, cuttlefish and mint leaves.
There are several variations of Curry Mee in Malaysia; however this is the most telling Penang version. What differentiate Penang Curry Mee from the others are the ingredients used; besides the aforementioned there is also additional pig's coagulated blood cubes and bloody cockles. Even though society in general is moving towards a healthier palate, most believe that Penang's Curry Mee will not taste as good without them.
Throughout the island there are numerous stalls offering this mouthwatering Curry Mee, with each of them offering its own version of soup and ingredients. The soup varies from a reddish coconut based broth to a lighter pale color, affectionately known to locals as White Curry Mee.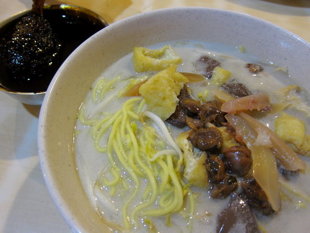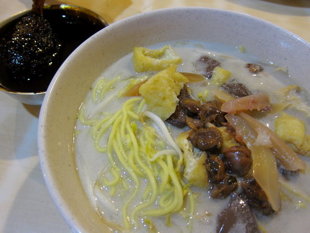 Hot Bowl Curry Mee along Lorong Abu Siti attracts locals and foreigners alike with its signature dish of White Curry Mee and assorted dishes. The person behind this wonderful Curry Mee is Mr Ho Peng Song, who has been selling Curry Mee for over two decades.
When compared to other Curry Mee on the island, Hot Bowl's curry soup is prepared with less coconut milk hence with a clearer and lighter appearance. On each table is a container of appetising chilli paste for diners to add into their noodles. Adding the chilli not only thickens the soup, it also enhances the overall flavour making it more fragrant and spicier.
The chilli paste is made by grinding local chilli and several secret ingredients together and subsequently cooked over a slow fire. This process requires constant stirring to prevent the chilli paste from getting burnt. Mr Ho has improvised his Curry Mee over the years, and today his curry mee is well known for its authenticity as well as great flavour.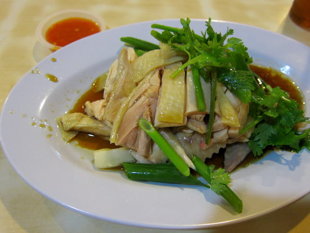 Besides curry mee, Hot Bowl is also famous for its Hainanese Chicken or known to locals as Pek Cham Kei. Surprisingly it is slightly cold, as the steamed chickens are refrigerated immediately after being cooked as this ensures the flesh remains smooth and the oils gelatinises. The chicken is served with cucumber and topped with a swirl of soy sauce gravy, sesame oil as well as spring onions. On top of that, Mr Ho also serves bean sprouts that is an excellent complement with the chicken. Other side orders include pork trotter in vinegar and assorted lorbak.
Hot Bowl Curry Mee
16A Lorong Abu Siti Penang
Tel: 04-227 3168
Business Hours: 8am-3pm Closed on Mondays