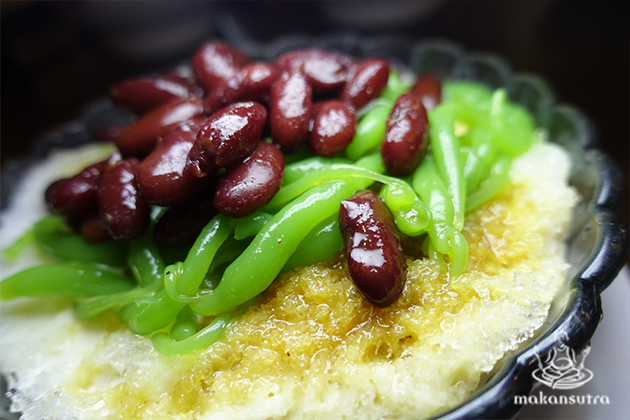 Penang Food Is Everywhere
By KF Seetoh - Friday, Nov 02, 2018
All this noise about the hawkers being overcharged at the Social Enterprise Hawker Centres and at some regular older ones, are still ringing loudly both on and offline. Even a Senior Minister of State had to chime in and respond in Parliament. Ironically, all these indignant tones can actually mean well for our application for a Unesco Intangible Heritage inscription award, as proposed by our Prime Minister. Ponder awhile, the inscription is not about food or who does it better. It's the intangible elements of our food culture- what it means to us, how it is part of our daily lives, our unheralded love for and even how we depend on it. Now, all these conversation will certainly add to that intangible emotion and that's noise the Unesco folks want to hear.
But on a less intangible but no less pertinent element, is the obvious lack of true Singapore restaurants around the world. It seems we are not so proud to export and internationalise our makan culture. Sad but true and frankly our sister island folks at Penang is definitely doing a better job here. You can find a Penang café in the US, Europe, Shanghai and almost every continent but you will be hard pressed to find a Singapore version. Try looking for our bak chor mee in London and you'll know what I mean. But Penang food, by now, with a distinct menu peddled proudly and loved even in Singapore. And Island Penang Kitchen has a few elements of authenticity- that Chef James Yeong who runs it with his wife Vivian Yoong, both hail from Penang. The menu is classic, nothing fancy and executed well. James had a 15 year stint in Crystal Jade restaurant and you can tell by the boldness in execution of the dishes.
Firstly the all-important Cha Kway Teow ($6), resplendent with "fire" in the noodles as it's rocked over high wok fire and expertly delivered with touches of soy sauce. But although crunchy, the glass prawns did not do it for me, I rather fresh ones.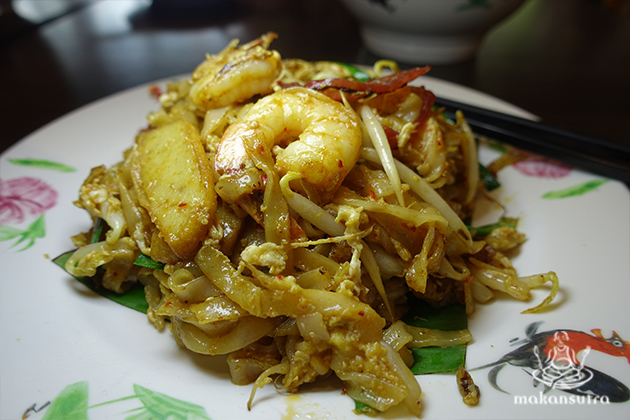 The wok hei laden cha kway teow
The Prawn Noodle or Hae Mee (the special version at $15) is one I will be back for. The soup is thick and rich with softly stewed pork ribs, pig skin, prawns, half a boiled egg and sliced pork. The flavour the spoon of fried shallots melting in the broth was magical. Order it with yellow noodles as the inherent taste of the noodles add a lovely dimension to it.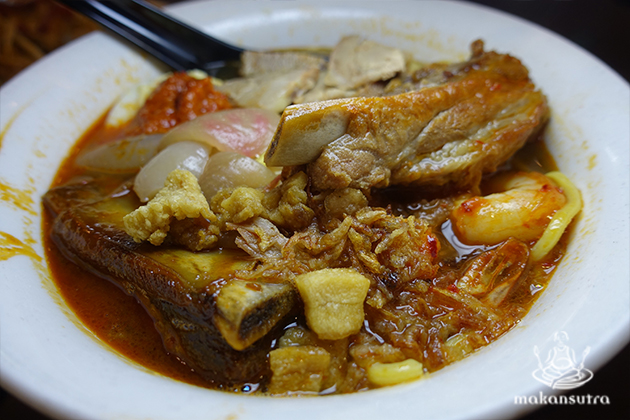 The decadent Special Prawn Hae Mee
Next up was the Assam Laksa ($5). The thick udon-like beehoon used, was authentic and it did not look falsely decadent with huge chunks of mackerel fish sitting atop but instead was like the humble version in Air Hitam in Penang- topped with mint leaves, cucumbers, onions, bits of fish and a dollop of hae ko or sweet prawn paste over the sweet, sour and spicy assam laksa broth. But lacking was flecks of blue ginger or rojak flower.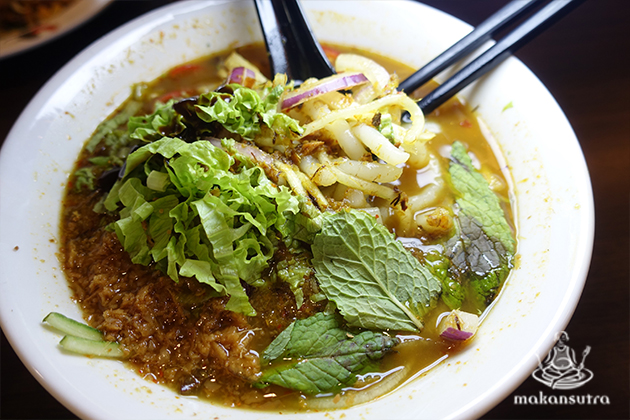 Humble and moreish- the Assam Laksa
Their Prawn Paste Chicken($6) was nicely light on the paste (which can overwhelm if over used) and came with a bold crispy batter that took nothing off the overall flavour. But most folks in Penang fry them sans any batter. But they are merely rules, not carved into the food commandments.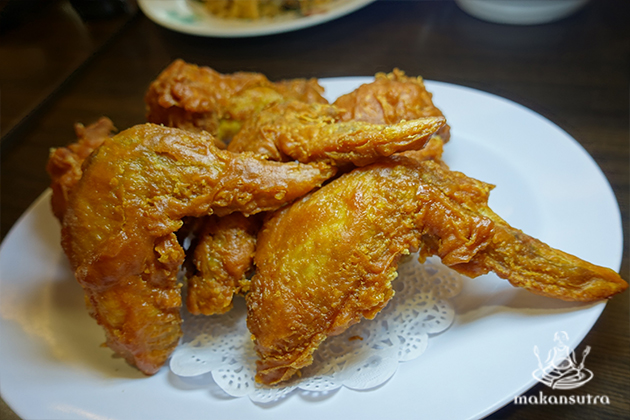 Prawn Paste Chicken that's light on the paste
Their Chendol ($3) is a signature item, the pandan jelly came soft and the bigger sweet and soft red beans, with Malacca Gula Melaka, lent a nice bite to the show. Best part, this is sited off town and the overall prices are heartland friendly.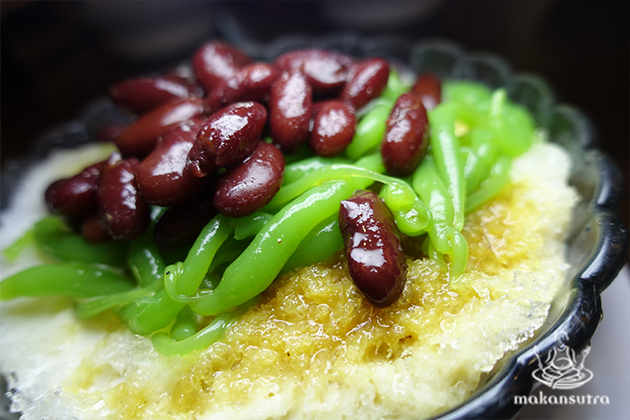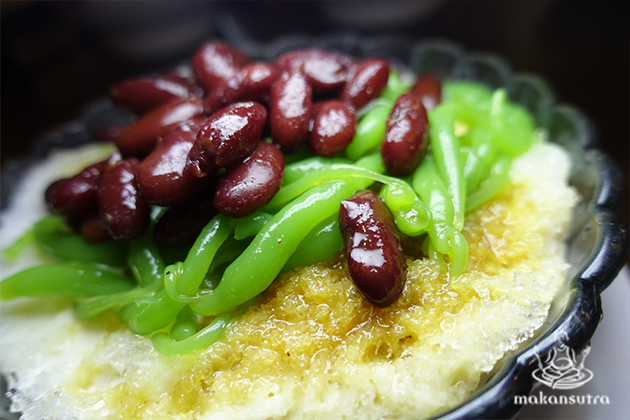 Their comforting Chendol with large red beans
Island Penang Kitchen
01-126, Block 721 Clementi West Street 2;
tel: 6873-0163;
11am to 2.30pm, 5 to 9.30pm (weekdays), 11am to 9.30pm (weekends),
closed alternate Tuesdays.