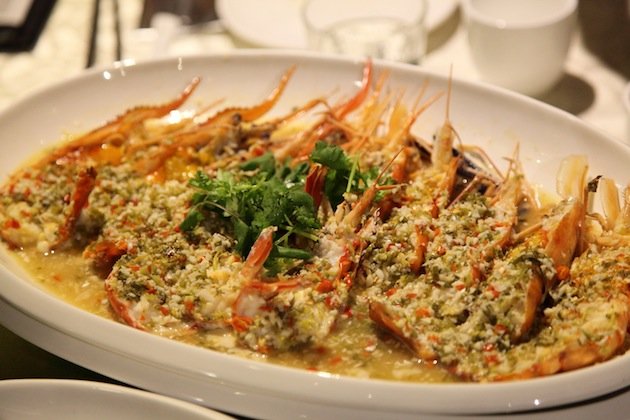 Penang's House of River Prawns in All Styles
By CK Lam - Monday, Mar 18, 2013
Penang's latest eatery serving giant river prawn is House of Udang Galah (HUG). Located on Hutton Lane, the restaurant housed in two renovated heritage shop houses offers fresh udang galah (giant river prawn) cooked in many different ways.
Italian, Western, Malay, Indian and Chinese method of cooking is offered. The prawns are cut into halves and cooked with the head and shell intact.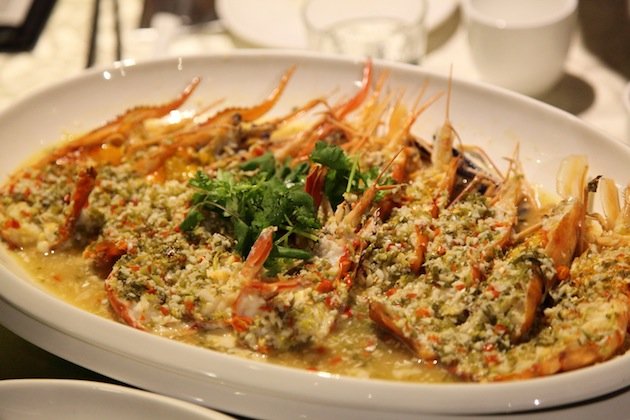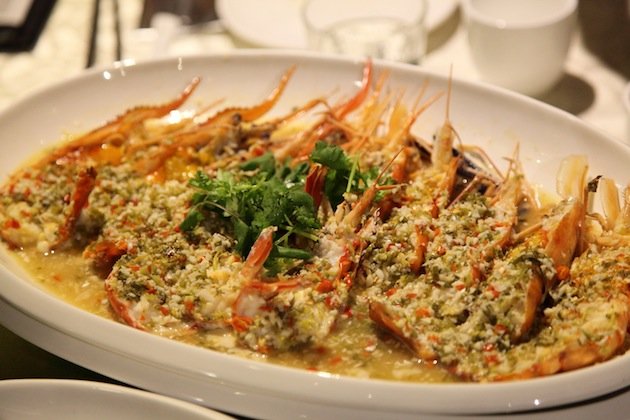 One of HUG specialties is the Udang Galah in Chef Specialty Lime Sauce. The prawns steamed with garlic, chilli and ginger, made up a perky and appetising dish. Garnished with Chinese parsley, the dish costs a little fortune at RM109 (730g at RM15/100g).
A non-spicy steamed prawn dish is the Drunken Style Udang Galah. Prawns are steamed with Chinese herbs, black fungus and Chinese wine in superior soup. The flavours go well together. The flesh is firm and sweet and the head comes with soft yellow roe.
The Udang Galah Rice Soup in Casserole is rather unusual with a mixture of soft cooked rice and hard crispy rice. Although there is a depth of flavour from the combining ingredients of udang galah, cabbage, onions, dried scallops, yam, dried shrimps and sesame seeds, several of us could not adapt to the mixture of rice.
Traditional Peking duck is also on the menu. The crispy duck skin together with cucumber and spring onions is served with the pancakes, while the morsels of duck meat are stir-fried with fresh ginger and onions. Half a bird goes for RM35.
For dishes with deep-fried touch, try the soft shell crabs which work well with oats as well as the chilli powder mixture.
Sample the Braised Homemade Bean Curd. This comforting dish in light oyster sauce comes with shiitake mushroom, carrot and green vegetables. Besides braised, the bean curd at HUG is prepared steamed, fried or stewed in Szechuan spicy sauce.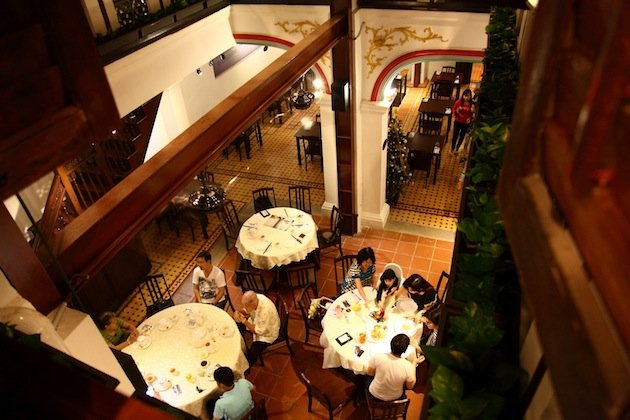 House of Udang Galah Sdn Bhd, 203 A&B Hutton Lane, Georgetown, 10050 Penang, Tel: 04 2264380 Business Hours: Monday to Sunday – 11am till 11pm