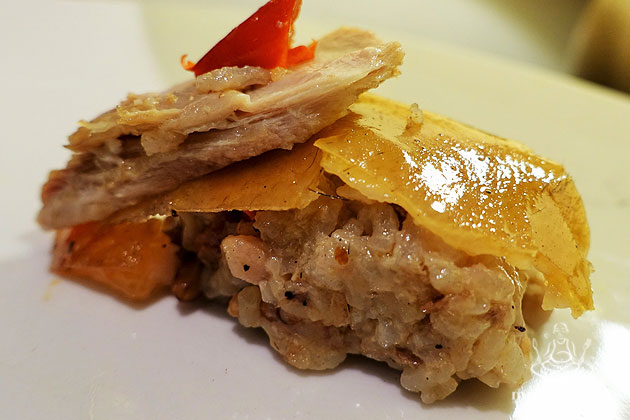 Pepita's Kitchen: The Lechon Diva
By KF Seetoh - Monday, Mar 02, 2015
The Chowzter website in London gave her a top food award and called her dish the "Tastiest dish in Asia". I wouldn't know that but this certainly is one of the top contenders. All she does is roast a little piglet stuffed with flavoured paella and holds private dinners at her home in Manila, Philippines- which is way better than any I have had in my lard laden life. The local bloggers at home call her the Lechon Diva.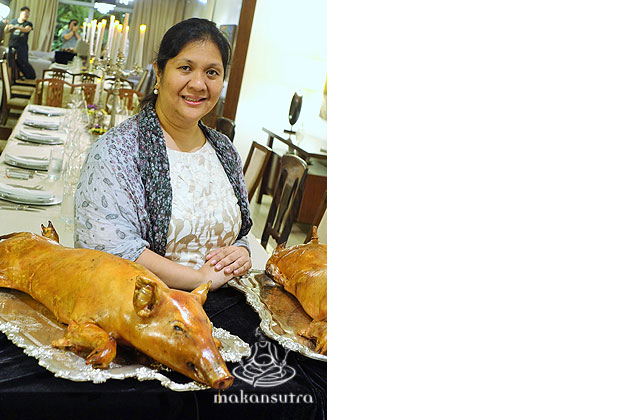 The first time we met (that piglet and I) was after a long day of filming for our Food Surprise show in Manila. Ms Dedet de la Fuente created a five course stunner revolving around that little lechon. Nice, pretty, thoughtful, complex…I thought to myself, however I was too tired to fully enjoy the meal. It sort of missed the act. Then, earlier this month, I was back at her residence for another meal- this time, we were hungry and ready. Four of us tore into 20 portions of juicy piglet lined with an incredibly crispy and crunchy crackling which was stuffed with soft, intensely fragrant truffle oil paella. Try just a little and you can imagine what those words tastes like. We scarfed down five portions each because we could not believe it could taste this good. She roasts her lechons in a custom made brick oven she uses in her open backyard kitchen.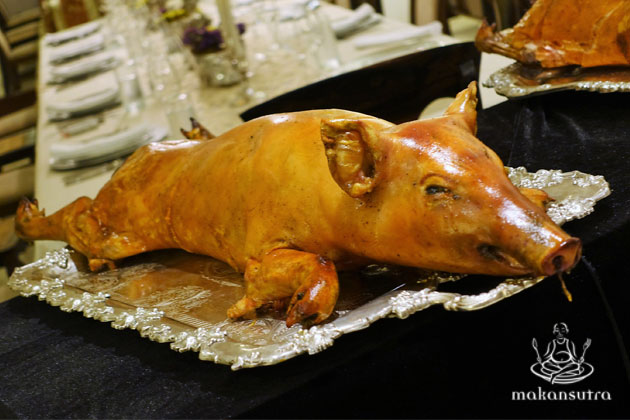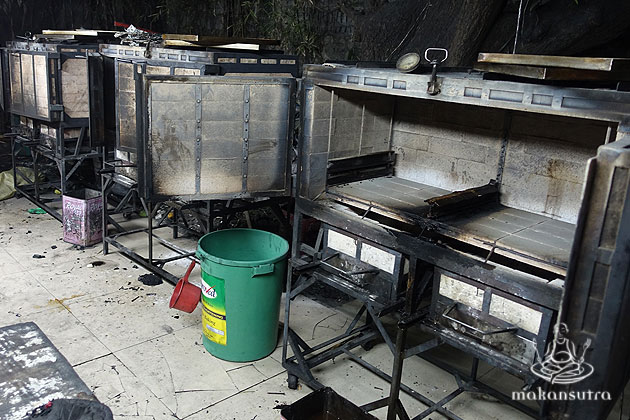 That evening, she rolled out two little piggies, all golden, shiny and glistening under the gentle warm lights by the dining table. My heart raced a little, especially when it was so expertly done- consistently toned, and when she pierced the meat knife through, the crackling sound made my knees go soft. What made me sit down and re-compose my senses was when the truffle paella flow out. My noisy makan pals went on stunned silent mode. The perfume of truffle and roast pork filled the air. The meat was fork soft and supremely flavourful, the crackling was thin and crispy and the paella just held them all together. The texture of the soft rice, moist meat and the skin was the perfect three chord harmony in the mouth. A lechon sushi version was made we breathed that in too.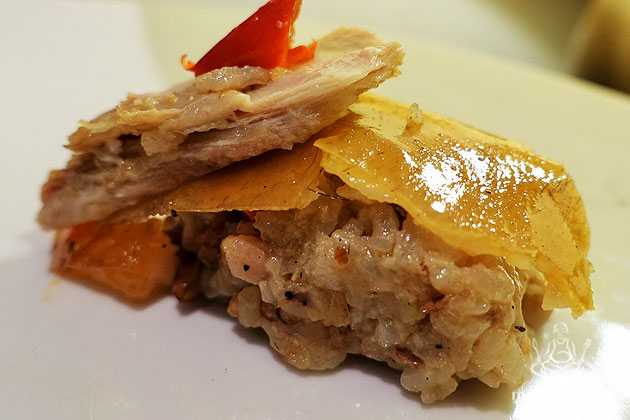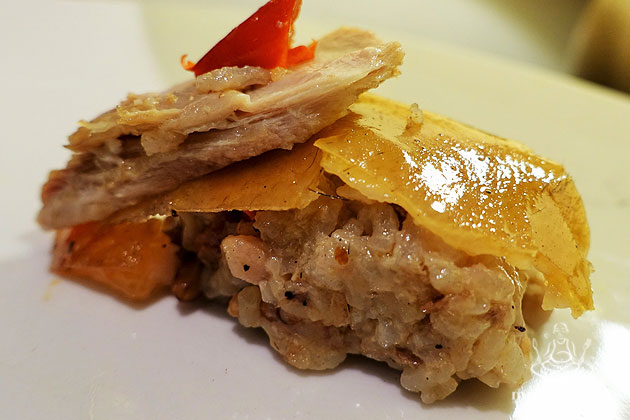 Her daughter Lileya and the younger Liyora, 12, could cut that lechon with ease and usually does so for her guests at home as "that way, I can get them involved with my dinners and socialise" Dedet explains. She does not stop at that award winning truffle rice stuffing. In New York recently, she came up with a risoni (rice-like pasta), Portobello mushrooms and cheese version. And for Chinese New Year recently, she offered a sticky rice, cashew, Chinese sausage and mushroom, pork cubes, and water chestnut rendition.
A little good news: Dedet will be in Singapore on 7th March for a charity event. She will be offering her little truffle paella lechons at the Iskina Cebu stall at Paya Lebar for a "Pig Out and Help Out" dinner at 7pm. All profits will go to a charity of her choice here. Limited seats are available and you can book ahead at Iskina Cebu Singapore (facebook page.)
But if Manila is your next destination, I encourage you to book ahead for this special private dinner.
Pepitas Kitchen
pepitaskitchen@gmail.com
+639178660662