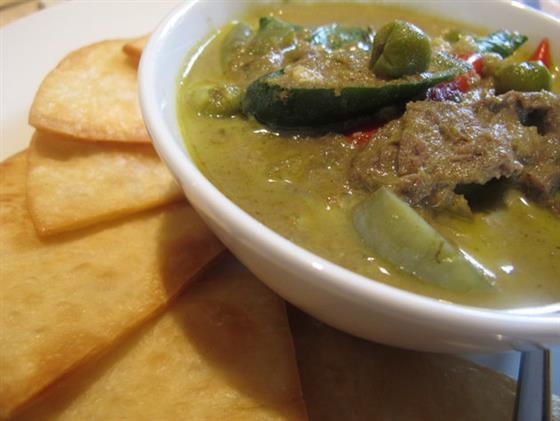 Phuket Style Green Curry
By Joe Cummings - Friday, May 17, 2013
Centuries before Phuket began attracting sand-and-sea hedonists, it was an important trade centre for Arab, Indian, Malay, Chinese and Portuguese traders who came here to exchange goods with the rest of the world for tin and rubber. Formerly called Ko Thalang, and before that Junk Ceylon (an English corruption of the Malay `Tanjung Salang' or Cape Salang), Phuket boasts a culture all its own, combining Chinese and Portuguese influences with that of southern Thais and the chao naam (sea gypsies), an indigenous ocean-going people. About 35 percent of the island's population are Thai Muslims, and there are about as many mosques as Buddhist temples here.

Phuket cuisine combines Chinese, Malay and Thai elements to create brightly coloured, heavily spiced dishes. One favourite is Green Curry (kaeng khiaw-waan in Thai, literally 'sweet green curry'), which though popular throughout Thailand holds a special place in the south.

Although curry dates back to Indian and Arab trade with the former royal capital of Ayuthaya in the 14th to 16th centuries – a period when Thais began adding cumin seeds and coconut milk to a standard Thai curry paste of coriander seed, green peppercorns, lemongrass and other roots –southern Thais say with pride that they do curries better than their countrymen to the north.

Phuket in particular is home to a great many green curry cooks. Here it is just as often served with roti (a round, flat wheat bread descended from Indian paratha) or khanom jeen (thin rice noodles, served cold) as with plain rice. The curry's green colour derives from the abundant presence of green chillies, coriander root, kaffir lime peel, fresh green peppercorns and Thai eggplant. The latter, along with coconut milk, imparts sweetness to the dish. Other defining ingredients include roasted coriander seed, fresh lemongrass, fresh galangal, fresh garlic and shrimp paste.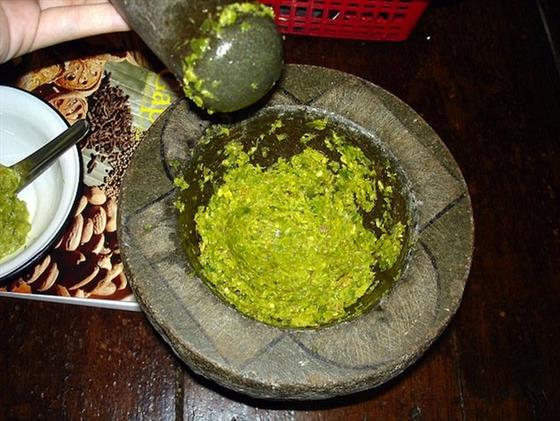 All of these ingredients except the coconut milk and eggplant are pounded together in a mortar ahead of time to create a thick, green, pungent curry paste. The paste is then cooked with coconut milk and the chef's choice of chicken, beef or seafood, along with the eggplant. Before serving, the dish is garnished with whole sweet basil and fresh coriander leaves, adding considerable colour and fragrance.

Street vendors who serve green curry tend to have more permanent set-ups than vendors who sell noodles or other more simple dishes. A few serve from steel pushcarts or from cabinets fixed to motorbikes which make the rounds from neighbourhood to neighbourhood. Often, the curry vendor will offer three or four different kinds of Thai curry. In addition to the green variety, these might include the milder, peanut-filled kaeng masaman and kaeng kayoo, a yellow curry made from local cashew nuts.

In Phuket Town, the day market off Ranong Rd is the best place to find curry vendors. Elsewhere on the island you will find a good variety of food vendor carts on the back roads of Patong Beach and on the main road through the small town of Kathu. Perhaps the most scenic spot to find curry vendors, however, is along Rawai Beach near the southern tip of the island. Here you can order a plate of curry and roti, grab a chair beneath a palm-thatched umbrella, and watch local fishing boats coming to and from Rawai Pier.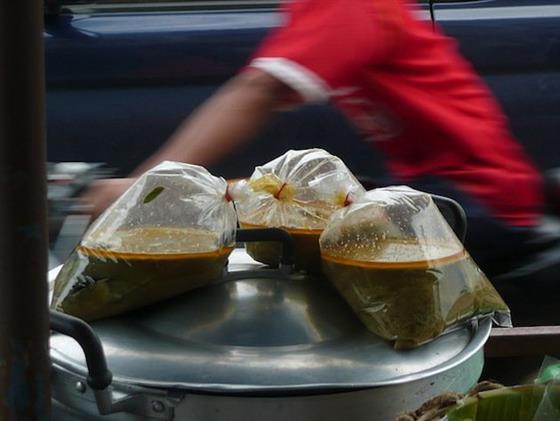 Starting out as a single car more than 30 years, Phuket Town's legendary Roti Chao Fa (Chao Fa Rd, Tel 7622 1771), is now a permanent vendor stall with plenty of rustic tables and chairs. As the name suggests, roti, the unleavened flatbread derived from India's paratha, is the speciality here. Customers dip roti into any of several curries, including green curry, served from large stainless steel cooking pots. Rice is also available. Roti Chao Fa opens at 6am and closes by 2am, or earlier if the curries run out.

In Bangkok Roti Mataba (136 Phra Athit Rd, Tel 0 2282 2119) serves green curry very much in the southern Thai style, with roti or rice, in a charming two-story shophouse near Khao San Road, the capital's main backpacker centre.