Popo & Nana: The Devil at Maxwell
By KF Seetoh - Monday, Jun 01, 2015
You can count with just the fingers of one hand just how many decent Eurasian Nonya eateries there are here. In this glorious SG50 year, sadly we are slowly and surely seeing the lights go out on these lovable heritage chow of this land. Very few menus out there offer a rare combo of Nonya (like Ayam Buah Keluak and Babi Pongteh) and Eurasian or Cristang dishes ( say Debal or Curry Devil and Beef Smore). I can only name Damian D' Silva of Immigrants Gastrobar, Mary Gomez of Mary's Café and Quentin's off Joo Chiat area. There's also Edwin of Baba Nonya in the Chinatown Food Centre but he is very beholden to the old Chinese uncle and aunty palates there. "I can't sell flavours they are not familiar with, so it the usual tau yu bak, babi pongteh, sambal sotong, chicken curry and stuff like that" Edwin laments. You won't find him offering Buah Keluak or Itek Sio on a regular basis. These dishes are complex and not easily appreciated especially by a newer generation not familiar with these heritage flavours.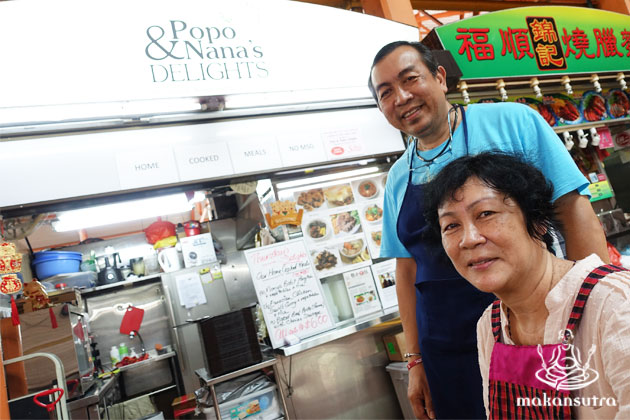 Then, along comes Grace Ann Chin and her brother Christopher Chin. He moved on from his last job because "I wanted a change of environment and also to help my sister realise her dream of opening a café". Both of them are already in the middle years of age. Grace, whose kids have all grown up, is in the workforce and "often nobody is at home" wanted to continue cooking and sharing her food with people. So six months back Popo and Nana was set up. They just sold what they had been eating and loving since young. You'll see bits of their Chinese, Nonya and Eurasian heritage in the menu- from Babi Chin, Tau Yu Bak to Sheperd's Pie. However, within three months of opening, they saw their business dip by 30%, due to the closure of the carpark right bedside. But they have their stream of steady regulars by now.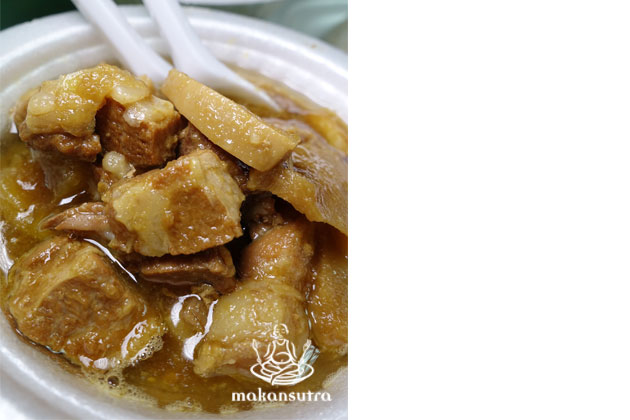 "Some come almost every weekday and try what ever I come up with" and Grace further tells me that she makes only about four special items each day- which are part of the bigger menu on the stall front. I had a go at their Babi Pongteh and the fragrant savoury sweetness, boldy framed by the taucheo, was very comforting. The fatty pork and little chunks of black mushrooms used garnered no complain from me and a symphony over rice.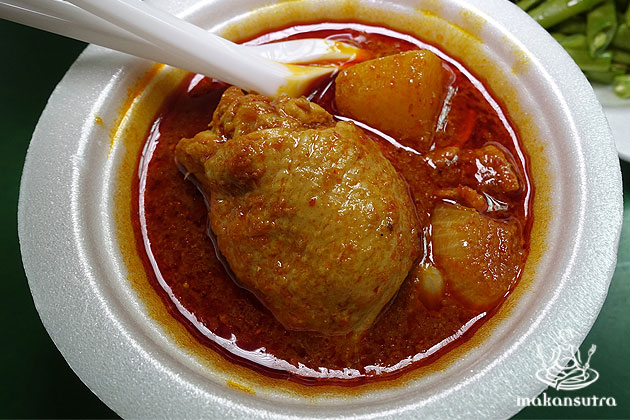 Their Debal or Curry Devil, has that mass appeal outlook and flavour. I had been spoiled by aunties and grannies of some Eurasian buddies and their version was really spicy, punctured with mustard seeds and vinegar. But Grace's version had all that but nicely tamed down, understandably to cater to genial palates in town.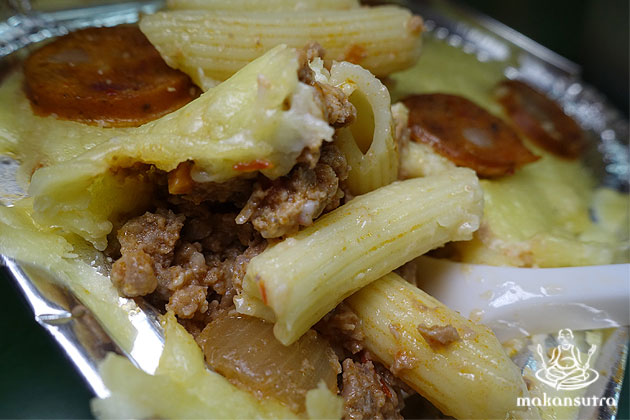 "We created new stuff out of our kitchens and we offer this." pointing to the little tray of Baked Beef Pasta (Penne) with minced beef, topped with chorizo. Hard not to like this one- I don't think many hawkers will want to spend this kind of time and effort to do these things. All her sets, with rice and vegetables, go for $6.
Her repertoire (or some of it at least) is spelt out on a stall poster and she offers whatever she cares to cook that day. I suspect I missed the big cahoona, their Beef Ball Stew and Babi Assam. So she closed the conversation with "Come back on Sunday, I will specially open for you and your readers with Babi Assam, Beef Ball Stew, Curry Devil and Ayam Buah Keluak". Go hold her to it.
Popo & Nana
01-70, Maxwell Hawker Centre
10.30am-4pm,
Closed Sundays