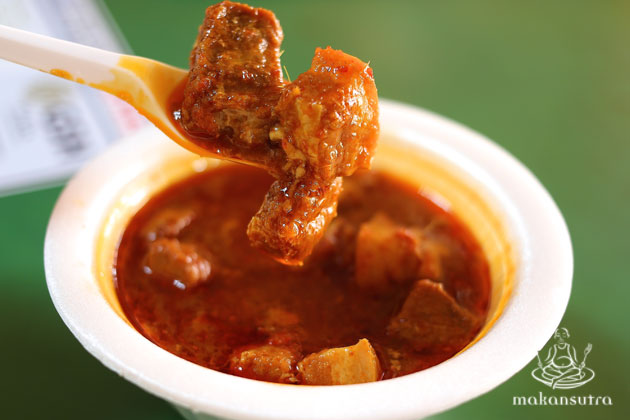 POPO & NANA'S DELIGHT: COOK WITH LOVE
By Cecilia Joven Ong - Tuesday, Apr 21, 2015
It has been delightful meeting Christopher Chin, 58 and Grace Chin, 54, the owners of Popo & Nana's Delight, a 4 months' old stall at Maxwell Food Centre serving homely Peranakan and Eurasian dishes. The stall is named Popo & Nana's Delight in remembrance of their late paternal Indonesian grandma, which they lovingly called 'Popo' and their late mother, a Eurasian lady warmly named 'Nana'.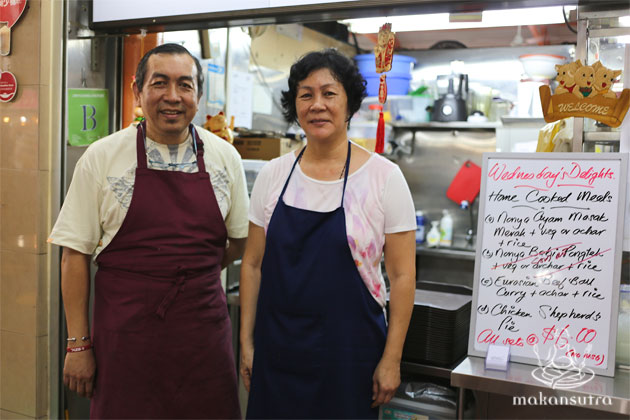 Interestingly, this pair of siblings has never been in the Food & Beverage business prior to starting this hawker stall. When asked about their motivation and inspiration that led to this decision, Grace mentioned that she is hoping to pass down their family recipes by simply cooking these classic dishes with all the love and lovely ingredients to share with their customers.
They wanted to share their love for cooking by introducing these home cooked dishes that are absolutely free of MSG and artificial coloring as a healthy alternative for their customers. She also insists on using the freshest and quality ingredients she could find for their cooking. She is not tempted to use cheaper ingredients to yield higher profits. No compromise, is her motto. She believes passionately that she would not serve you what she will not personally eat.
She's at the stall each day by 6 am to start her preparation works and she tries refresh the menu daily- with something different every day and sticks steadfastly to Nonya and Eurasian.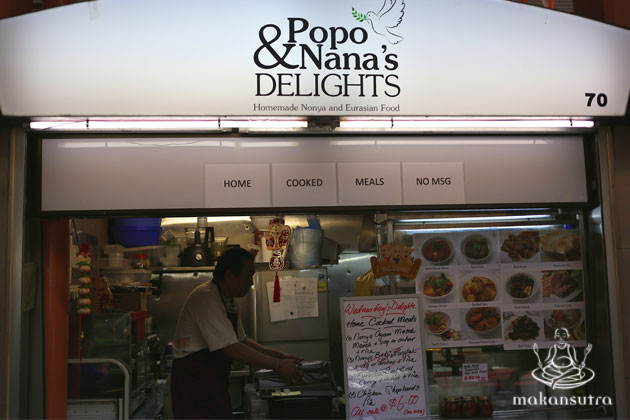 Some of their signature dishes are Black Pepper Roast Beef, Nonya Ayam Masak Merak, Eurasian Beef Ball Curry, Nonya Babi Assam and Chicken Shepherd's Pie. All these sets are priced at $6 and some sets are serving with a choice of vegetable and rice.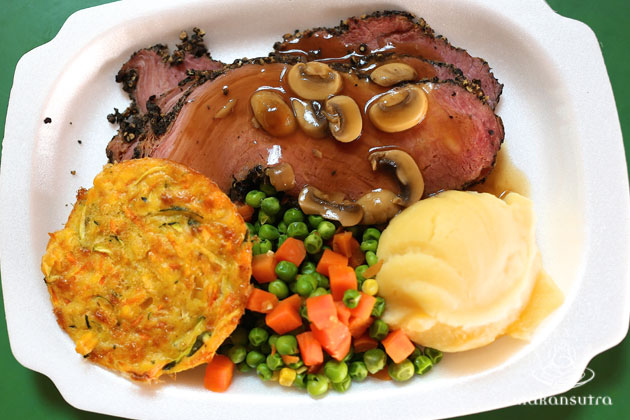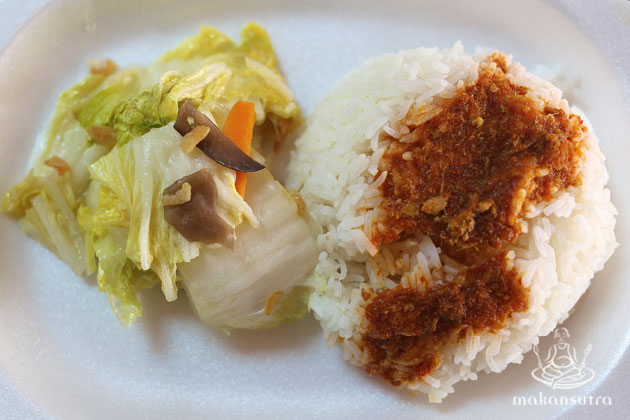 Black Pepper Roast Beef set with Zucchini Pie, Mashed Potato and Mixed Vegetable is definitely of good value. This is a rare find in any hawker centre.  The perfectly roasted medium rare beef has retained a beautiful pink texture throughout and softly tender with a distinctive black pepper flavor. The mashed potato was done just right with a  slight buttery taste. The Zucchini Pie was a pleasant surprise. The taste falls between a pie and a quiche with a nice homely touch. Such comforting fare is usually served on Thanksgiving or Christmas in Eurasian families.

The Eurasian Beef Ball Curry is a personal favourite. It was an addictive dish that is perfectly flavored to give it the desired richness. The beef was nicely seasoned then shaped it into balls before cooking it in the curry.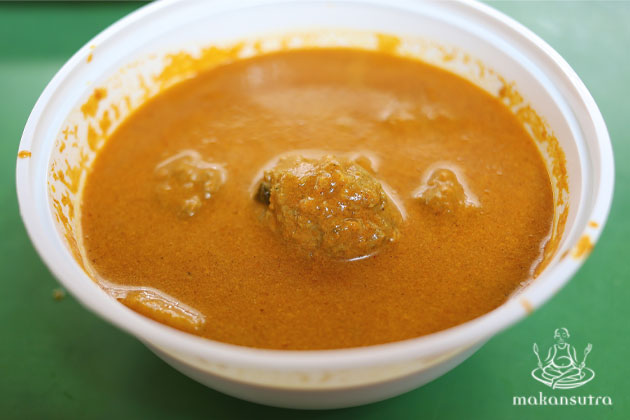 Nonya Ayam Masak Merak is another commendable dish. The saltiness and sweetness from the thick tomato sauce have blended well with the slight spiciness from the chilies to enhance its flavors. The texture of the chicken was done just right to give it a perfect tenderness.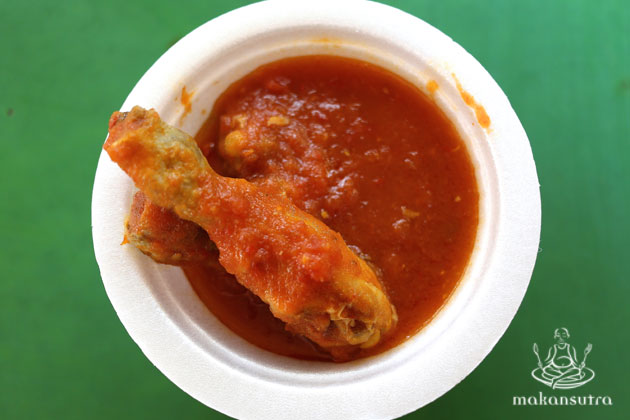 Nonya Babi Assam is another speciality of Nonya cooking. The tanginess of tamarind that combined with fermented beans and a mixture of spices has added depth to its flavor. It is especially tasty when having it with plain rice.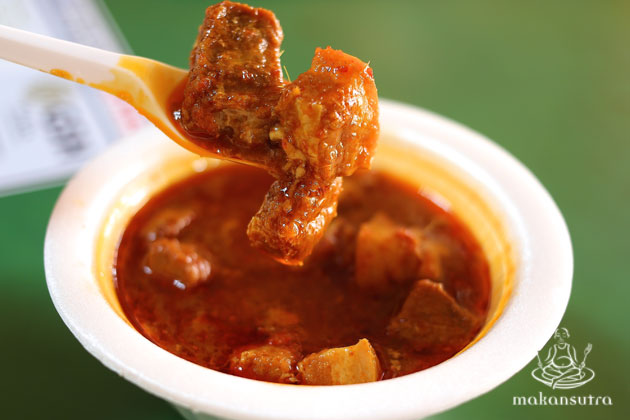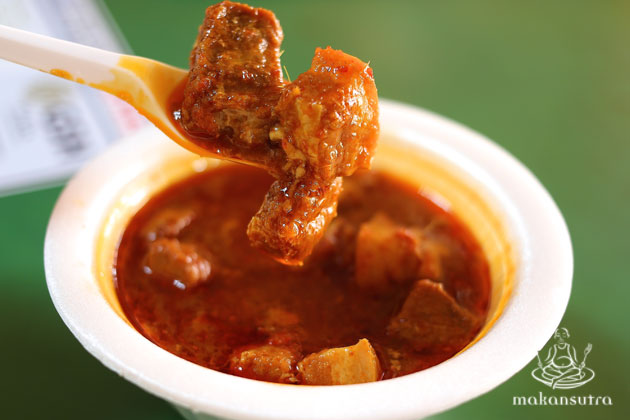 The Chicken Shepherd's Pie is a heart-warming dish that consists of mashed potato with chicken minced meat and bits of vegetable. A handful of cheese was sprinkled on the mashed potato before baking to give it a light cheesy taste.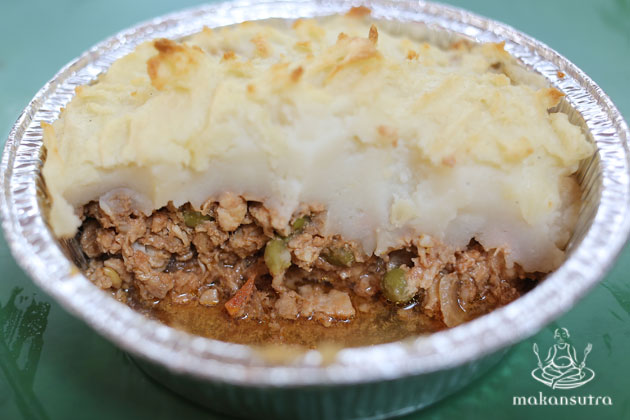 They mentioned that their main reason for using disposal plates is purely practical convenience. To them, what matters most is the taste and not how it is presented that will ultimately warm the heart of their customers.
Grace has gone that extra mile to put a strong emphasis on customer service and that includes the willingness to accommodate special orders and waiting for their customers to come beyond the closing time to collect their orders. She even packed specifically for it to be brought back to Indonesia as requested by their customers.
When queried about their future plan, the siblings shared that expansion is the next step to go. They would want to open a restaurant to continue sharing their family recipes by cooking up more Peranakan and Eurasian dishes for their customers in a cozy ambiance.
Their amount of love and passion could be strongly felt and tasted in their dishes. From the depth of my heart, I wish them every success.
POPO & NANA'S DELIGHT
1 Kadayanallur Street #01-70 Maxwell Food Centre Singapore 069184
Operating Hours: 10.30 am to 5 pm (Monday to Saturday)