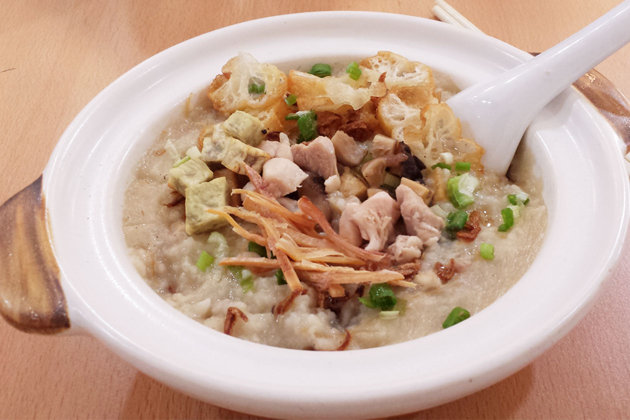 Post Festivities, it's Porridge Time
By TianTianChi - Friday, Feb 07, 2014
The history of Chinese eating porridge goes back more than 3000 years. Although most grains, like barley and even some legumes, can be used to make porridge, it is rice porridge that we commonly see. Simple ingredients can be added to complete the meal or it can also be eaten plain with simple side dishes. To many Chinese, this is comfort food, especially so when feeling under the weather as it is easy on the digestion system and aids cleansing.
In the past, it was a taboo to eat porridge during Chinese New Year as porridge is usually associated with peasants and it is not auspicious to start the year "poor". However times and perceptions have changed with affluence and many do not consider unlucky eating porridge during Chinese New Year anymore but a welcome reprieve from all the food indulgences.
Porridge stalls can be found in almost all food centres in various forms-plain with side dishes, chicken, pork, fish and vegetarian versions. Here are some of our favourite porridge representatives from different Chinese denominations…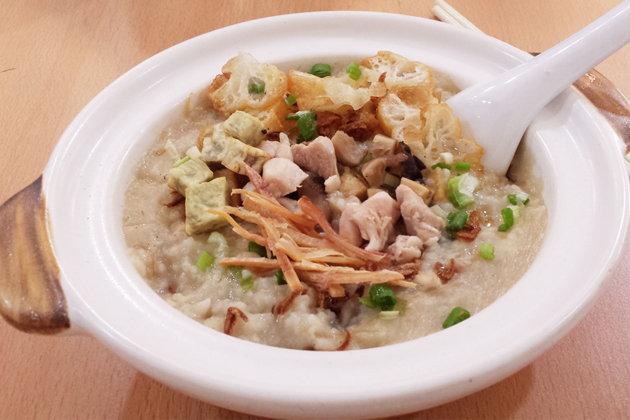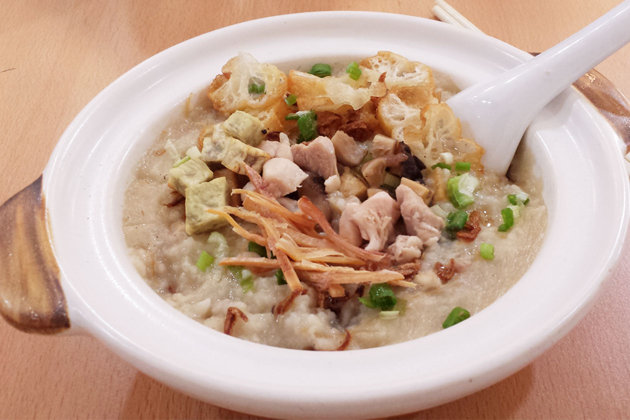 Hokkien Kiam Buay – CrossTalk Café (Hokkien Kiam Buay)
89 PasirPanjang Road, 7.30am-5pm (Closed Sat, Sun &PH)
Unlike Cantonese or Teochew porridge, less water is used in cooking a Hokkien style Kiam Buay (savoury porridge). That means more attention is needed cooking this thick porridge. It must not be stirred vigorously to break up the rice grain but needs only some controlled stirring in the pot to prevent burning at the base. Some of the ingredients added to the porridge have to be processed separately. Perhaps the labour behind this dish is making this a rare treat these days.
They use a home recipe from one of their key partners, Ms Susan. It comes very much like a bowl of treasures. Golden jiu her (dried cuttlefish) strips, silvery diced yam, onyx black mushroom, jade colour scallions over glistening pearl white grains. The main flavour is from the jiu her and it has to be pre-toasted in order to release its flavour and the yam must be pre-fried so that it has the crumbly feel. The chicken is diced to give it a less "fibrous" but substantial bite than shredded ones. All this is cooked over long hours in chicken stock for a hearty, filling and comforting bowl of goodness. It cost $3.50 for a big bowl but there is a down sized version for their breakfast set with coffee or tea.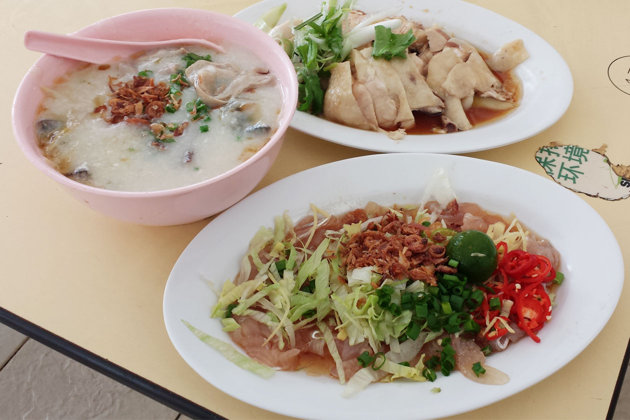 Cantonese porridge – Tiong Bahru Wah Yuen Porridge & Chicken Rice (Cantonese)
Blk 79 Telok Blangah Drive #01-12, Telok Blangah Drive Food Centre, 6am-2pm (Closed Mon & Tues)
Boss Raymond comes from the Hwa Yuen porridge family, one of the most famous pioneers of the old Tiong Bahru Food Centre. When the patriarch passed away about 20 years ago, the main shop was handed to his younger brother who envisioned expansion. Raymond chose to strike out on his own as he wished to maintain the artisanal touch his customers are so accustomed to.
The porridge is a classic Canto-style congee. It is cooked till the rice disintegrates, till it is smooth and creamy.
He offers several versions, pork, chicken, fish and combinations. However it is the pig offal porridge (Mandarin porridge 状元及第粥 as they call it) that is most popular. The offal is well cleansed and lent a variety of textures to the smooth porridge, crunchy and chewy. Many serve raw fish together with porridge but few offer the rare ikan parang (wolf herring)like he does. This is an expensive choice fish chosen for its delicate, clean and sweet flavour and smooth jelly like texture. We also love the poached chicken he offers to go with the porridge. The Cantonese watgai (smooth chicken) style comes with a heavier seasoning and the chill-in-cold-water technique produces a smoother texture. Price starts from $3 for pork ball porridge to $5 for the Mandarin porridge.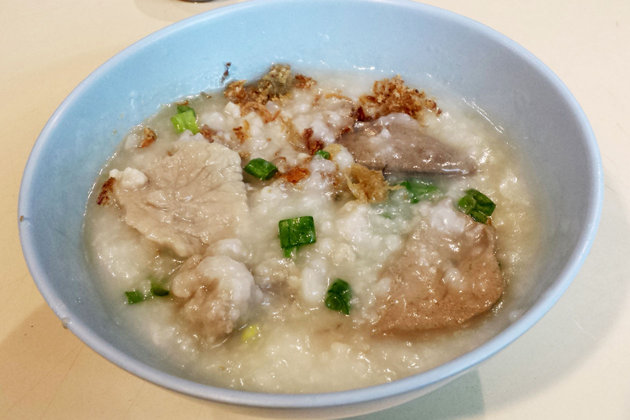 Hainanese Porridge – Redhill Porridge
Blk 85 Redhill Lane #01-90 Redhill Food Centre, 5.30am-8.30am (Closed Sat & Sun)
There are more than 4 stalls selling porridge in this food centre. Maybe it is fortunate that owner Mr Han chose to open only for a short few ungodly hours each day. The queue starts the minute the open for business at 5.30am and does not relent till 8.30am, when they sell out. He cooks each bowl one at a time and does not want the stress of working too long hours.
Although each bowl does not come full to the brim with porridge,they are generous with ingredients, even with the $2 portion. There are sliced pork (soft to the bite), meat ball (well marinated and textured) and one of the best pork livers we have tried in it. Only good quality liver is used and he blanches it with precision. It is at perfect doneness when served and does not feel overcooked even after 5 minutes. The porridge itself is old school Hainanese, softly grainy and yet creamy, good enough even on its own. He offers fish porridge also but we recommend the pork version.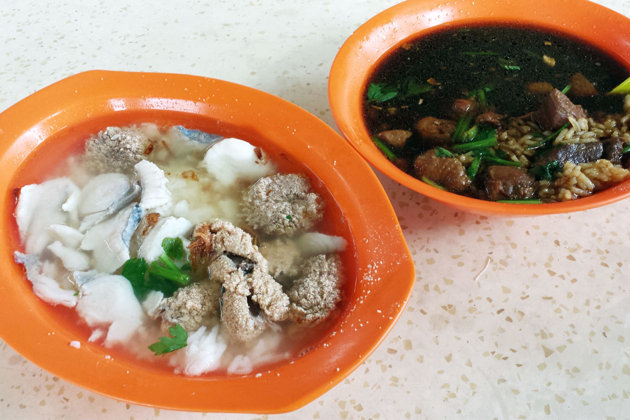 Teochew Fish Porridge – Ng Soon Kee Fish & Duck Porridge
Blk 117 Aljunied Avenue 2 #01-11 Geylang East Central Food Centre, 12pm-9pm (Closed Sun)
This stall boasts a history of more than 50 years and displays confidently for all to see, their fresh and glistening fish slices over bed of ice at stall front.Unfortunately they have stopped selling pomfret due to supply issues; only Spanish mackerel is used now.
The porridge comes in a clear soup, made from old mother hen and fish bones with some dried sole to flavour it; it is coherently rich and sweet.Each bowl cost from an affordable $3. Add a dollar more to have fish roes added for extra richness and addictive grittiness.
The duck meat come diced instead of the usual shreds or slices, giving it a better bite, and in fact making it taste more like pork. The rice is soaked in a slightly sweet and savoury herbal soup. Very much like kway chap but with rice instead of the rice sheets.
You don't see any queue here as the food is served to your table but expect a long wait. They are well patronized by regulars and a 15-20 minutes wait is not uncommon.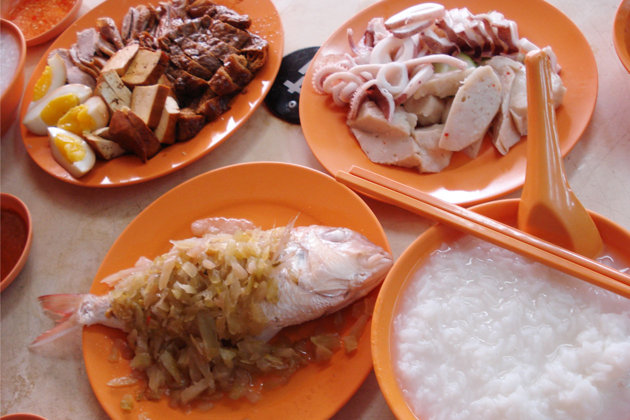 Teochew Muay – Teo Heng Porridge Stall
Blk 531A Upper Cross Street #01-56 Hong Lim Mkt & Food Centre, 8am-2pm (Closed Sat, Sun and PH)
Teochew people love their fish so the folks here pay particular attention to it. The fish is fresh and they keep them in ice filled styrofoam boxes. Upon order, it is boiled in a salted vegetable stew. It comes out perfectly cooked, seasoned by the savoury, tangy and sweetish stew, topped with the same stewed vegetable from the cauldron.Other offerings such as sotong (squid) here is well steamed and comes with a soft chewiness and crunch, and the fish cake (made in house) is wobbly, spongy and tasted more meat than starch. The stewed innards are well cleansed and the stewed duck does not come overly gamey.
Very few people bother to do this but they take extra effort to cook their stewed egg so perfectly, the egg yolk is looks molten and is runny, just like Japanese Ni-Tamago. These eggs can beat many ramen stalls who sell this and almost everyone in the queue orders it. The rice in the porridge is slightly al dente as it should be and the soup has that nice rice fragrant and milky look.
Pricing here is not expensive, a meal for 4 with a fish and 3 other side dishes rarely cost beyond $20.