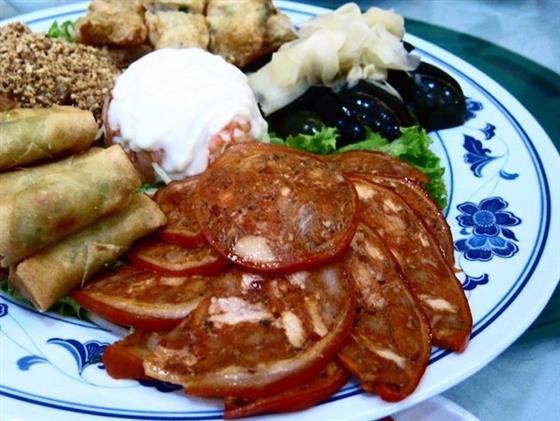 Quan Xin Yuan Restaurant: An Old Hokkien Legacy
By TianTianChi - Tuesday, May 21, 2013
I was walking along Jalan Besar one evening looking to buy some lights. A group of well-dressed Caucasian men stopped me and asked. "Hi, we have just arrived here and we are hungry, can you recommend a nice Chinese restaurant nearby?" I was dumbfounded how they ended here.It seems that a friend told them of another Chinese restaurant around here but it was fully booked. I looked across the road and I saw Quan Xin Yuan. I asked if they mind checking out an 80 years old restaurant that looks a little tired, but that's part of the charm and appeal, retro circa 1960s.
I have fond memories of Quan Xin Yuan. My dad brought us here rather frequently as kids , which was always a prelude to a giddying fun time at the New World Amusement Park, then in its final days of glory. I remembered the restaurant being crowded and hot and I was glad they air-conditioned the place when I patronised them as an adult, even thought they left much of the décor untouched. This place remains a venue of my choice for affordable and down to earth Hokkien food.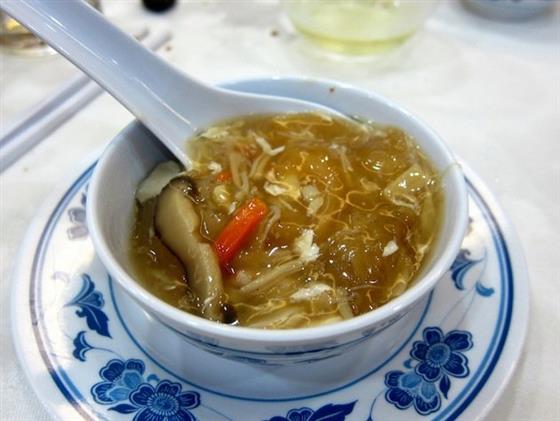 "What should we order? You are not going to suggest sharks fin I hope," one of them asked. I do know they serve a kick-ass fish maw soup (from $20) which I think rival many sharks fin soup in similar restaurants. It comes thick, but not starchy and is chock-full of moreish seafood treasures such as fish maw, sea cucumber, dried scallop, crab meat supplemented by other ingredients such as bamboo pith and enoki mushroom.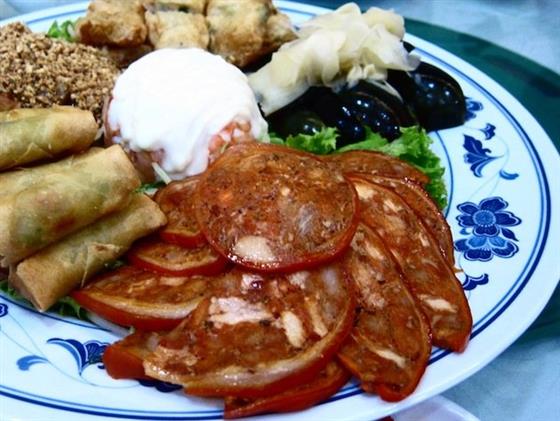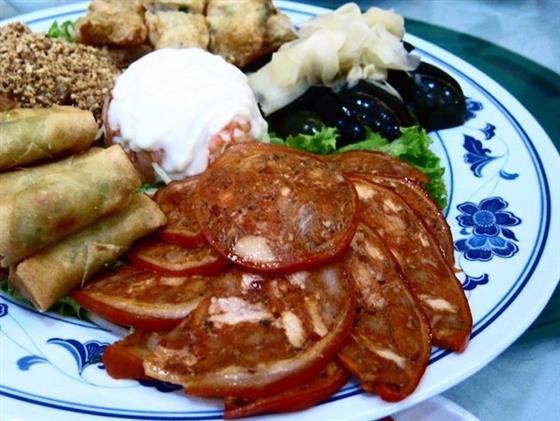 One of the more unique items that is not common is their stuffed pig trotters (from $12). A whole trotter is painstakingly deboned- the meat is then minced and marinated with five spice powder and other ingredients before stuffing back into the skin. It is then steamed for 2 hours, cooled and served sliced thinly. It tasted very much like a sweet Taiwanese pork sausages with a crunchy skin and with the size of an Italian Salami. It is genius that they remove much of the fat which can make it cloyingly porky.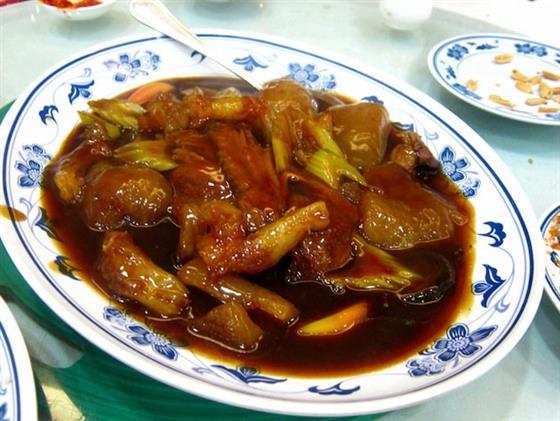 Braised duck with sea cucumber (Standard $40) is another signature. The duck is first deep fried and steamed before being braised in a slightly sweet herbal concoction together with sea cucumbers and pig tendons; this helps to ensure the tenderness of the duck meat and also allows the flavour to shine through the meat.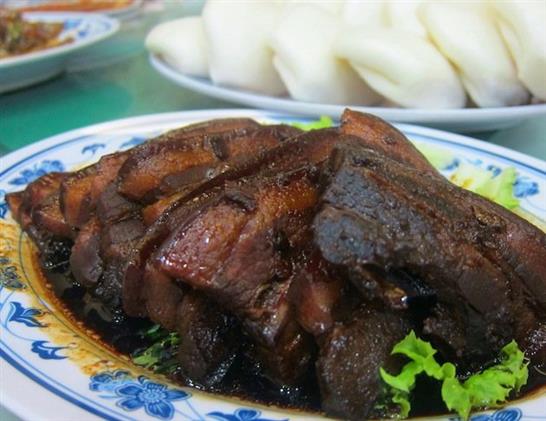 Kong Bak Bao (Braised pork belly with bun, from $8) is a perennial favourite here. You can see it on almost every table. A common dish you can find everywhere but it's that subtle difference that makes theirs popular. There is good balance in the flavour and it does not come too sweet, like the Shanghainese style dong po rou or mild, like Teochew's lor bak. They do it till it's fork tender and the skin- almost gelatinous and not oily. Very skillful.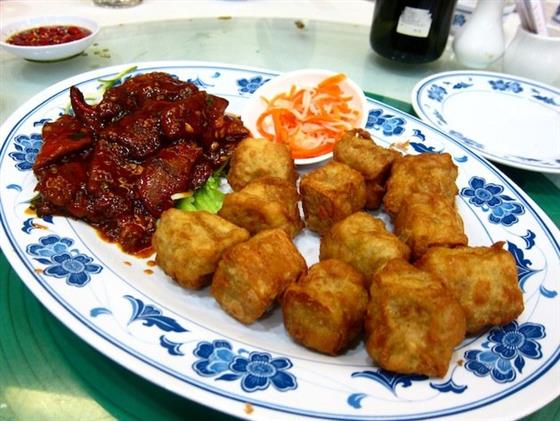 Sweet and sour pig liver (from $12) is also a smart choice. You can take your time to eat as there is no fear of the liver turning leathery in the hot claypot. The pig liver is slightly battered and flash fried before drenched with a delectable sweet and piquant sauce. It comes with a slight crust that seals in the flavour but the middle is so tender it is almost like biting into pâtés.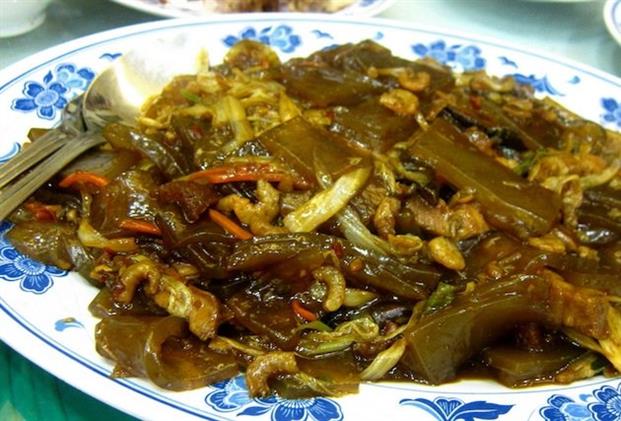 You don't see it on the menu but do ask for their fried sweet potato flour noodle (from $12, pre-order required). This, in the past a must have dish during Chinese New Year for the Hokkiens, but is rare nowadays as it is not easy to cook and even more difficult to make. Looking very much like the Foochow's rice cake stick, slivers of the dark colored sweet potato flour stick noodle is fried with vegetables, mushroom, dried shrimps and meat in a dark sauce very similar to Hokkien mee. The noodle however comes with an interesting and addictive sticky and chewy texture and I feel that it absorbs the flavor of the ingredients better than how yellow noodle does.
Of course, they do have a range of vegetable dishes and one of my favourites is the sambal sweet potato leaves (from $12). Good wok breath and stinging sambal.
The desserts selection are however rather boring. I guess that is not something they focus on very much.
"So, what do you think?" I asked. "We are French and we will eat anything nice!" they reverted. I am happy to report that several weeks later; I received a nice thank you bottle of wine, not a usual gesture from any tourist.
Quan Xin Yuan is now managed by the 4th generation and they have also opened a more spacious branch at Kitchener Road to cater to increasing business. This is also the venue where the May Makansutra Forum Monthly Makan Session will be held. Do check out the forum for the report at https://makansutra.com/makanchatter
Quan Xin Yuan Restaurant
Main shop:
252 Jalan Besar
Tel: 62946254
11.30am-2.15pm, 5.30pm-10.45pm (Closed Wednesday)
Branch:
161 Kitchener Road
Tel: 62980306
11.30am-2.15pm, 5.30pm-10.45pm (Daily)