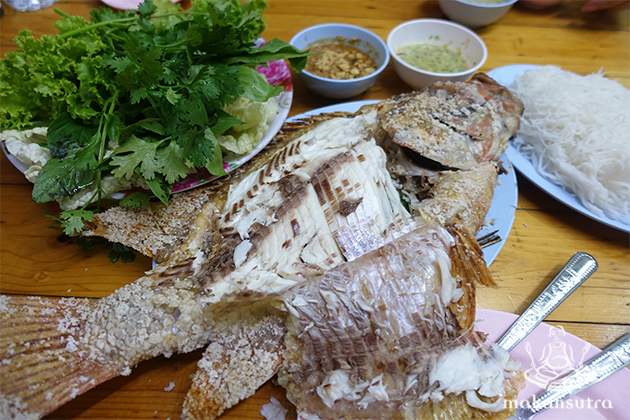 Racha745: Street Salted and Grilled
By KF Seetoh - Friday, Apr 06, 2018
The thing about eating in Thailand, is the names of the places and the location, especially the far flung authentic spots where not much tourist are seen (as in my kind of places). We just can't pronounce it right to the cabbie no matter how accurate you try to be. Little hole in the wall places along unpronounceable streets and back alleys where deliciousness reside- those are the worst, yet best place places to uncover makan gems. If I had not worked with local researchers and editors of our past Makansutra food guides of Bangkok, I wouldn't know much about Ramkhamhaeng area, much less about it's Soi 24,the quaint little food street haven, with hipster and local cafes alongside traditional Thai food stalls. But thank goodness for private car taxi apps.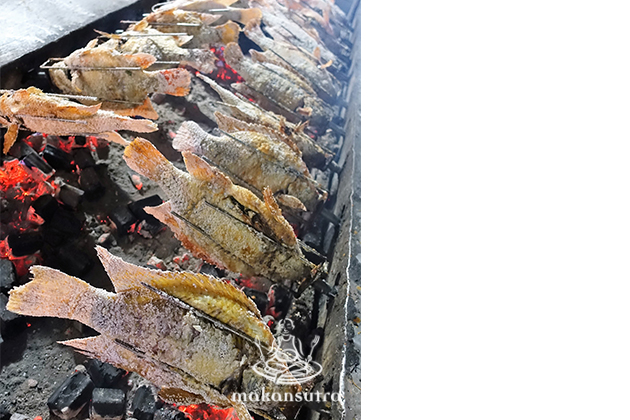 A huge open wood fire greets you at the entrance of this big tented street side eatery with a naked kitchen. But you will be attracted like kids to fireflies at the sight of rock-salt baked red tilapia (350baht) in skewers turning slowly over the amber heat. You cannot skip this one, it's like going to a Liverpool and Manchester United game at Anfield Stadium, just to buy some merchandise. The fish comes dry, hot and packed with rock salts but when you peel the salt baked skin off, a layer of juicy and flaky flesh beckons and next thing, we were forking the flesh, dipping it into to an oh-my-gosh chilli, lime, lemongrass and coconut milk dip (I missed at least two ingredients here- can't put my tongue to it). Best to wrap it in salad leaves provided before dipping.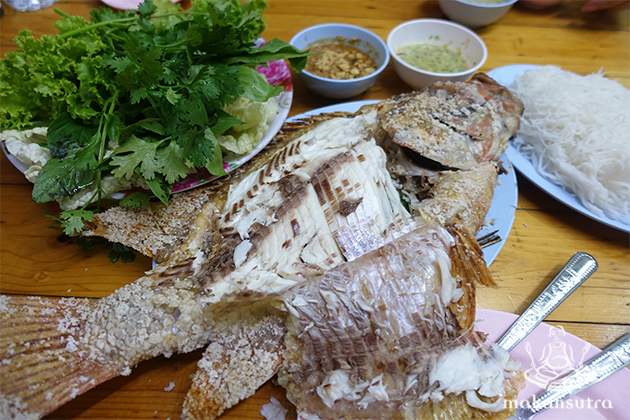 Then the Moo Yang (100baht) or grilled pork showed up. It's been a while since I had it this good- the actually grilled it unlike many fakers that deep fry or pan sear it. The bite was soft and roasty and it came with another spicy tangy dip with a bed of salad. I adore the burnt ends. The Fried Curry Squid (450 baht) came in one portion size only- huge! They executed this with street flair- they don't overcook the squid and it's tossed in a rich moist spicy coconutty curry paste. It was very moreish over rice.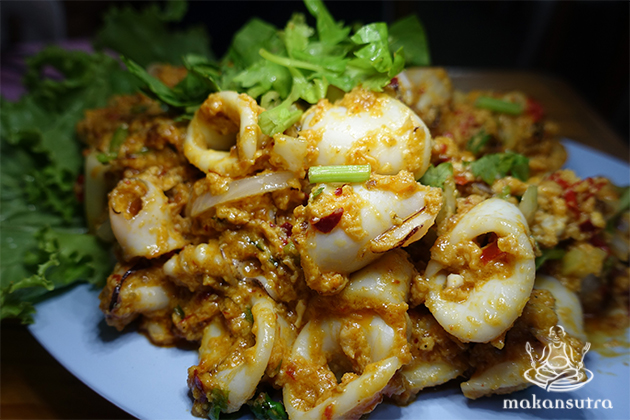 Then you notice the service "edge" here. Happy cross- dressed "beauty queens' circumvent the area, taking and deftly serving up your orders, double speed, friendly and in four-inch stilettoes. Very entertaining and harks back to our Bugis Street hawker days. And then "she" slid a plate of bbq river prawns (325baht) before us. Again, there's not use in any grilling method if the crustaceans are not fresh. These again came fresh, hot and roasty- the flesh was sweet and crunchy and when I stole a bite into the giant head for the roe- the heavens opened and beamed down. Plus, don't forget their cruel chilli dips, so "bad", it's good.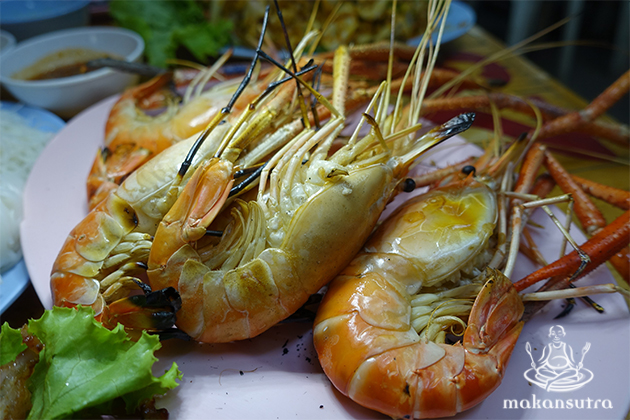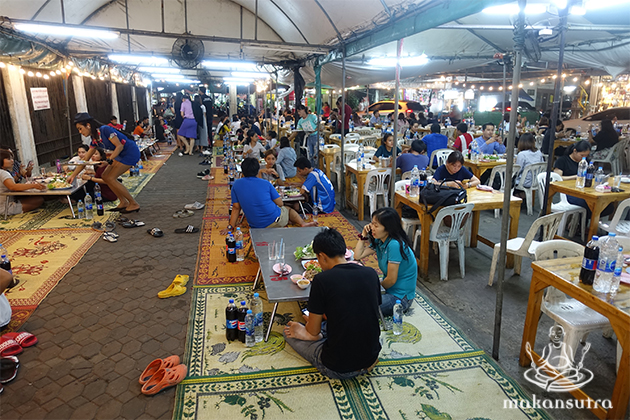 The other nice touch is the seats- you chose regular tables and plastic chairs or sit on the floor, kampong style by the covered walkway on thick mats with food served on low, kiddie tables. The other authentic element is the thick photo menu which has no English words. Thank goodness for food pictures that speak a thousand words- you just point and go (to Thai makan heaven).
Racha745
Ramkhamhaeng Soi 24 (opp shop number 346)
In front of Rajamangala National Stadium entrance 5
5pm to 5am daily
Tel: 09-7093 4555/ 08- 6225 5745