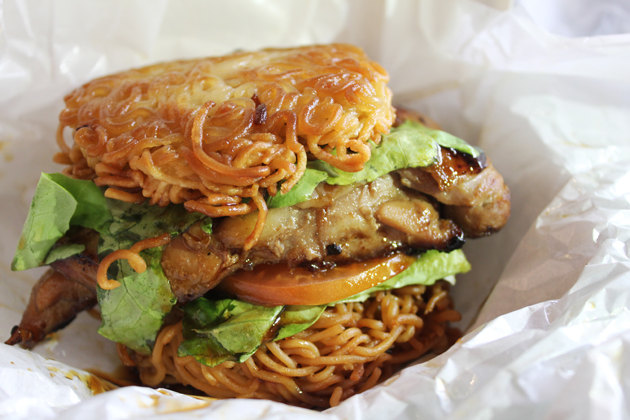 Ramen Burger for mee
By Joanna Goh - Friday, Dec 06, 2013
When it comes to ordering a meal, which will it be – a succulent meat patty burger or a comforting ramen dish. The conundrum is that you, like many others, may have a soft spot for both burger and noodles. So here's the solution.. a Ramen Burger – a meat patty clamped in with crispy noodle "buns". Singapore's first mobile food truck, The Travelling C.O.W (Chef On Wheels) has solved that dilemma by introducing this, yet another, American makan fad. It's their creative license and take on yet another New York makan sensation (coming in after the recent and much vaunted Cronut). They currently offer a few renditions – Bulgogi Beef ($8.90), Teriyaki Chicken ($8.90), Spicy BBQ Chicken ($8.90) and Mixed Mushroom ($6.50). So think no more about "burgers or ramen?", have both.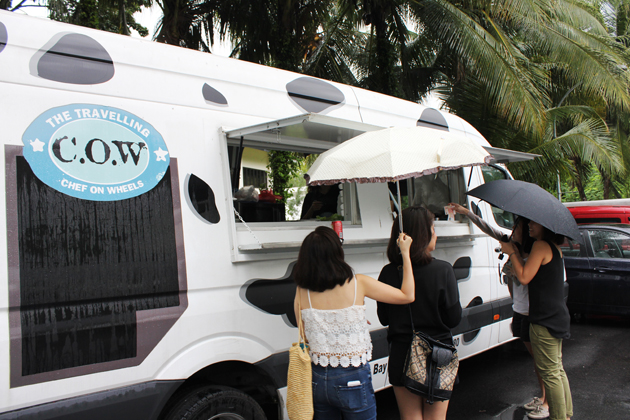 The idea of having a combination of noodles on a burger might come across as strange or even intimidating to some, but it is definitely worth the try. Despite the December downpour, a steady stream of umbrellas converged into a queue for this ramen burger at their food truck. Parked along the curb of block 39 at Gillman Barracks, you can easily spot the truck. It's a 10-20minute wait for an order but no one was complaining when we visited.
The ramen burger is nicely wrapped in a bento box and the thrill of unwrapping and tearing in, is suspenseful. The reaction after the first bite was "glorious". If you love meat, you will love this, ditto for noodles. Golden crisp ramen patties with tender juicy chicken, marinated in teriyaki sauce. It is accompanied with fresh butterhead lettuce and juicy tomatoes. To top it off, a drizzle of the chef's secret dressing- can't go much wrong with that.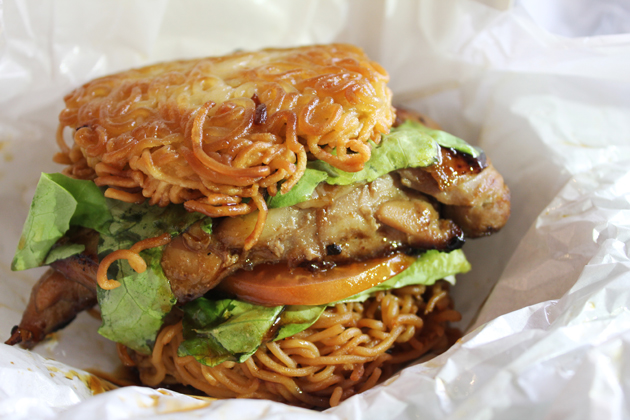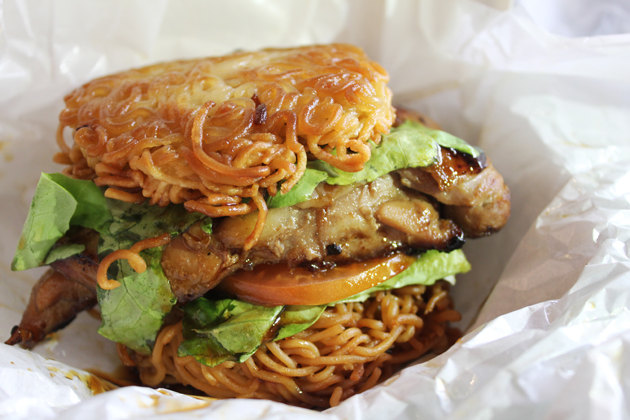 Unless you have an unbelievably big mouth or bite, it is not recommended to try and sink your teeth in like a fast food restaurant's burger since the ramen patty is harder to bite into than bread. The idea is to first wait, then let the dressing settle down below. Anticipate the sensation and linger for a minute or so. Then you slowly and gingerly unwrap the package like you would a treasure you just unearthed, don't mess it up. Hold it steady and take a bite, slowly. Savour that first crunch from the crispy ramen, the rich goodness of the meat patty or mushrooms and lastly the dressing that lingers on even after you are done.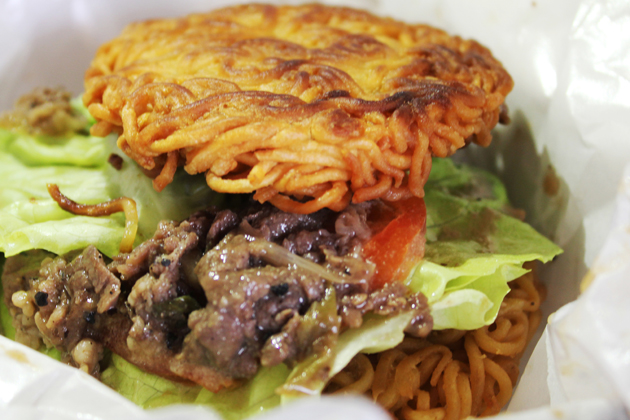 For a daintier options, cutleries are provided and "ladies", remember to ask for more serviettes too.
The U Factory at Gillman Barracks
Boiler Room Block 39 Unit #01-10
Available only on
Friday: 6pm – 10pm
Saturday & Sunday: 12pm – 8pm
(From now till 26 January 2014)
Nearest MRT station: Labrador Park (Circle Line station CC27)