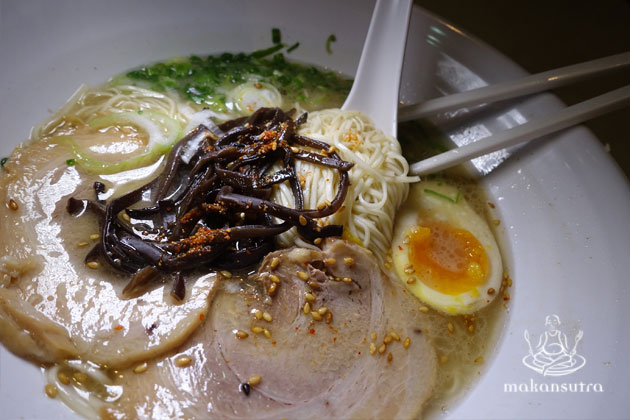 Ramen Taisho: What's in a Ramen
By KF Seetoh - Monday, Feb 29, 2016
They are barely three weeks old into the street food business and there's already queue at their little, but not so humble stall in Clementi. The demand for their ramen is good but the work behind the menu offered was more than he bargained for. "I should be clearing 200 bowls a day, but I am struggling because I can't keep up with the demand." , and Tan Hock Soon proceeds to show me why.
He starts with a huge bag of pork bones and say these things need six hours of boiling, but then points me to a professional pressure cooker that takes only one hour to do the same trick, adding "the bones literally crystallises by then". It's onto another huge stock pot to extract and stabilise the flavour. Those two equipment alone, is $50,000, and it's minus the shiny $35,000 Japanese ramen machine he has out front of the stall- so all can see that every strand of noodle is freshly made. But he admits frankly, the flour is way better in Japan which is why we "lose out" here, no matter how hard you try. He should know, he spent three years in and out of Japan attending a few ramen classes and even checking out the rubbish dumped behind one of the top Osaka ramen joints- Ideshoten Ramen, just to see what goes into their recipe.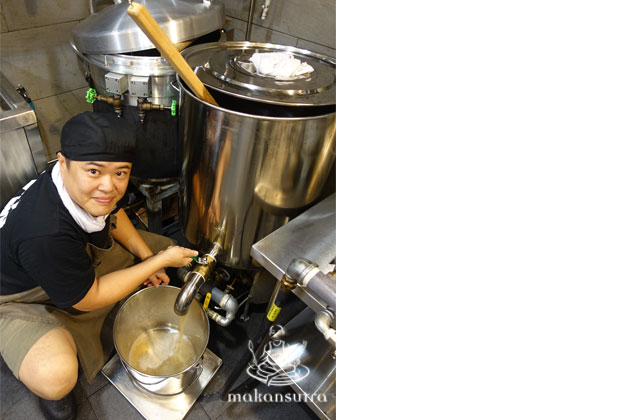 Hock Soon and his wife Kalene attended the Street Food Pro 360 course two years back. A course created and conducted by Makansutra with the support of E2i(the Employment and Employability Institute). He knew he needed more than a good recipe behind a successful street food business. "Customers tell me how many outlets I already have, as they saw how I layout my stall, wear proud uniforms and introduced professional stall design, layout and graphics with photos ", something that was taught at the SFP360 course, which was design to share the nuances, skills and opportunities in the current street food business climate. It included tricks on social media and listening to customer's needs and feedback. At the course, I shared privately with him how he should not offer the clear stock shoyu ramen, as heartland feeders will see this as a simple wet-market food stall "offering cheap soy and MSG laden noodle soup". He tested my theory on this and within a week, took it off his menu, as there very low demand for it despite the efforts behind making it. In fact, he now concentrates on and offers only one item at the stall, so as to maintain consistency..the Tonkotsu Ramen soup ($6.90).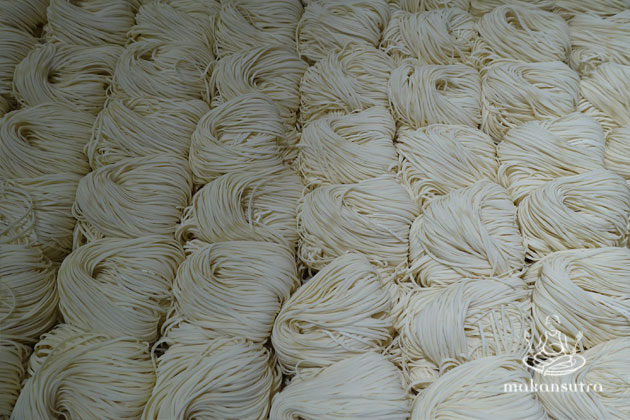 So how does it rate? I asked and I have to agree with him. The noodle is slurpy smooth without being mushy and the char siew was melt-in-the-mouth soft and not overly braised till the thin layer of fat evaporated. The all-important soup has a whiff of roastiness (roasting of pork bones) and is subtly robust and milky. I agree with Hock Soon who feels he needs more work on the emulsification process in the soup, by balancing the use of collagen (he uses pork skin for this process).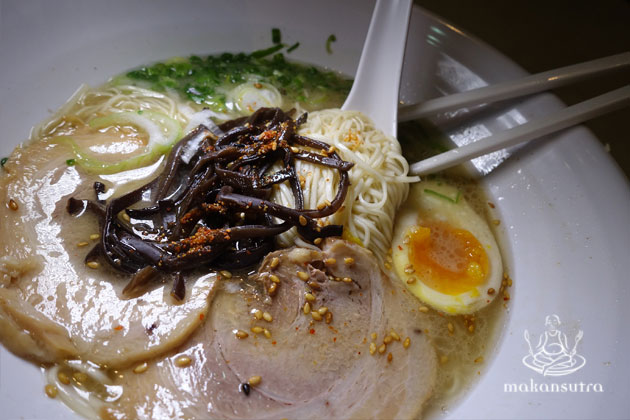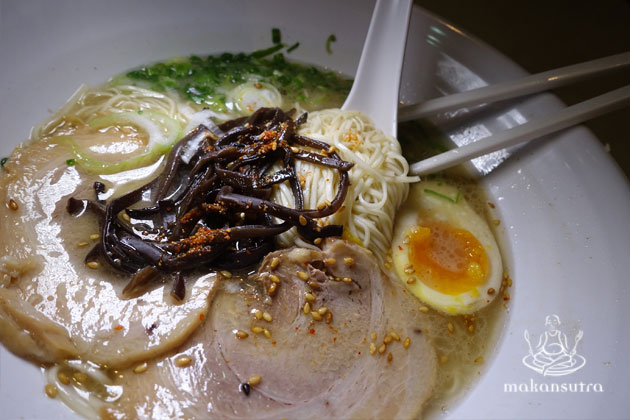 His proudest discovery, was that a local brand soy sauce, used to make the secret black sauce recipe or "Tare", used to flavour the broth, is way better than the Japanese version he was taught to use. And his parting shot "give me some time, I will diligently introduce the Black Garlic and Miso Ramen soon."
FoodFare Food Court, 4th Floor
Clementi Mall, 3155 Commonwealth Ave West, Opp Clementi MRT Station
10am-10pm Daily
Updated on 10 August 2018
Ramen Taisho relocated to
Maxwell Food Center
#01-32, 1 Kadayanallur Street, Singapore 069184 |
Opening Hours: Mon- Fri 11am – 9pm.
Closed on Sat & Sun