Rare Sri Lankan Brunch
By Catherine Ling - Tuesday, Sep 04, 2012
Tired of bacon and eggs for brunch? How about an exotic Sri Lankan breakfast meal for a change? You'll find it at the most unlikely place too – Speakeasy, an American prohibition era influenced bar at 50 Tanjong Pagar. Its new owner Saman Vishwanath, 30, is a native Sri Lankan who missed his own cuisine, so he decided to introduce this for Saturday brunch and Friday lunch. Saman was a bartender there who took over the joint from his former boss when she wanted to retire.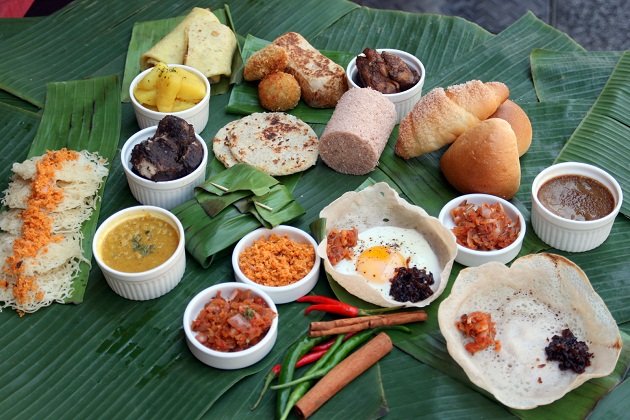 It isn't common to see Sri Lankan fare in Singapore. When it does appear, it is often mixed or confused with Indian food when it is quite different in its own right.
At Speakeasy's brunch, Saman has introduced dishes such as Hoppers, String Hoppers, Pol Roti (coconut pancake), Malu Pan (buns stuffed with fish or meat) and an assortment of curries.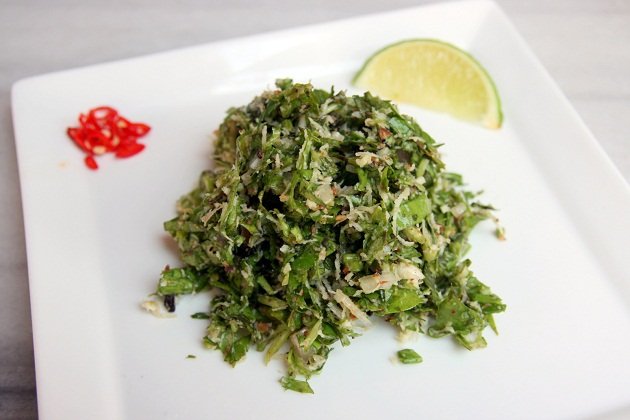 For authenticity, Saman gets his spices and cooking equipment directly from Sri Lanka. The recipes have run through generations in Saman's family and there is a Sri Lankan chef in the kitchen preparing them.
The Saturday brunch is available a la carte or as a set meal (S$30) where you get to choose one starter, two curries, two sides, and a dessert.
For the appetiser, you have a choice of a bread basket featuring three different kinds of breads; a fried platter of cutlets and fried rolls, or the Gotukola Salad (above). Gotukola is a leafy herb that is slightly bitter on its own, so it's mixed here with coconut and lime to balance the flavours. If you find it somewhat familiar, it might be because it's also used in ulam, the Malay salad. Pieces of sun-dried fish from the Maldives add that chewy umami element. Mix in the chili padi for extra kick.
Chicken curry (left of picture above) may sound boring but you'll be glad you tried theirs, because this recipe from Saman's mom is really quite different. It's almost smoky and beautifully complex in its spicy flavours. The sour fish curry or Ambul Thiyal (right) comes nearly black in colour from the dried fruit called gambooge which gives it the lightly sour quality. The fish is cooked with the spices in a claypot for several hours.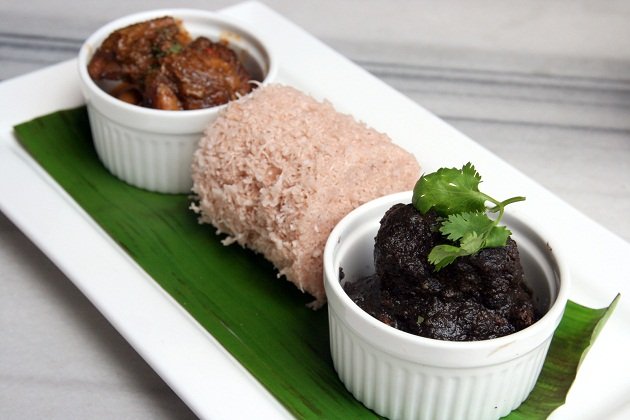 The pinkish roll in the centre is the Pittu, a flour and coconut funnel cake (like Putu). That's one of the sides you can choose. Technically the "sides" here are the mains or carb element in Sri Lankan cuisine, just like rice or noodles in Asia. But Speakeasy has put them in a Westernised menu, so the "mains" are the curries and the "sides" the carbs. The gotukula salad also is generally eaten together with the carbs. It goes wonderfully mixed with the pittu and the curries.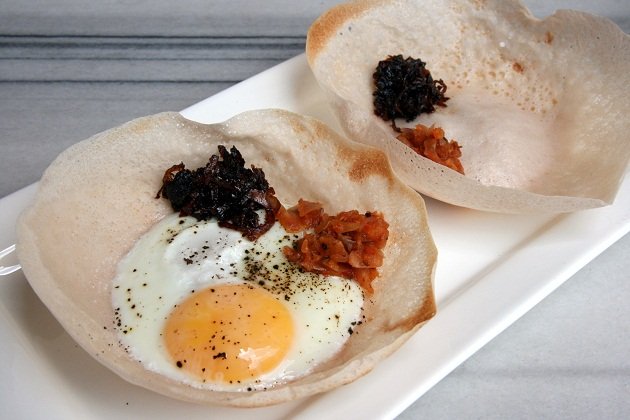 The Hoppers or Appam are pan-fried pieces of fermented batter made from rice flour, coconut milk and a dash of palm toddy. Like prata, there's the "kosong" or empty variety, and one with egg. Both come with darkly caramelised onions and a spicy onion sambal. Interestingly, the one with runny egg goes better with the chicken curry while the empty one goes better with the sour fish curry.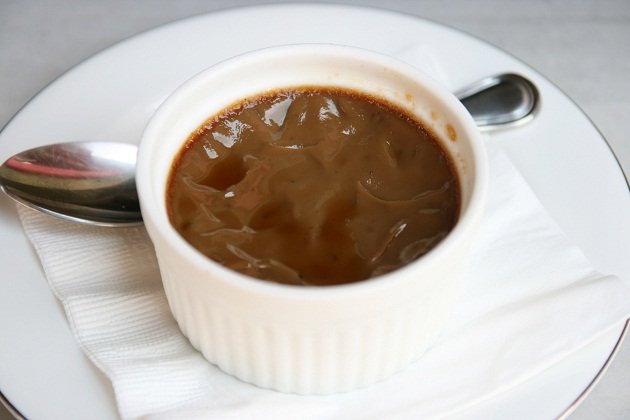 There are two desserts to choose from – the Wattalapam (above), which is a spiced coconut custard with palm sugar, and a Sri Lankan pancake roll filled with caramelised shredded coconut.
Saman, with his bartending roots, also introduced Sri Lankan influenced cocktails to go with the brunch. Teprobane (Pimms, watermelon and blueberries) and Serendib (Pimms, orange, lemon, cucumber and lemonade) are two of them.
Thanks to his homesickness for his mom's cuisine, we now have a place for authentic Sri Lankan dishes. The brunch is on Saturdays from noon to 4pm. The Sri Lankan menu items are also available lunchtime on Fridays.