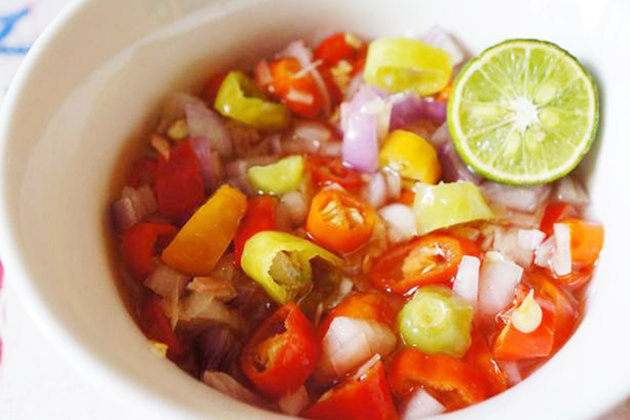 Recipe: Ayam Sambal Matah
By Marchellinus Hanjaya - Wednesday, Jan 15, 2014
This is inspired by the World Street Food Congress 2013 award winning street food vendor in Bali, Made Weti. This humble street food vendor is constantly and consistently offering their stunning Balinese mixed rice meal every single morning – no frills, just pure relish and humble ambrosia on the street side. One of her very authentic Balinese dish is, Sambal Matah.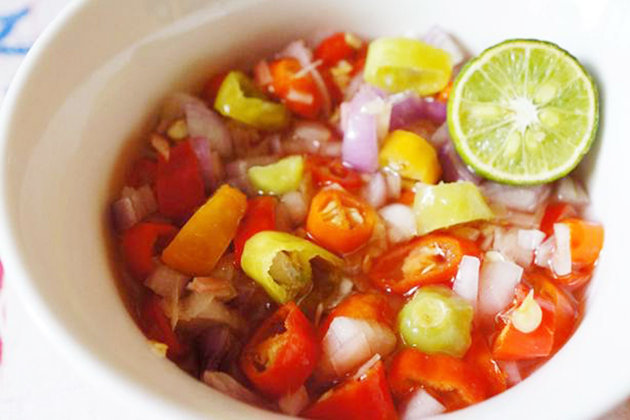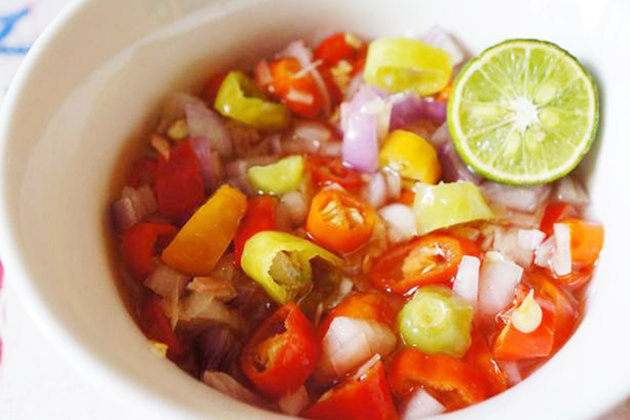 Sambal Matah (raw sambal) is one of the most common type of chilli-based condiment in Bali. It is pure aromatics, fresh and spicy. There no specific food pair or rules for this dish, you can combine it with everything possible. But traditionally, folks use Sambal Matah as an accompaniment for leftover meat dishes.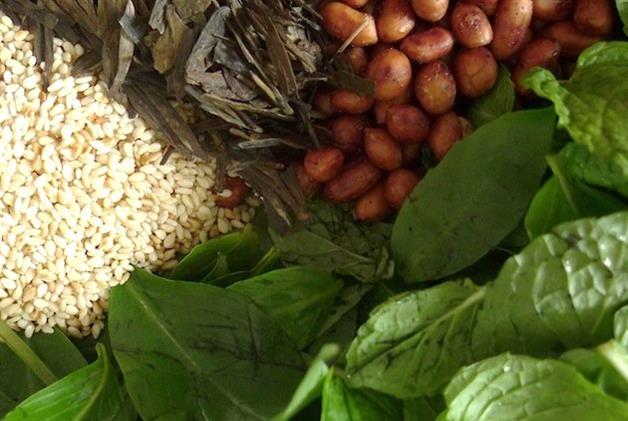 Chicken Preparation:
300 gr Chicken Breast 15 gr Salt 2 pc Lemongrass 500 cc Cooking Oil
Rub the chicken with salt, set aside. Heat the oil in medium heat and fry the lemongrass for 3 minutes, until its colour change and its aroma is released – then remove the lemongrass. Fry the chicken in that oil until the colour turns to golden brown, but not too dry. You don't want your chicken to be chewy.
After the chicken is cooked and rested, shred the chicken breast using 2 forks – it helps you to get the dirty job done easier, faster and more hygienically, compared to doing it by hand.
Sambal Matah:
15 pc Chilli Padi / Thai Chilli – sliced 10 pc Shallots – sliced 40 ml Coconut Oil 3 pc Lemongrass – peel, use only the tender white part 1/2 pc Torch Ginger – thinly sliced or chopped 10 gr Salt 5 gr Toasted Shrimp Paste / Belacan 3 pc Leprous Lime (can be substituted by 1 pc of kaffir lime)
Put them all in a mixing bowl, toss until everything is finely mixed, then put it over the shredded chicken and toss it up. As a finishing touch, you can squeeze one more leprous lime on top, and if needed, more sprinkles of salt atop.
Now it's ready, feel the aromatic coconut oil and torch ginger, harmonise the bites of spiciness from the chilli. At this point, it would be nice to go with a warm pot of steamed rice.