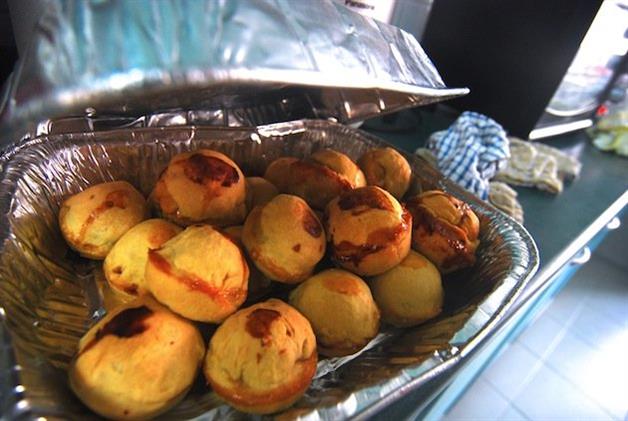 Recipe: British Army Apple Pie
By Sheere Ng - Friday, Apr 05, 2013
There are many good things that came out of the Hainanese-British engagements during the colonial times. They worked for and with them in the kitchens and at home and that relationship gave us curry puff, kopitiam toast and eggs, pork chops…
But for the family of 85-year-old Mr Zhuang Joon Cheng, one snack that they enjoy most is their granddad's apple pie. Mr Zhuang worked for the British army as a cook for more than two decades, until the last few battalions made their way home in the '70s. During those years, he picked up many western dishes from his British colleagues, one of which is apple pie.
The first time we tried Mr Zhuang's apple pie was during the recent Chinese New Year. To entice him to move about so as to aid recovery after his recent fall, his family bought him an oven so that he could make dishes that he hadn't made for years. The crust was impressively buttery and crumbly. When asked, the feisty old man replied, "Very easy! Just flour and butter!"
"Yeah right!" We thought to ourselves. He must be keeping the secret ingredient from us. Or so we thought. So we put him to the litmus test one morning as we watched him demonstrate. We were awestruck. It was as simple as he said.
So when we asked grandpa if we could add other ingredients inside, such as egg, potato, or even meat stew, he answered with an assertiveness that is typical of a Hainanese man: "Anything also can!"
So here it is, an incredibly simple and delectable old school apple pie from an era gone by.
Ingredients (makes 10)
5oo g plain flour
1 block of butter, soften at room temperature
About 150 ml water
4 red apples, cubed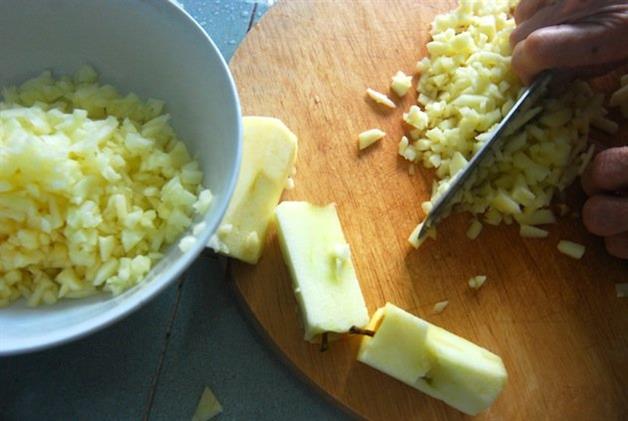 10 tsp white sugar
2 tbsp of evaporated milk
Cupcake mould of 8cm diameter
Methods
1. Pour the flour into a big basin and add in the soften butter too.
2. Knead them into a paste. Add water, 50ml each time, until there's enough moisture to mix the flour and butter evenly. (see picture)
3. Grease the mould with butter on the wrapper.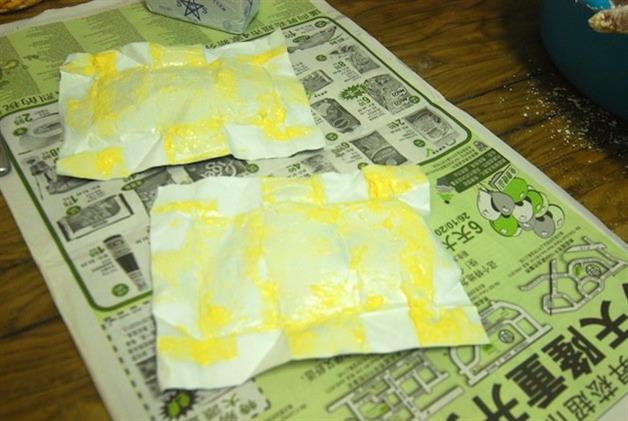 4. Pluck out about 50g of dough, roll it into a ball between your palms, and then flatten it. Lay the dough on one of your palms, and use your thumb of another hand to further flatten it, from the centre outwards. The dough should be about 1mm thick, not so thin such that light can pass through.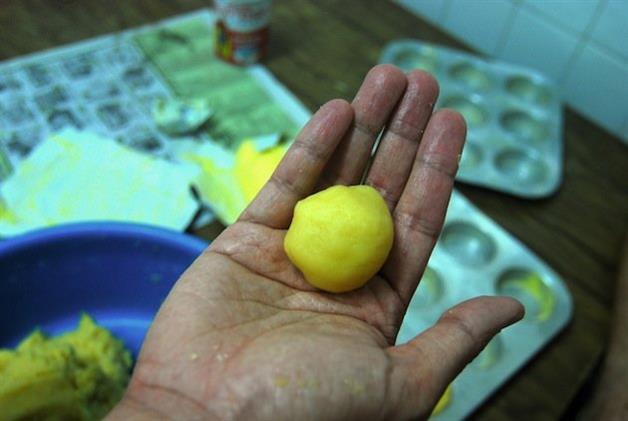 5. Lay the dough into the mould. Repeat step 4 and 5 until 10 cupcake moulds are filled.
6. Add 3 to 4 tsp of chopped apples over the dough.
7. Add 1 tsp of white sugar over the apples in each mould.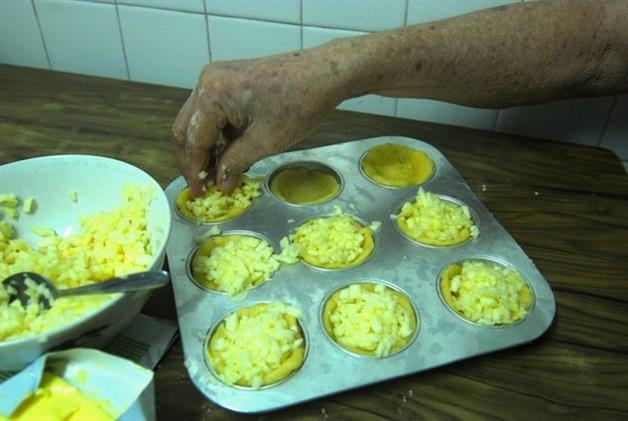 8. Pluck out about 40g of dough and repeat step 4.
9. Lay the dough over one of the mould. Form your hand into the shape of a claw and position your fingers along the edge of the mould. Press down the top layer dough and then gather your fingers inwards to compact the apply filling. A bump should form as you perform this step. The top and bottom layer dough should also stick together after this step.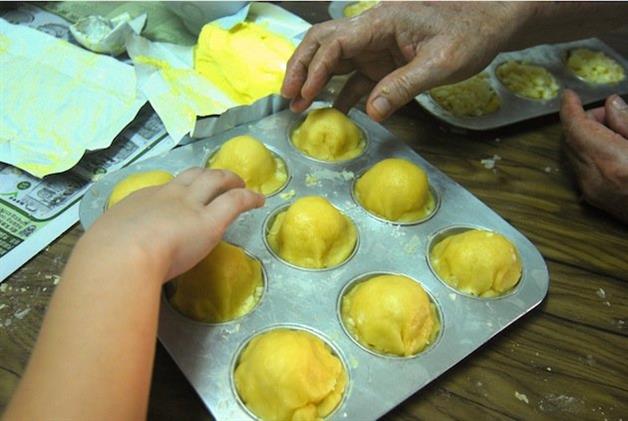 10. Repeat step 8 and 9 until all 10 pies are completed.
11. Brush evaporated milk on the pies to achieve a golden crust after baking.
12. Insert the pies into a preheated oven at 150 Degrees C. Leave it cook for about 45 minutes.
13. When the top crust is golden brown, remove the pies and use a sharp knife to ply them out of the mould. Transfer them to a plate and leave it cool.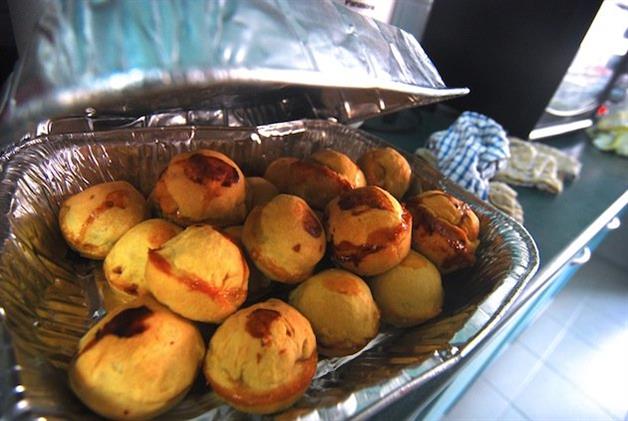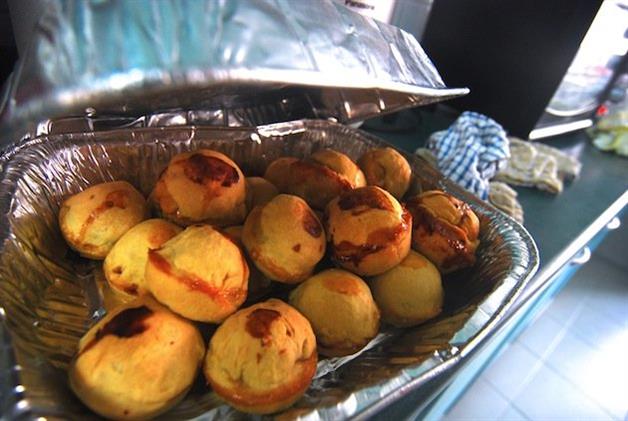 Editor's Note: Feel free to make fancier fillings for this apple pie. As you can tell, Mr Zhuang's version is the simplest (brilliantly so) one can imagine.