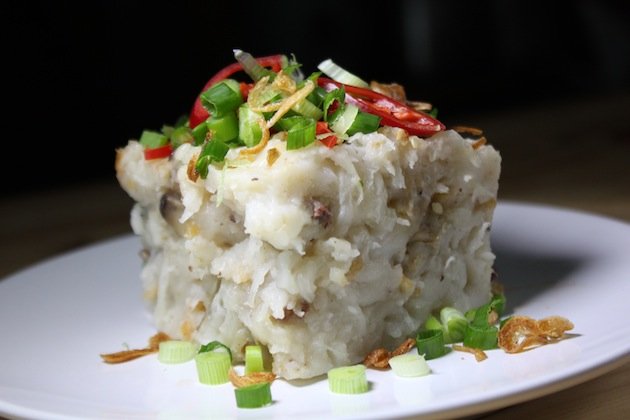 Recipe: Chai Tow Kway
By Sheere Ng - Tuesday, May 21, 2013
Carrot cake is a misnomer for chai tow kway since there's no carrot but daikon or white radish. The Chinese call them "white carrot" or Pak Lo Bak. This Teochew dish is made of rice flour, water, shredded daikon mixture steamed and then stir-fried with egg, preserved radish and, depending on your preference, a douse of sweet black soy sauce (Hokkien-style).
It has absolutely no connection with the western carrot cake dessert that is remotely as popular in this part of the world.
The basic flour-daikon cake was traditionally made from scratch resulting in a wobbly-soft and a subtle vegetable sweetness. Today, they are mostly factory bought which are firm, springy and smooth but also frigid and lack that coarse handwork that gives it a multitude of textures and sensations. Some are made to take the heat in a wok and is very forgiving to lousy cooks.
Food blogger of Gastronaut Diary makes a carrot cake that is soft yet textured, flavourful yet light. He kindly contributes this recipe that is best for steaming, and not for stir-frying as the cake may be too soft to withstand being shoved around in a pan. Enjoy!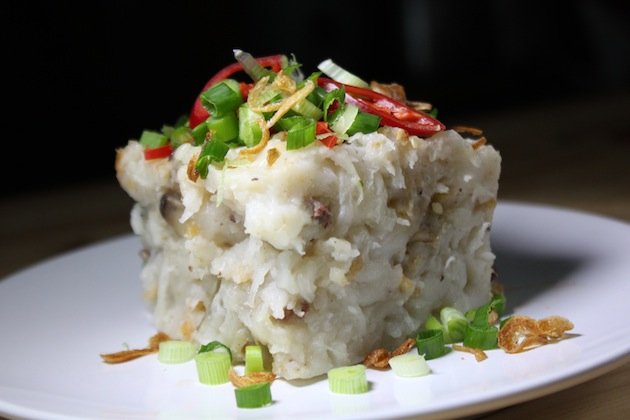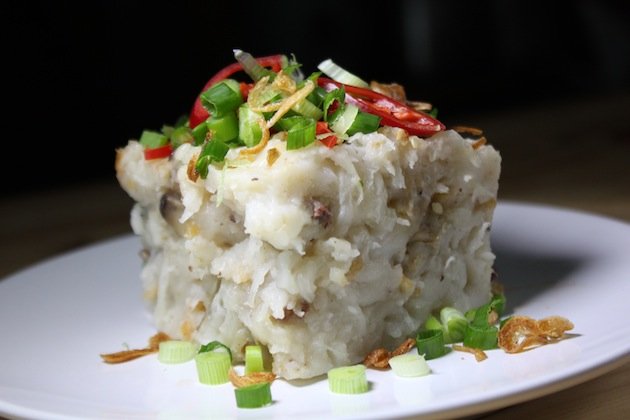 Ingredients
600 g white radish, peeled
350 g rice flour 25 g wheat flour
500 ml water
30 g dried shrimp, soaked and drained
10 g dried mushroom, soaked and diced
2 Chinese sausages, diced
1 tbsp sugar 1 tbsp salt
1 tsp white pepper
600 ml stock, comprising of shrimp and mushroom water
250 ml store bought chicken stock and water
2 sprigs spring onion, chopped
4 tbsp fried shallots
2 tbsp red chilli, cut
Methods
1) Shred the white radish thinly until you're left with about 3 cm thick of the radish. Julienne the rest into thickness 0.5cm.
2) Pour rice and wheat flour into a bowl. Add water, bit by bit, while stirring the mixture at the same time. This ensures that the flour mix will not form lumps.
3) Sauté mushroom over low heat for about a minute. Add sausage and dried shrimp and stir fry till slightly browned. Remove from pot and set aside.
4) Into the same pot add 1 tbsp of oil and sauté radish over low heat for a minute.
5) Add stock, sugar, salt and pepper and simmer until the radish is slightly transparent, for about 3 minutes.
6) Pour flour paste and stir continuously. Make sure the mixture does not burn. It should gradually thicken to a dough-like consistency that leaves the side of the pot clean. Add mushroom and rest (from Step #3) into the paste at the last minute of cooking the dough. Turn off the heat.
7) Mix well and transfer the mixture to a container, or in two containers if you prefer. Make sure you do not compress the mixture as that will produce a very dense cake.
8) Steam over medium heat for 50 minutes. Set aside to cool for an hour.
9) Slice it into pieces and garnish with spring onions, fried shallots and chilli. You may also add others like roasted sesame and fried garlic, a drop of sesame oil or lard.