Recipe – Durian Crispy Rolls
By Stefanie Chao - Saturday, Jul 13, 2013
Love it or hate it, durians are here to stay. Crowned the "king of fruits" in South East Asia, the durian sticks out like a sore thumb with its pungent smell and formidable thorny husk! When in season, the durian is best as it is— smooth and unctuous flesh with that unmistakably irresistible nutty yet bittersweet aftertaste. But what happens if we come across batches of durians that are mediocre as it is, without much gratification derived?
The good news is second-rate durian flesh can taste just as sweet with a few tweaks. For instance, it can be frozen till firm and then wrapped in some Vietnamese rice paper (or regular spring roll pastry), dipped in an egg wash, and lightly toasted desiccated coconut "crumbs", before being deep fried to a crisp finish. A crunchy and fragrant exterior gives way to fragrant molten insides that promises a party in your mouth.
DURIAN CRISPY ROLLS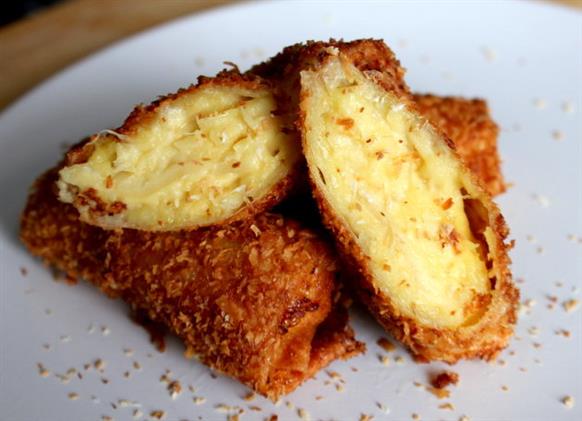 Ingredients:
15 tbsp (1 cup) of durian flesh, mixed with 1 tbsp custard powder and frozen till firm 15 to 20 pieces of Vietnamese rice roll paper (or regular spring roll pastry) approximately 5 inches in diameter Rice flour for dusting 1 egg beaten with 2 tbsp milk 1 cup desiccated coconut, toasted till light golden on a pan Corn oil for shallow frying
Methods:
1) Working quickly, dip each rice roll paper into a dish of tap water to soften slightly. (skip this step if you are working with regular spring roll pastry, thaw if frozen)
2) Place on work surface. Scoop a scant tablespoonful of frozen durian flesh and roll up to form a spring roll. Use the egg wash to seal the spring roll. Repeat until the flesh is used up.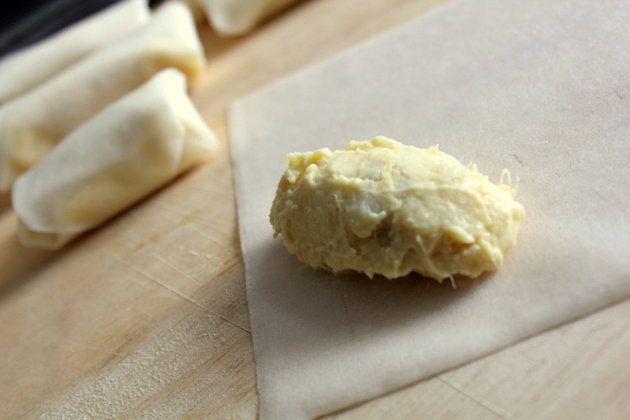 3) Heat up some oil for shallow frying (about one inch deep).
4) Lightly roll each spring roll in some rice flour to dust, and then gently dip into the beaten egg, then the toasted desiccated coconut.
5) Shallow fry till the exterior is puffy and crisp (about one minute). Serve immediately as it is with your favourite beverage. Enjoy!
Note: For rice paper, the roll will not brown too much when frying, because of the nature of the rice paper.