Recipe: Foo Chow Nian Gao
By Carnivorexic - Tuesday, Jan 21, 2014
Traditionally eaten during Chinese New Year since ancient times, Nian Gao (literally "year cake") is a symbol of bountiful harvests, good luck and longevity. Its name in Mandarin is a homonym for "higher year", which has auspicious connotations for the Chinese.
There are several stories surrounding the origin of Nian Gao. Legend has it that in ancient Suzhou, the Wu emperor threw a banquet for his officials. He boasted about how his huge strong city walls could deter any enemy from attacking. His Prime Minister Wu Zhixi was worried and warned his majesty that calamity would befall the kingdom if the enemy surrounds the entire kingdom perimeter. Thinking that Wu Zhixi was drunk, the emperor ignored his words. After the Prime Minister's death, the neighbouring kingdom had indeed surrounded the entire kingdom. Everyone was imprisoned within the confines of their own city walls and was running out of food. Fortunately, one of the officials remembered something strange that Wu Zhixi had said before his death. He immediately told the people to dig three 'chi' beneath the city walls. To everyone's relief, there beneath the ground laid bricks made of glutinous rice which saved their lives. Hence, the Chinese made "bricks" of glutinous cakes to commemorate Prime Minister Wu and the New Year.
While it is not uncommon to see Nian Gao made from glutinous rice, this lesser-known Foo Chow version with yam strips is becoming a rare sight. There are in fact many different variations of Foo Chow Nian Gao. The other more common Foo Chow Nian Gao is actually a savoury dish of white rice cakes stir-fried in stock and various ingredients, not unlike the Shanghainese version.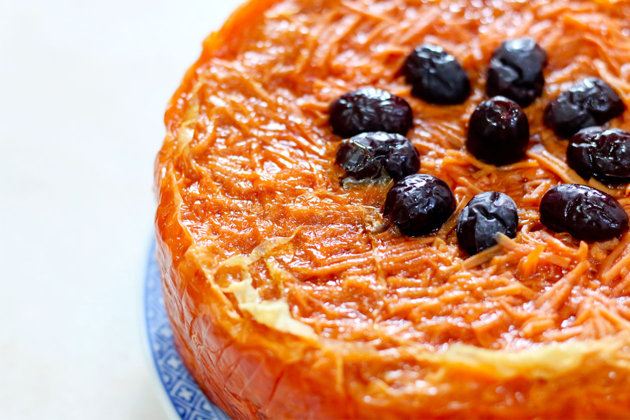 Few places sell this sweet Foo Chow Nian Gao, the most popular being Seow Choon Hua Restaurant and Boon Tong Kee. My mother fortunately kept an old recipe from a newspaper clipping from decades ago and she makes this traditional sweet delicacy for family and friends every year. The recipe has been modified slightly to suit changing tastes such as reducing the sweetness. Dark soy sauce and food colouring are omitted as the red sugar gives it a very vibrant colour.
Instead of glutinous rice flour, sweet potato flour and tapioca flour are used, giving it relatively less sticky texture. Traditionally, peanuts are mixed with the batter but we have omitted them to make this recipe easier as they must be peeled and cooked until soft, which can be laborious. You may add small pieces of candied lard to the batter or as garnish.
Nian Gao is best eaten pan-fried in a very lightly greased non-stick pan. You may also try deep-frying it in crispy batter. The ingredients are fairly common and once made, can be kept in the refrigerator for a few days. To keep for longer periods, you can store sealed pieces in the freezer.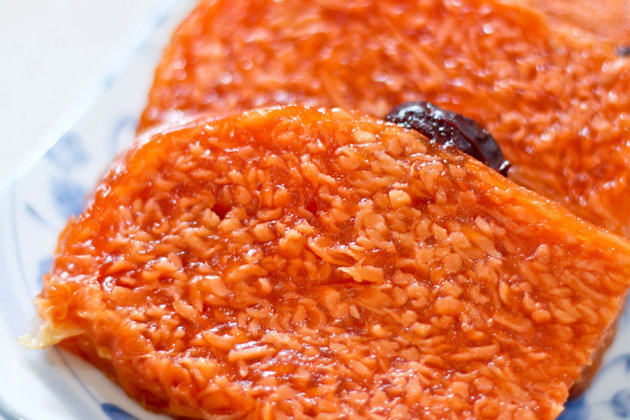 Foo Chow Nian Gao
Ingredients (Makes 1 large or 2-3 regular cakes):
1.2 kg Yam (skinned and shredded)
½ tsp Salt
150g Tapioca flour
150g Sweet potato flour
250g Red sugar, 200ml Water (to make syrup)
1 tsp Five spice powder (optional)
350ml water
Beancurd Skin (enough to cover mould)
Garnish:
Dates (de-seeded and skinned, if possible)
Candied lard (optional, made by marinating it in copious amount of sugar and chilled for at least a week)
Method:
1) Cook the red sugar in about 200ml water to make sugar syrup.
2) Add salt to shredded yam and steam for 30 minutes or until cooked.
3) Add tapioca flour and sweet potato flour to a mixing bowl and add 350ml water. Mix well and add five spice powder and sugar syrup. Mix well.
4) Add cooked yam to the mixture and mix well.
5) Cover the mould or bamboo basket with beancurd skin or porous cloth.
6) Pour the mixture carefully into the mould or bamboo basket. Garnish with dates and candied lard.
7) Steam for 1½ to 2 hours on medium high heat.
8) Leave to cool overnight.
9) To serve, cut into thick slices and pan fry in a lightly greased non-stick pan.