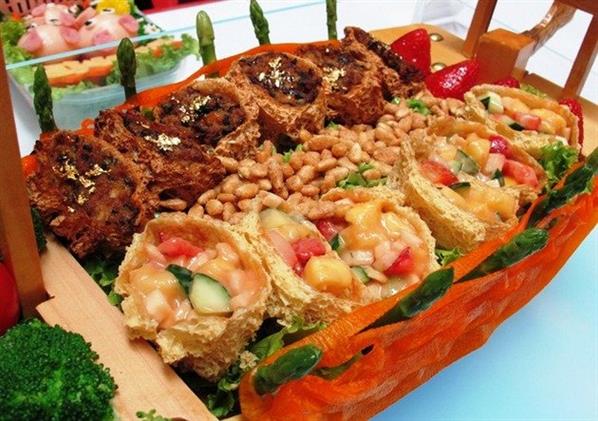 Recipe: Fried and Baked Stuffed Taupok
By Tris Marlis - Wednesday, Oct 02, 2013
Mdm Ivy Tan and Mdm Betty Yeo had the loudest cheers from the crowd, their dish was surrounded by trigger happy camera toting crowd, and at the end of the day – they earned the most points from the judging panel. The two mothers, who first met eight years ago during a cooking session at their neighbourhood community centre, were the winners of the annual Top 10 Home Cooked Dishes Cook Off Challenge, organised by Lee Kum Kee, a leading cooking sauce brand from Malaysia.
For this Potong Pasir team and mothers, home cooking not only helps to keep them occupied, it had also helped to bring their families closer. "My child loves my home cooked food, and it makes him want to come home," said Mdm Tan. For Mdm Yeo, who is a Foochow descendent, it is very important to preserve and educate her child on heritage recipes, such as her signature red wine chicken. Their winning creation – the Duo Treasures Bags, came with two different versions. "The Meaty Bag (with minced chicken, prawn and deep fried) is for children, while the Veggie and Fruity Bag (with baked and filled with salad) is meant for the elderly, or folks who are more health conscious," explained Mdm Tan.
(For recap of the event, read here: http://www.makansutra.com/stories/1/989/DuoTreasureBagstopprize)
Here's their recipe… (Reproduced courtesy of the organisers)
Duo Treasures Bag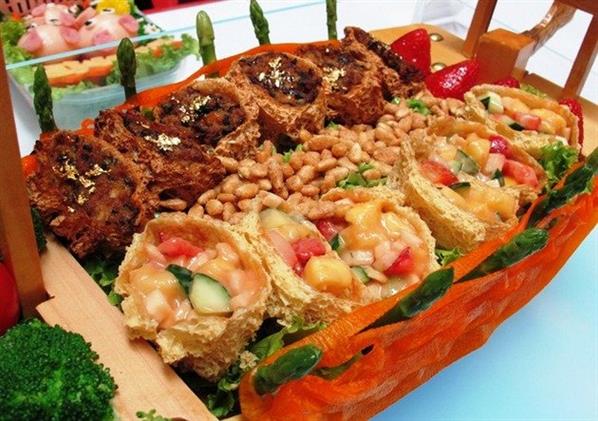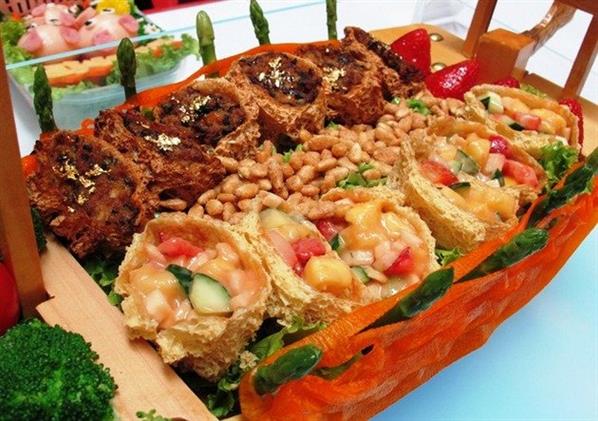 Ingredients:
1 pkt Taupok (sponge beancurds, about 10-12 pcs)
Filling A: Meaty Bag
300g Minced chicken
150g Prawn meat (de-shelled and finely chopped)
10g Dried black fungus (soaked and diced)
3 ea Water chestnuts (diced)
2 stalks Spring onion (diced)
2 stalks Coriander (diced)
Seasoning Mix:
1 ea Egg yolk
1 tsp Chicken powder
1 tsp White pepper
1 tsp Salt
1 tsp Sugar
2 tsp XO sauce
2 tsp Pure sesame oil
2 tbsp Premium brand oyster sauce
1 tbsp Corn flour
Filling B: Veggie and Fruity Bag
1 ea Cucumber (diced)
1 ea Strawberry (diced)
1 ea Avocado (diced)
1 ea Mango (diced)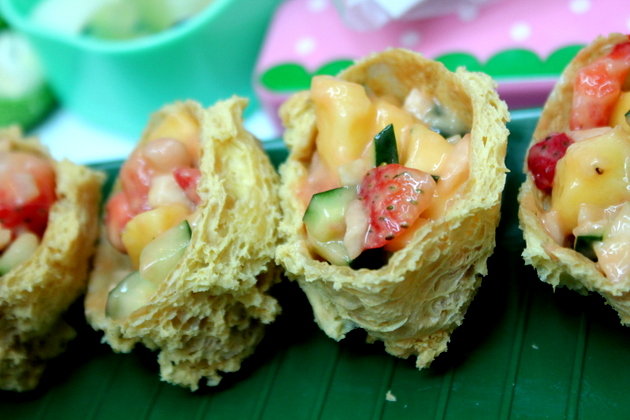 Dipping Sauce mix:
2 tbsp Tomato ketchup
2 tbsp Mayonnaise
2 tsp Olive oil
1 tsp Passion fruit juice
2 tsp Water
½ tsp Sugar
1 tsp Condensed milk
Methods:
1) Wash taupok, squeeze dry and slice into halves.
2) Take the sliced taupok, cut it open at the side and turn taupok inside out. It should look like a mini boat with the uneven surface on the outside and the golden brown layer inside.
Meaty Bag:
3) Mix all ingredients for Filling A (minced chicken, prawn meat, dried black fungus, water chestnuts, spring onion and coriander). In a separate bowl, combine all ingredients for Seasoning Mix (egg yolk, chicken powder, white pepper, salt, sugar, xo sauce, sesame oil, oyster sauce and corn flour).
4) Mix Filling A with the Seasoning Mix.
5) Stuff the filling (Filling A with Seasoning Mix) into one half of the taupok.
6) Heat up oil in the wok, enough to submerge the taupok. Deep fry until crispy.
Veggie and Fruity Bag:
7) Bake the taupok in the oven till crispy (Use aluminum foil to maintain its shape, lines it around the taupok from the inside, or form a ball with the aluminum foil and stuff the taupok with it).
8) In a mixing bowl, mix all ingredients for Filling B (cucumber, strawberry, mango and avocado) with some of the dipping sauce (tomato ketchup, mayonnaise, olive oil, passion fruit juice, water, condensed milk and sugar). Stuff the mixture into the baked taupok.
9) Serve with some of the dipping sauce on the side.