Recipe: Hakka Abacus Seeds
By Sheere Ng - Wednesday, Jul 10, 2013
If you want to know to which clan your Hakka friend originates from, just check out what's on his or her dinner table. "The dishes that we cook are like our IC (identification card)," says Mr Lai Fak Nian, owner of Plum Village Restaurant and a Hakka chef with 44 years of experience. "If there's abacus seed, then you can be sure that he comes from Dapu, Guangdong province," he says.
The Hakka, also known as the guest people, travelled south several times in history due to social unrests and calamities. They wound up in various parts of China, and even South East Asia, and adapted to available ingredients and created dishes that give hints of their eventual new homes.
Abacus seeds or yam gnocchi, are available in Singapore too, but because the preparation is tedious, lesser eateries offer it these days. There is no one answer as to why abacus seeds are shaped the way they are. Mr Lai's guess is that the earlier version of abacus seeds was round which rolled about in the wok and didn't mix well with other ingredients. "A returning migrant who worked in the pawn shop or medicine shop draw inspiration from the abacus that he used everyday," says Mr Lai. "Besides its symbolic meaning, the dimple in the middle also helps contain the ingredients that flavour it."
The following is a recipe courtesy of Mr Lai.
Abacus seeds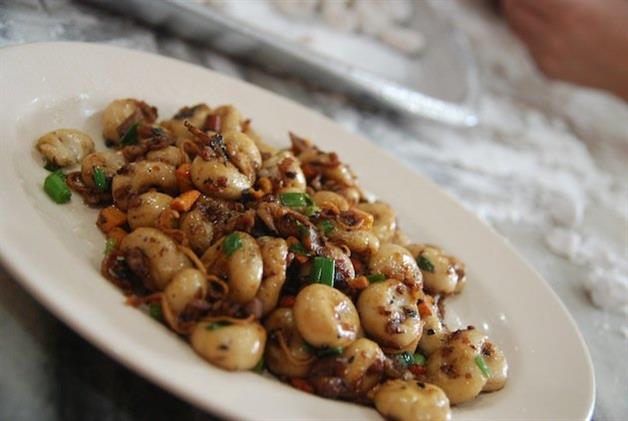 Ingredients: (serves 6 to 8)
700 g yam
100 g tapioca flour
(or if you prefer a springier, "QQ" version…)
700 g yam
500 g tapioca flour
Methods:
1/ Slice yam to 1 cm thickness.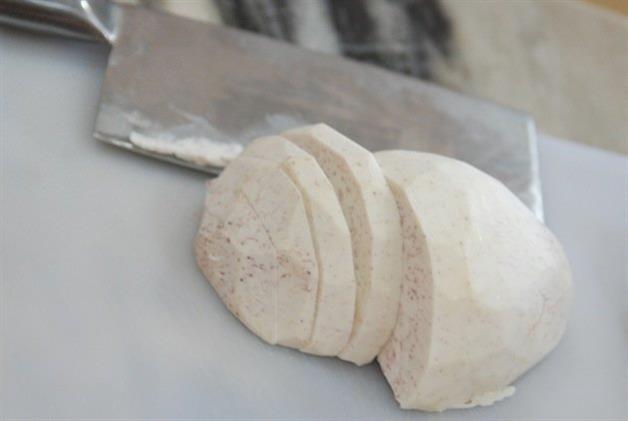 2/ Place them on a plate/steamer. It is okay to overlap but do not stack to make sure they cook evenly.
3/ If using a wok to steam, make sure the water boils first. Steam for about 30 minutes.
4/ Transfer yam into a mixing bowl immediately as yam will harden after it cools.
5/ Add tapioca flour and pound/stir into a mash.
6/ Transfer mixture onto a table sprinkled with flour.
7/ Knead thoroughly for 20 minutes (the longer you knead, the springier it will be).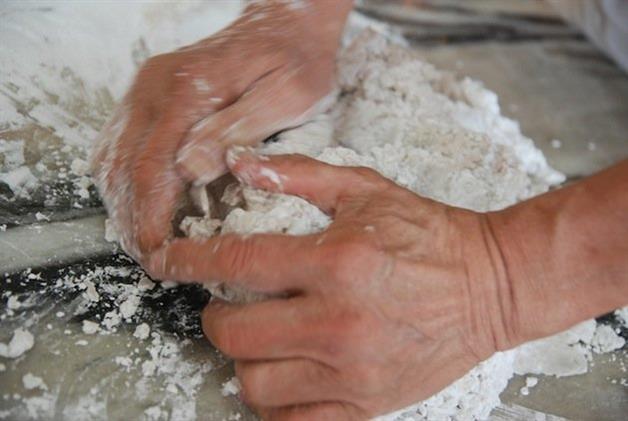 8/ Roll the dough and then pluck thumb-sized portions out of it.
9/ Roll each into a ball between your palm, and then, with your thumb and forefinger, pinch a small dimple in the middle on either side.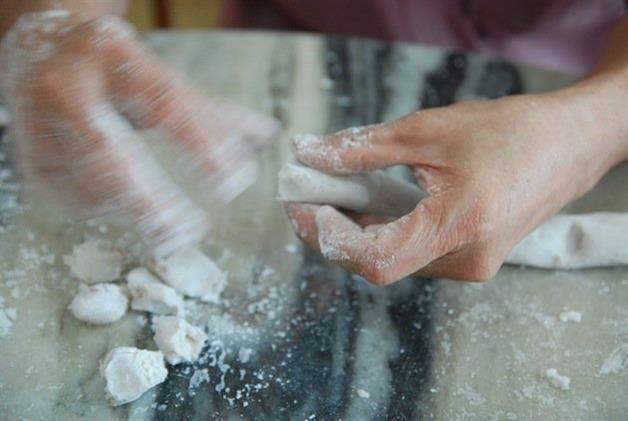 10/ Prepare a pot of boiling water enough to cover the abacus seeds. Get ready a bowl of tap water on the side.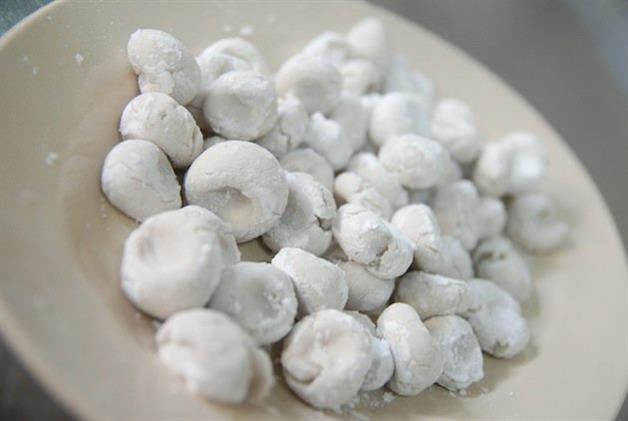 11/ Add abacus seeds into boiling water. When 4 or 5 of them begins to float (takes no more than 30 secs), use a colander to scoop all up and then immediately transfer them into bowl of tap water. This process helps to firm up the abacus seeds.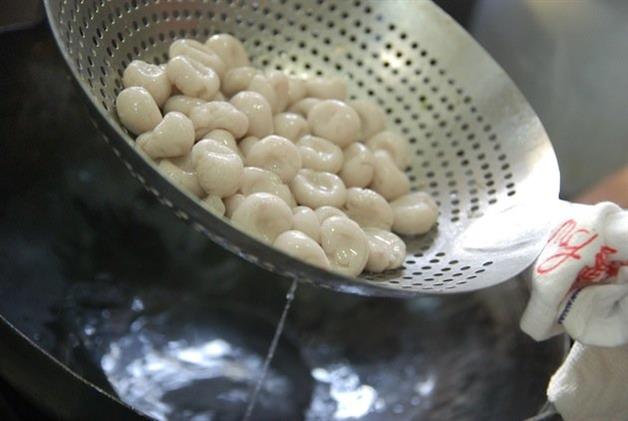 12/ About 5 secs later, drain the water and transfer the abacus seed onto a plate. Add a tbsp of cooking oil to prevent them of sticking together while you prepare the next step.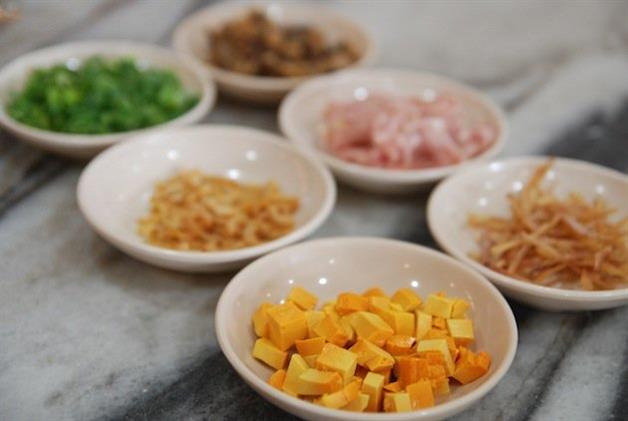 Stir-frying ingredients:
2 shiitake mushrooms, soaked in warm water for 30 mins, diced
1 bulb of spring onion, chopped
250 g minced pork
80 g dried shrimp, chopped
1 yellow tau kwa, diced
50 g dried cuttlefish, shredded
2 tbsp minced garlic
2 tsp sesame oil
3 tbsp light soy sauce
1 tsp dark soy sauce (for colouring only)
1 tsp pepper
1 tsp sugar
½ tsp MSG
4 tbsp vegetable oil
Methods:
1/ Heat up the wok over high heat. Add vegetable oil, sesame oil, and minced meat.
2/ Add dried shrimps, cuttlefish and minced garlic and stir fry till fragrant, about 15 to 20 secs.
3/ Turn down the fire to medium heat, add tau kua, mushroom, light soy sauce, dark soy sauce, pepper, sugar and MSG. Stir until ingredients are evenly coated with the sauces.
4/ Add spring onions and abacus seeds.
5/ Turn up to high heat and then add 2 tbsp of water. Stir and lightly press the ingredients against the abacus seeds. Turn off fire within half a minute.