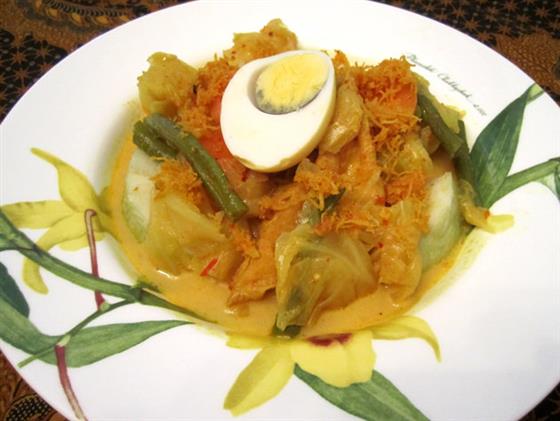 Recipe: Lontong in glorious detail
By Brenton Wong - Tuesday, Aug 07, 2012
This one-dish meal is a breakfast favourite in Singapore, not only amongst the Malay community, but other races as well. It is also widely served during Hari Raya celebrations, which is around the corner. Lontong actually contains two main components – the vegetable stew, which by itself is known as sayur lodeh (delicious taken with white rice and other dishes), and the compressed rice cake rolls, which are also known as lontong. This dish is traditionally garnished with serunding, which consists of grated coconut dry-fried and flavoured with spices.
Lontong (Serves 4 to 6)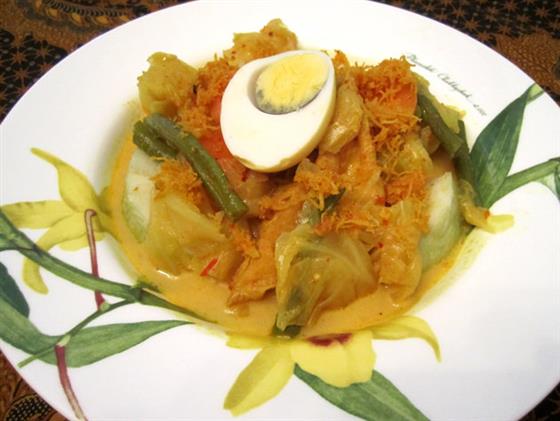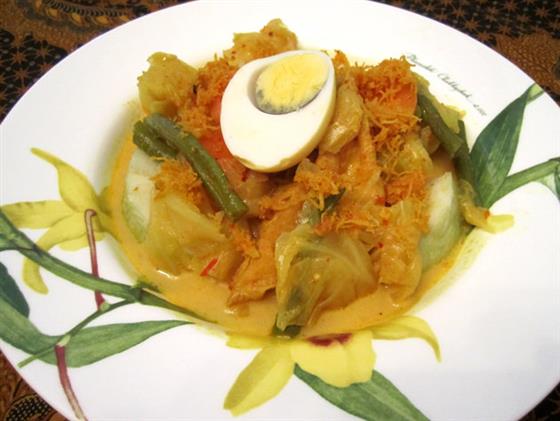 Coconut milk for gravy: 750g grated coconut 1.5 litres of water
1. Place grated coconut in a piece muslin cloth and squeeze without adding water. This first squeeze is known as Number 1 coconut milk, and is very creamy and aromatic. Set aside. If cooked for too long, this emulsified coconut milk will break down into coconut oil. Hence, the Number 1 coconut milk is usually added to the gravy just before serving, to enrich texture and aroma.
2. Add water to the squeezed grated coconut and stir for a few minutes to let it absorb the water. Make a second squeeze in the muslin cloth to obtain Number 2 coconut milk, which is thinner in consistency. This is used to create the bulk of the gravy. Set aside.
Spice paste: 5-cm piece of galangal (lengkuas), peeled and sliced 4-cm piece of fresh turmeric (kunyit), peeled and sliced 12 pieces dried red chilies, seeded and soaked in water to soften, then drained 3 candlenuts (buah keras) 1 tbsp of dried fermented prawn paste (belacan) 200g shallots, peeled and sliced 3 stalks lemongrass (serai), tender white part only, finely sliced ½ tablespoon ground coriander seeds 1 tsp salt
120 ml vegetable oil, for frying spice paste 1 kaffir lime leaf, to fry with spice paste
Other ingredients: 200 g carrots, sliced diagonally 0.5 cm thick 200 g French beans or snake beans, cut into 3-cm sticks 300 g cabbage, cored and cut into 3-cm squares 3 bean curds, cut in half diagonally then pan-fried in oil till golden brown on all sides, place on kitchen paper to absorb oil 400 g lontong (compressed rice cake) cut into 1cm-thick rolls and then quartered (these are sold as cylinders of compressed rice, usually wrapped in banana leaves and available at wet markets or at the fresh produce section of most supermarkets) 3 hard-boiled eggs, shelled and cut in halves Salt to taste
Method
1. Place spice paste ingredients into a blender and blend till smooth.
2. Heat wok or pan using medium heat and add oil. When oil is simmering, add the spice paste and lower the heat.
3. Gently crush the kaffir lime leaf to release its aroma and add to the spice paste.
4. Fry till fragrant, stirring constantly to avoid burning at the bottom of the pan or wok. This should take about 30 minutes under low heat.
5. Add the Number 2 coconut milk to the cooked spice paste.
6. When gravy is simmering, add the vegetables – starting with the ones that take longer to cook, like carrots followed by beans, then finally the cabbage. Allow gravy to simmer slowly.
7. Add the Number 1 coconut milk at this point. Add the bean curd also.
8. Test vegetables for desired level of crunchiness or softness, depending on personal taste – simmer longer if you like your vegetables a little softer. Taste gravy and season with salt if desired.
9. To assemble dish, place a few slices of the compressed rice cakes into a shallow bowl. Spoon gravy, vegetables and bean curd over the rice cakes. Top with half a hard-boiled egg.
10. Sprinkle with a teaspoon or two of serunding (recipe follows) and serve.
Serunding (fried spicy grated coconut)
Ingredients 300g coconut flesh, skinned and finely grated 1 tablespoon vegetable oil, for frying spice paste
Spice paste: 1 red chili 2cm piece of galangal (lengkuas), peeled and sliced 2cm piece of fresh turmeric (kunyit), peeled and sliced 1cm piece of ginger, peeled and roughly sliced 4 shallots, peeled and sliced 3 cloves garlic, peeled and sliced 2 stalks lemongrass (serai), tender white part only, finely sliced
Other ingredients: 120ml tamarind juice (Obtained by soaking 60g tamarind paste in 120 ml of warm water. Soak for about 30 mins and stir to get tamarind juice. Drain the juice through a sieve to remove fibre, seeds and grit.) 2 tsp ground coriander seeds 1 tsp ground cumin seeds 1 tsp ground fennel seeds 1 tbsp sugar 1 tsp salt 2 kaffir lime leaves, rolled up and finely sliced
Method
1. In a wok or pan over medium heat, dry-fry the grated coconut until it begins to dry and turns into a golden hue. Remove and set aside.
2. Process spice paste ingredients in a blender to a fine paste.
3. Heat the wok or pan with a tablespoon of oil and sauté the blended ingredients over medium heat until fragrant, about 15 to 20 minutes.
4. Add the grated coconut, tamarind juice, ground spices, salt, sugar and kaffir lime leaves. Stir and lower the heat. Let everything cook down on low heat and stir occasionally.
5. Cook until the coconut dries up and becomes slightly crispy. Let cool and bottle in an air-tight jar.