Recipe: Meat Floss and Seaweed CNY Cookie
By Text by Stefanie Chao, Images by Joanna Goh - Wednesday, Jan 29, 2014
As we usher in the year of the Horse, what better way to set your taste buds a-galloping than with this sweet and savoury homemade treat?
The test kitchen at Makansutra, this time, was where we made this spicy, aromatic and umami laden Pork Floss and Seaweed cookie. It's a great way to use up the bits and pieces of pork floss sticking around at the bottom of the glass jar, (though you can use any other meat of fish floss for this purpose). For those who are curious, meat flosses are made by stewing, reducing then baking the meat in a flavoured brine of soy sauce until the fibres disintegrate. It is then dried, with flavours concentrated and finally dried till it reaches that cottony, crispy state with more seasoning being added. So much effort goes into making this comfort food that every little bit of it should be enjoyed, hence we suggest making this addictive snack! Take note though, that due to no other addition of fat other than butter, a European butter is preferred for robust flavour in the dough. For further kick, a dollop of sambal or your favourite XO sauce added to an indentation on the dough truly hits the spot.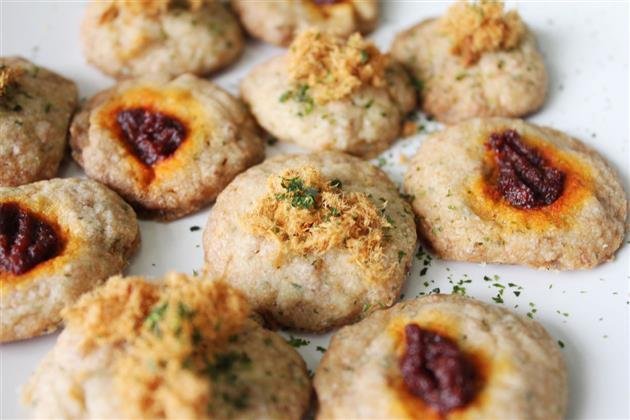 Pork Floss & Seaweed Cookies (yields 75-80 cookies)
Ingredients:
250g softened salted European butter
130g Icing Sugar
300g top flour
1 and 1/2 cups meat floss of your choice (we used pork)
5 teaspoons of seaweed flakes (Aonori-Ko)
1/4 cup of your favourite sambal or XO sauce (optional)
Method:
1.  Preheat oven to 170C.
2. Cream the butter and icing sugar till pale and fluffy. Fold in meat floss and seaweed flakes. Sift the top flour twice, then fold it in to form a pliable but firm dough.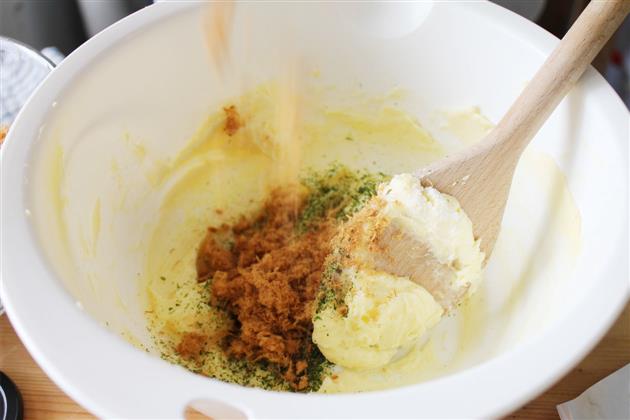 3. Roll a teaspoonful of it and flatten slightly on the tray, allowing room for the cookies to expand on the tray. If desired, you may make small indentations in the middle with the handle of a clean wooden spoon or employ the help of kids to do so with their little fingers, and fill the little indentations with small dollops of sambal.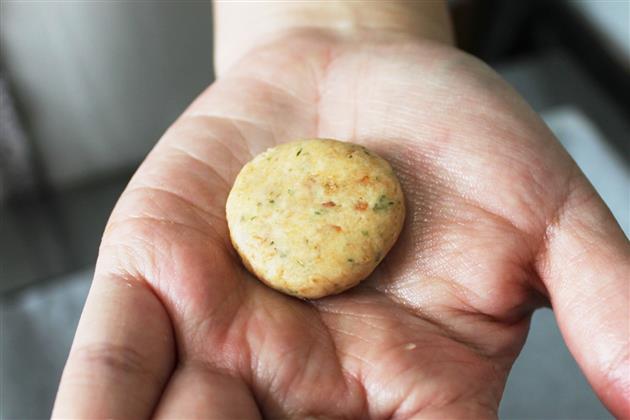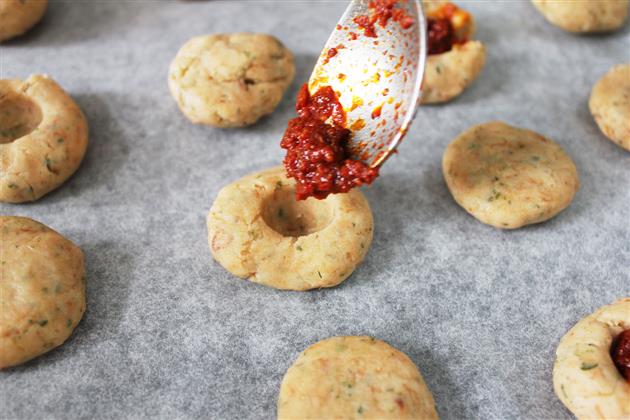 4. Bake till golden brown and fragrant in the middle rack of the oven, about 15-18 minutes. Let it cool completely before storing in an airtight container.