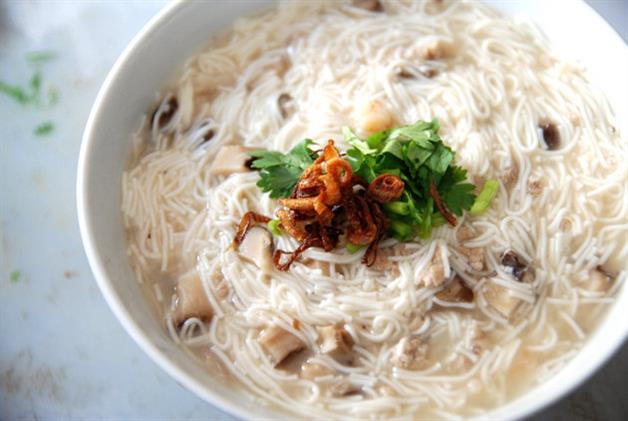 Recipe: Mee Sua Gor
By Sheere Ng - Friday, Feb 22, 2013
Mee Sua Gor is a dish from Fujian China. Gor means mush, referring to the ideal state of the noodle after it is cooked. Think oyster mee sua from Taiwan where such a style is also popular (likely due to the close proximity between the two cities). Locals eat it as breakfast, with you char kueh or dough fritters. The noodles come in a combination of toppings with choices of pig's blood pudding, fish flakes, pig's intestines, prawns, mushroom, shredded duck meat and so on.
In Singapore, we know of only two stalls that sell mee sua gor, one at Maxwell (stall 51) and another at North Bridge Hawker Centre (#01-111), although their versions are limited to a few ingredients. They stayed true to the spirit of mee sua gor, which is to be comforting and easy to eat, making it an equally comforting cousin to rice porridge. Imagine a day of too much hard work leaving you with little energy even to eat – a bowl of piping hot mee sua gor should do the trick. Every spoonful contains an equal mix of meat, seafood and fragrant vegetables bits and is irrefutably like manna from above. Throw in some pepper and black vinegar and the experience is instantly lifted a few notches higher.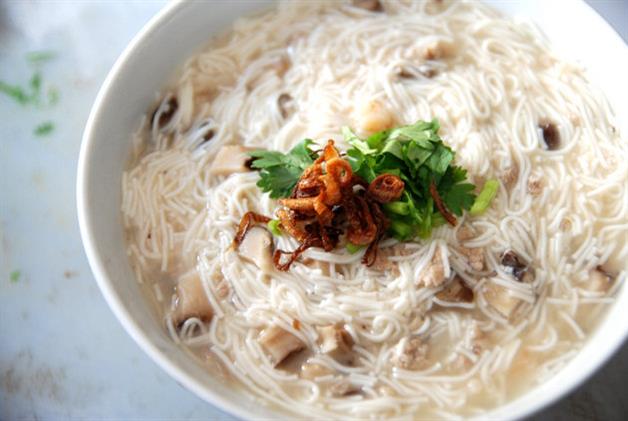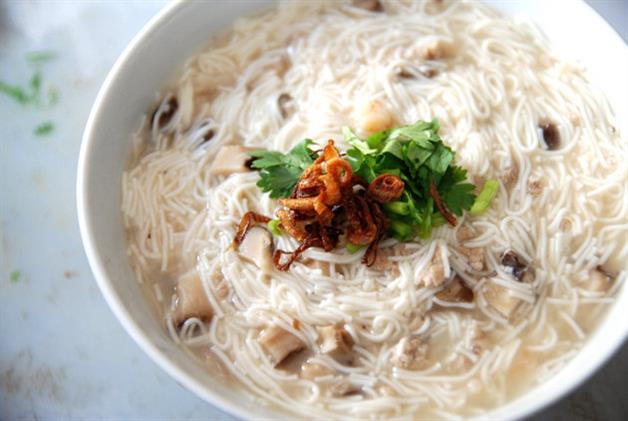 When prepared at home, mee sua gor brings endless promise. It can be as simple or sumptuous as you want it to be.
Ingredients (serve 4-5):
2.8 litre water
450g pork bone
120g minced meat, marinated with ½ tbsp light soya and few drops of sesame oil
8 shiitake mushroom, soaked in water and diced
100g prawns, shelled, diced
100g crab meat
300g mee sua
1 bunch of coriander, chopped
6 cloves of shallots, sliced
1 tbsp salt
100ml oil
Pepper to taste
Vinegar to taste
Method:
Boil water in a pot. When it's bubbling, add pork bone.
Maintain the flame at high heat for 15 minutes. After that, simmer for another 1½ hour. (Use stock cubes if laziness calls)
Meanwhile, prepare the other ingredients.
Heat oil in a pan. Add sliced shallots and stir-fry. Maintain it over medium heat.
Turn down the flame as about a third of the shallots turn brown.
When the shallots are evenly brown, remove them while leaving the oil in the pan.
Turn up the flame to medium heat and add diced mushrooms. Stir-fry until the mushrooms turn golden brown, about 10 minutes.
Add minced meat into the pan. Cut the meat with the edge of your spatula to loosen it. Stir-fry for half a minute.
Add prawns and crab meat. Stir-fry for another half a minute. Turn off the fire.
When the stock is ready, add salt and taste. Remove the pork bone so that it doesn't get in your way later. Pour the cooked ingredients into the boiling stock, together with the mushroom water. Turn up the flame to medium heat.
Break the mee sua into small bits before adding into the stock too.
Stir and cook until the liquid is reduced. Turn off fire.
Sprinkle fried shallots, coriander, add a dash of vinegar and pepper. Serve.