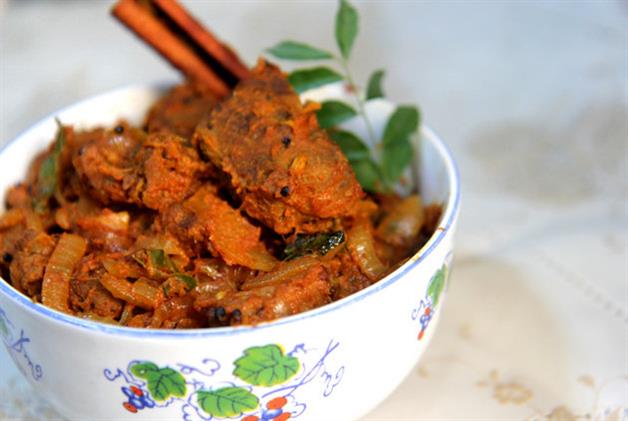 Recipe: Mysore Mutton
By Sheere Ng - Saturday, Jun 08, 2013
So named Mysore Mutton, but not to be found in Mysore, India, according to Devagi Sanmugam, local cookbook author, food columnist and cooking instructor. Instead, it is commonly featured in Indian restaurants in Singapore. This recipe is provided by Devagi and is featured in her award-wining cookbook Indian Heritage Cooking. It has complex flavours of the spices, balanced by the comforting tangy taste of tomato paste, and the boneless mutton pieces are meltingly tender.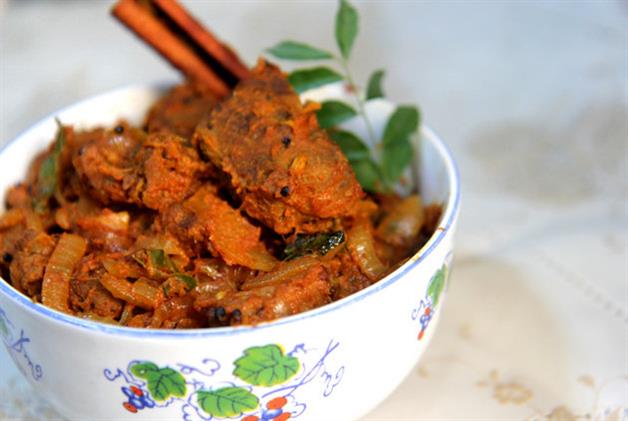 Ingredients for Mutton
160 g Ginger-garlic paste (from 80 g garlic and ginger each and blended with 80 g water)
2 tsp Fennel seeds, finely pounded
1 litre Water
1 kg Boneless mutton, 2 cm cubed
150 ml Natural yoghurt
1 tsp Ground turmeric
1 tsp Chilli powder
1 tsp Salt
Ingredients for Gravy
3 tbsp Cooking oil
1 tsp Urad dhal
½ tsp Mustard seeds
2 sticks Cinnamon, 3 cm long
8 Cardamoms
8 Cloves
1 Star anise
4 large Onions, peeled and sliced
3 Green chillies, sliced finely
3 sprigs Curry leaves
1½ tbsp Chilli powder
1 tsp Ground coriander
1 tsp Ground Cumin
2 tbsp Tomato puree
Methods:
1. Prepare mutton. Place ingredients for mutton into a deep pot and boil until mutton is cooked. Takes 40-80 minutes. If water dries up before mutton is cooked, top up with 250 ml water. Set aside.
2. Prepare gravy. Heat oil and fry urad dhal and mustard seeds until dhal is golden brown.
3. Add cinnamon, cardamoms, cloves and star anise and fry until aromatic.
4. Add onions, green chillies and curry leaves and sauté until onions turn golden brown.
5. Add chilli powder, ground coriander, ground cumin and tomato puree and cooked mutton. Cook until gravy is dry and just a film of gravy clings onto mutton pieces.
6. Serve hot with rice.