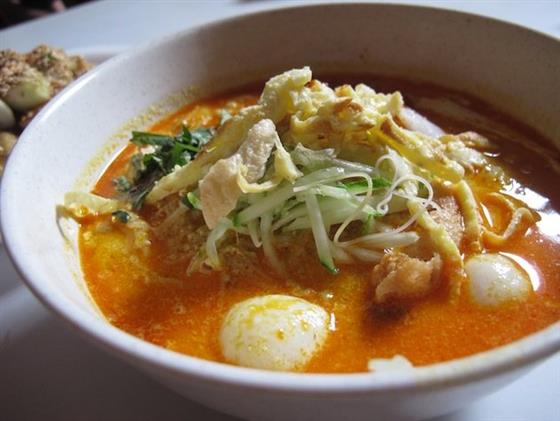 Recipe: Nyonya Laksa Malacca
By Sheere Ng - Wednesday, May 15, 2013
Most people who have watched their parents slogged away as itinerant hawkers would avoid inheriting that business, and also wondered or marveled at how it managed to maintain their grand century old heritage house with their revenue. But not Jennifer. She dived right in because she believed that the only thing she could do to repay her parent's hard work was to "make their name recognised beyond their living years". She also knew of the potentials.
So this little Nyonya (or Nonya) quit her job at the medical centre in Malacca and began learning how to make proper Nyonya dishes and inheriting mummy's recipes. But first, she had to learn the art of handling front of house business – that is, handling customers and orders. "Of course it takes time to master her (my mother's) skills. I even had to learn fried kuay teow and rice properly. I have to know the right temperature and fire to fry it to perfection. Even mee siam, I need to get the correct taste as we mostly agak agak (estimate) the measurement of the ingredients but no such thing as agak agak in getting the right taste," said Jennifer.
Up till last year, they were operating in their UNESCO World Heritage Centre protected shophouse. Although they had no proper signboard, people knew them as Donald & Lily, the name of her parents. They were listed as one of the dining destinations in Malacca both online and in travel books – a long way since her parents hawked Nasi Lemak, Nyonya Laksa and Satay Celup via pushcart.
They have since moved to a shoplot whereby Jennifer is the sole proprietor – a responsibility she decided to take on since Donald and Lily have gone on semi-retirement. When the signage bearing her parents' names went up at the new place, she shed some tears, because it mark the beginning of her dream to broadcast their heritage and food to this part of the world. She hopes to open outlets, set up mobile trucks and has signed up for a basic training in franchise to equip herself with the necessary skills. This coming June, she will represent Malacca at the World Street Food Jamboree – their first international gig. Here is a glimpse of one of their specialities – Nyonya laksa.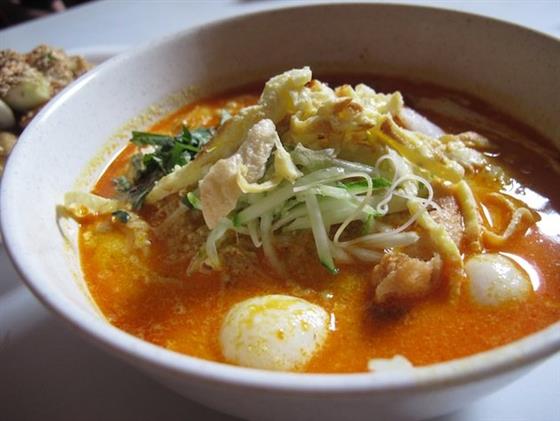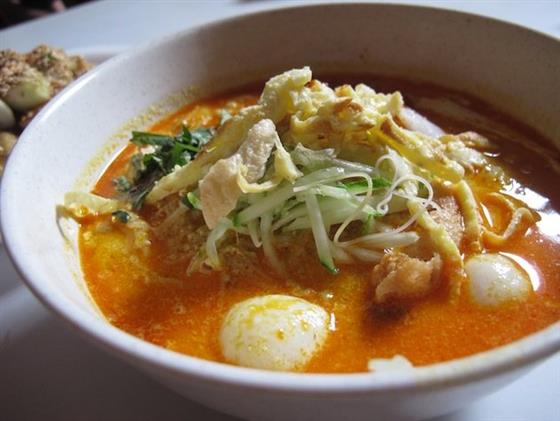 Ingredients for laksa paste (rempah)(serves 10)
15 Dried chillies soaked in warm water for few minutes then drained
20 Shallots peeled5 Cloves of garlic peeled
8 Candlenuts
6 cm Peeled and chopped turmeric
6 cm Peeled and chopped galangal
5 or 6 Stalks of stripped and chopped lemongrass
3 cm Cube of dried shrimp paste (belacan)
Method to prepare rempah
Grind the ingredients for the laksa paste (rempah) and set aside. Add 4 tbsp of cooking oil into the wok and fry the rempah till fragrant. Approximately 30 till 45 minutes over low fire. Remove the fried rempah and set aside.
Ingredients for laksa gravy
2.5 litres Fresh coconut milk
2 litres Water
Salt to taste, around 2 or 3 tsp
1 tsp Sugar
3 Stalks of lemongrass, cut into halves and bruised
Other ingredients
500 g Fish balls
300 g Fish cake
Chicken eggs, either omelette cut into fine strips or halved hardboiled egg
Fresh cockles, cleaned and scalded with boiling water for 3 minutes (optional)
2 Cucumbers, julienned
3 Stalks of laksa leaves, cut into fine strips
25 Pieces tofu puff (tau pok), cut into halves
3 kg of Yellow/rice noodles
1 kg Bean sprouts
FINAL PREPARATION OF NYONYA LAKSA
Pour coconut milk and water into a pot and heat it up over low fire. Add the pre-fried rempah, lemongrass, salt and sugar. Throw in the tofu puffs. Turn up the fire to medium and stir the gravy continuously until it boils.
Blanch one portion of noodles together with a handful of bean sprouts in a separate pot of boiling water for 10-15 seconds then transfer them into an empty bowl. Top with a tablespoon of raw cockles then pour in the hot gravy.
Finally, garnish with egg, cucumber, fish cake and laksa leaves.
Donald & Lily will be serving their other signature – Mee Siam – at the World Street Food Jamboree. Their Mee Siam is done dry, Peranakan style, with a harmonious combination of tau cheo (fermented soya bean sauce), rempah (spice paste), tamarind and topped with juicy prawns. Do look out for them at the Jamboree from 31 May to 9 June.
The World Street Food Jamboree (31 May to 9 June) is a mega street food feast featuring up to 40 of the world's best street food masters from Indonesia, India, Thailand, Vietnam, USA, Mexico, Malaysia, Denmark, China and Singapore. The Jamboree aims to create better awareness for some of the lesser known but still excellent street cuisine and the personalities behind it, bond communities through a vibrant food experience and generate opportunities for the public to the part of the industry. For more information, go to www.wsfcongress.com