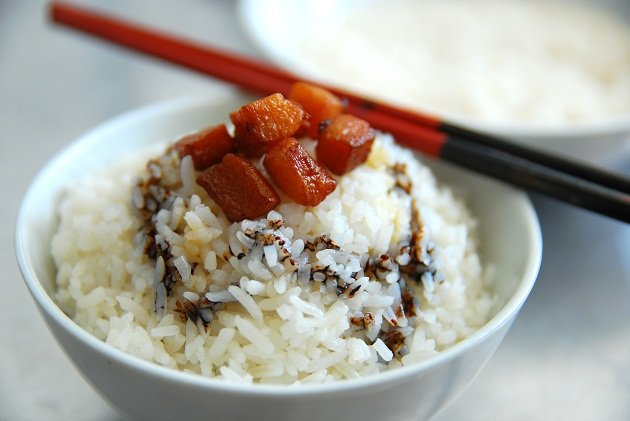 Recipe: Oil with Rice
By Sheere Ng - Thursday, Aug 02, 2012
Singaporean Chinese who were born before or just after independence would have fond memories of this – plain rice flavoured with lard oil and dark soy sauce. It was comfort food during those lean years. Then, most people were doing manual labour jobs to eke out a living. These were simpleton food cultures and culinary pleasures many Chinese folks inherited from their forebears back in the mainland. It also gave them the requisite fat which they converted to energy while performing elbow grease labour. Despite the squeamish concept (by today's books), they actually meld perfectly and make a flavourful and heart-contending meal. Of course, health issues weren't in their consideration at all then, when the side effects of affluence was an alien thought.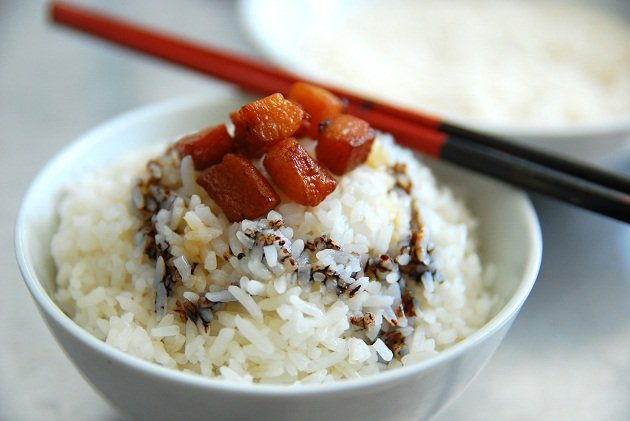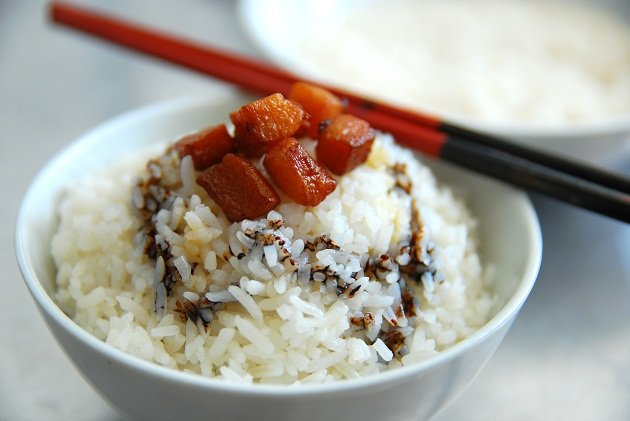 Another animal fat/oil-with-rice item that was common in Singapore then and even now, is Nasi Minyak, or Ghee Fried Rice. But unlike the Chinese who saw their version as subsistence, the Muslims devoured Nasi Minyak usually at special occasions like as weddings and festivals. This was because, according Mr Mohamed Hussin, a 53-years-old Malay food hawker, ghee was a luxury item, and so were the meat curries usually eaten with it…
Pork Lard and Soy Sauce with Rice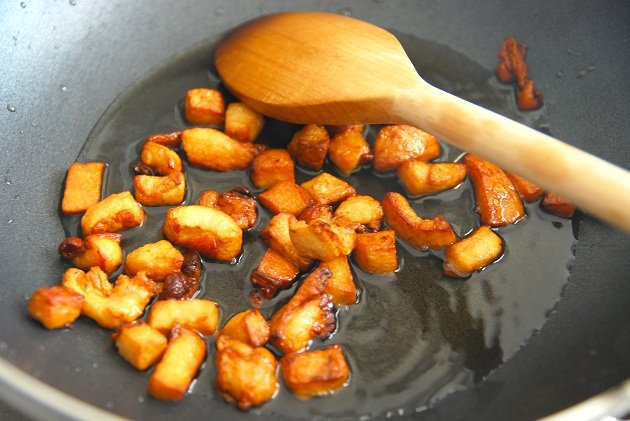 Ingredients: Steamed rice for 1 person (about 200g) 200g Pork fat 1 tbsp of dark soy sauce 1 tbsp of light soy sauce (optional)
Method: Cut the pork fat into 2cm cubes. Stir-fry the pork fat in a dry pan over low-medium heat. Oil will seep out within seconds and the lard will gradually shrivel. Turn down the heat if there's too much smoke. It means that the pan is too hot.
Once the lard turns golden brown, about 10-12 minutes later, turn off the fire. Let it cool for 5 mins.
Drizzle 2 to 3 tbsp of the oil over the rice. Drizzle dark soy sauce, and also light soy sauce if you like it a little bit savoury. Lastly, sprinkle some of the crispy lard. You may also want to top it up with a fried egg. Mix well and the rice is ready to serve.
Nasi Minyak
Ingredients: 1 cup of rice 1 ½ cups of water ½ tbsp of ghee 3 stalks of pandan leave, tied into a bundle 2 shallots, sliced 2tbsp of oil
Method: Brown the sliced shallots over low-medium heat with 2 tbsp of oil. Keep stirring to prevent them from burning. Once they start turning to a golden brown, turn off the fire. Be careful not to burn them as it will be bitter. Scoop up the fried shallots and set aside. Turn on the fire again to medium heat. Into the same pan, add the ghee to the residue oil. Immediately add the rice and pandan leaves and stir-fry for about 2 minutes.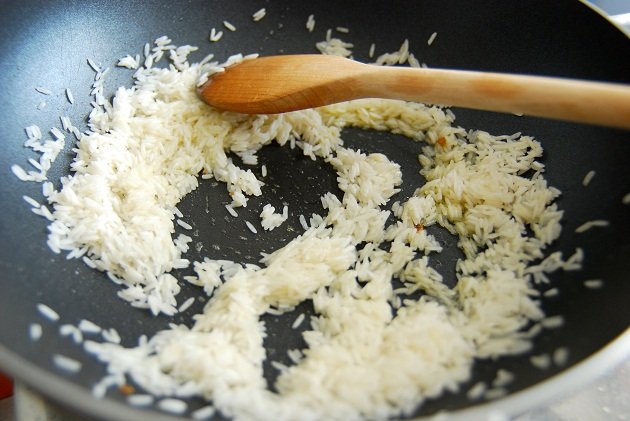 Add water, cover the pan and let the rice cook over low medium heat, for about 4-5 minutes.
When the water is about to evaporate, remove the lid and gently stir the rice until it is completely dry. Turn off the fire and allow the rice to cool and breathe for a couple of minutes. Plate the rice and sprinkle the fried shallots over.