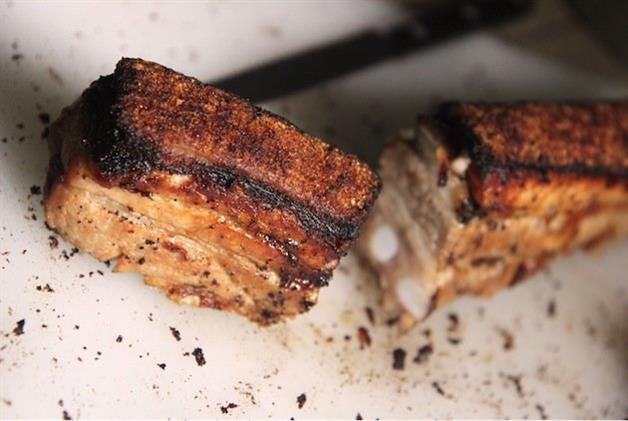 Recipe: Siew Yoke (Crispy Roast Pork)
By Sheere Ng - Monday, Jul 01, 2013
The Cantonese roast pork belly is the epitome of sinfully good food. Just think about the succulent meat companied by its oily soft fats, and of course the savoury, smoky and crunchy crackling. We wish it could simply go into an oven and presto!, it comes out the way we desire.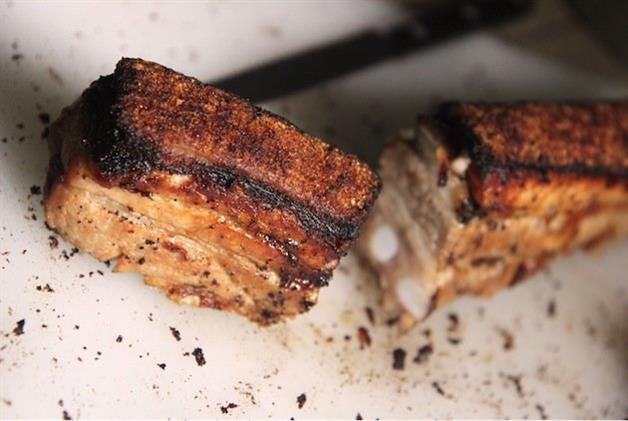 This recipe is an adaptation of US food magazine Saveur's. The original version asks to cook the meat at the lower temperature before turning up the heat to blister the skin. But we find the timing hard to control – the meat has to be cooked but not too much in the first step otherwise it will be too tough by the time the skin crackles – especially for those without a meat thermometer. So we did it backwards by broiling the skin first at 250 degrees Celsius and then when it crackles, cook the rest of the meat at 200 degrees Celcius.
The rest of the recipe works just fine. It prepares the skin by prickling hundreds of holes and then scalding it with hot water mixed with baking soda (many local Chinese restaurants adopt this method too). We have also tried boiling the meat in water containing some salt and rice vinegar for just over a minute before marinating it overnight – producing an equally good result.
The flavour was divine, although the sweetness from the sugar and Nam Yu (fermented red bean curd) reminds us a bit more of char siew more than siew yoke. Now, whichever corner of the earth you transport yourself to, you can be assured of a good siew yoke with this recipe!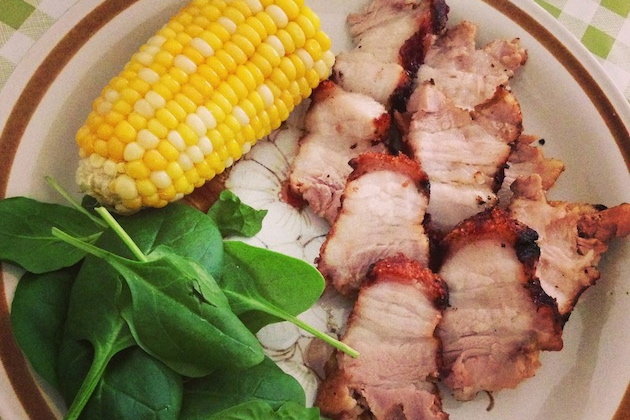 Ingredients:
1.8 kg slab pork belly (1 ¾" thick)
1 ½ tbsp baking soda
5 tbsp Chinese rice wine or sake
3 tbsp sugar
2 tbsp mashed red fermented bean curd
1 tbsp salt
1 ¼ tsp five-spice powder
3 tsp salt (to slather on skin)
Methods:
1. Place pork on a work surface, skin side up. Using a pork-skin pricking tool, an ice pick, or a carving fork, prick skin all over, making hundreds of small holes that just puncture the surface; set pork aside.
2. Dissolve baking soda in 5 cups boiling water. Transfer water to a measuring cup with a spout. Grasp one corner of the pork belly with tongs. Holding pork belly over a bowl or the sink, slowly pour the baking soda mixture in a thin stream over pork skin to scald it.
3. Transfer pork to a work surface, skin side down. Using a knife, score the meat, making 1″-deep parallel slits spaced 1 ½" apart.
4. Combine 3 tbsp rice wine, sugar, fermented bean curd, salt, and five-spice powder in a small bowl and pour marinade over the meat.
5. Rub marinade all over the meat, pushing it into the slits. Transfer pork skin side up to a baking dish. Wipe any moisture from skin with a paper towel. Refrigerate pork belly uncovered overnight to let marinate as the skin air-dries.
6. Heat oven to 250 degrees Celcius for 15 minutes. Rub 3 tsp of salt all over the pork skin, make sure every surface is covered with a thin layer. Transfer pork skin side up to a rack set over a foil-lined roasting pan filled with ¼" depth of water to catch the dripping fat.
7. Cook pork on top oven rack for about 15 to 20 minutes (it's okay if it burns a little as you can scrape it off later). Move the pork to the middle rack, lower heat to 200 degress Celcius until the rest of the meat is cooked, about 10 to 15 minutes. Before serving, let pork rest 15 minutes. Using a serrated knife, scrap off the burnt layer and excess salt. To serve, cut into 1″ slices.