Red Hornbill Sarawak Laksa and Kolo Mee
By Catherine Ling - Thursday, Apr 28, 2016
It's hard to find good Malaysian food in Singapore. I'm not sure why, since the two countries share so much in terms of people and food culture. But some Malaysian dishes are simply made much better in Malaysia than Singapore, mainly because you can't get the exact same ingredients. One of these things is Sarawak Laksa – notable for its incredibly complex spice base which seems to be a closely guarded secret.
One humble stall in Block 205 Bedok North Street 1 has been serving up a version that's close enough.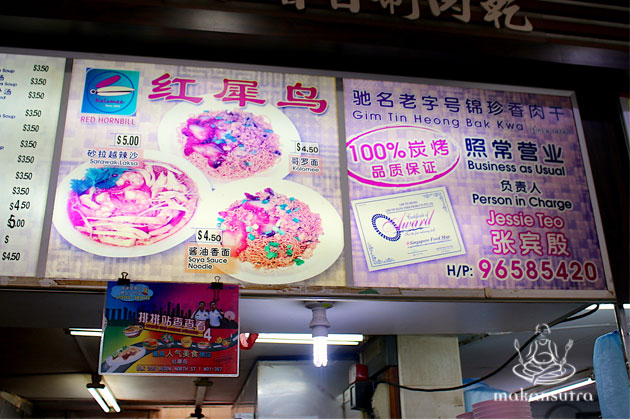 The owner, Then Hua San, 39, is from Sarawak, and named his stall after the Hornbill State. He brings in the laksa spices from Sarawak to ensure its as close to home as possible. But because of the limited spice paste, he only serves 70-80 bowls a day.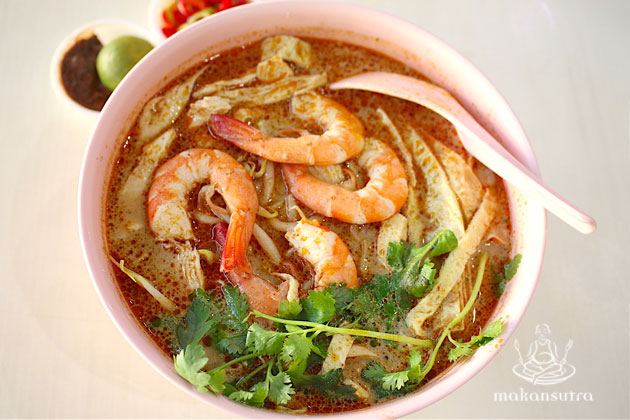 His gigantic bowl of Sarawak Laksa brims with prawns, shredded chicken, strips of fried omelette, bean sprouts and coriander atop rice vermicelli in a broth that tastes like a cross between a light smoky curry and laksa. It satisfies not only a ravenous appetite but the craving for home in many a Sarawakian living in Singapore. It justifies that $5 bill for it.

Mr Then has been selling this Sarawak Laksa for some 12 years now, previously at a stall in the neighbouring block 204. This wasn't always his trade; he was a factory worker for five years before he switched to selling laksa. "I saw that many fellow Sarawakians missed their homeland food here. So I went back home to learn how to cook it," he says.

His current stall is a shared space with other hawkers in the kopitiam just outside of Bedok Library. If you don't look carefully, you might miss the faded signboard with "Red Hornbill" in very small letters.

Unlike many other hawkers who try to do too many things, Mr Then only focuses on three dishes.

He also sells a very popular Kolo Mee (S$4.50). It's similar to our wanton noodles but the dressing varies and it's has minced pork instead of dumplings. The noodles are also distinctly more QQ (resilient texture with good bite) and do not have the alkaline taste that is prevalent in so many of the Cantonese style noodles here.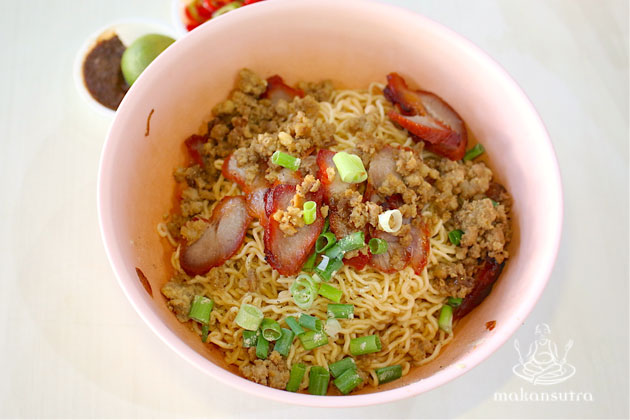 "You can't get the same exact taste because the ingredients are different," he says. "You can't get the same kind of noodle, for example."

The noodles are indeed key because of their texture and taste. They are stringy, curly and stay firm to the bite. He used to make his own noodles, but now has them factory made according to his specifications.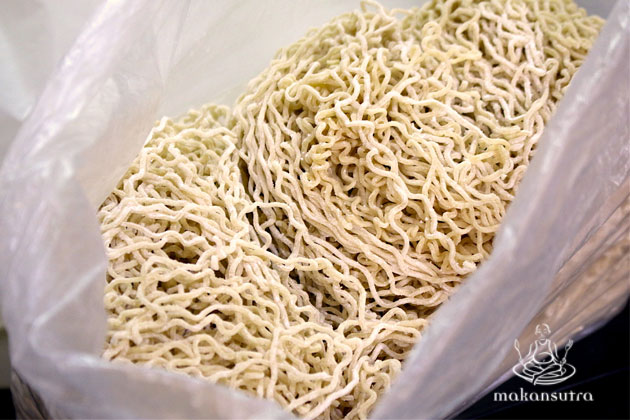 A third dish, the Soya Sauce Noodle, is not Sarawakian in origin, but his own concoction based on what he thinks will work.

The Sarawak dishes certainly are drawing the crowds. On weekends, the waiting time in line can be as long as an hour. The weekday lunch crowd typically has to wait half an hour for their fare. "Over 80% of my customers are Sarawakians," he says with a hint of pride.

As with many hawkers, it's a trade that requires hard work. He has to be at the stall in the early morning for preparation. But he seems to quietly enjoy the satisfaction of serving food that makes fellow Sarawakians happy.

RED HORNBILL
#01-357, 205 Bedok North Street 1, Singapore 460205
Open Tuesdays to Sundays (closed Mondays)
11am – 2pm; 4pm to 8:30pm